This post is sponsored by Harvest Snaps.
As most of you know I returned to work at the hospital back in April. After taking two years off to pursue social media and personal training full time, I found myself wanting to help out during the COVID crisis.
Going back to work at the hospital full time while also running my social media account meant that it was time to get back into meal prep! I didn't want my health and nutrition to suffer just because my schedule was becoming a lot busier. Having my meals prepped for work in the past has always kept me from eating all of the snacks in the break room. I've always been more likely to stick to the food that I pack for myself.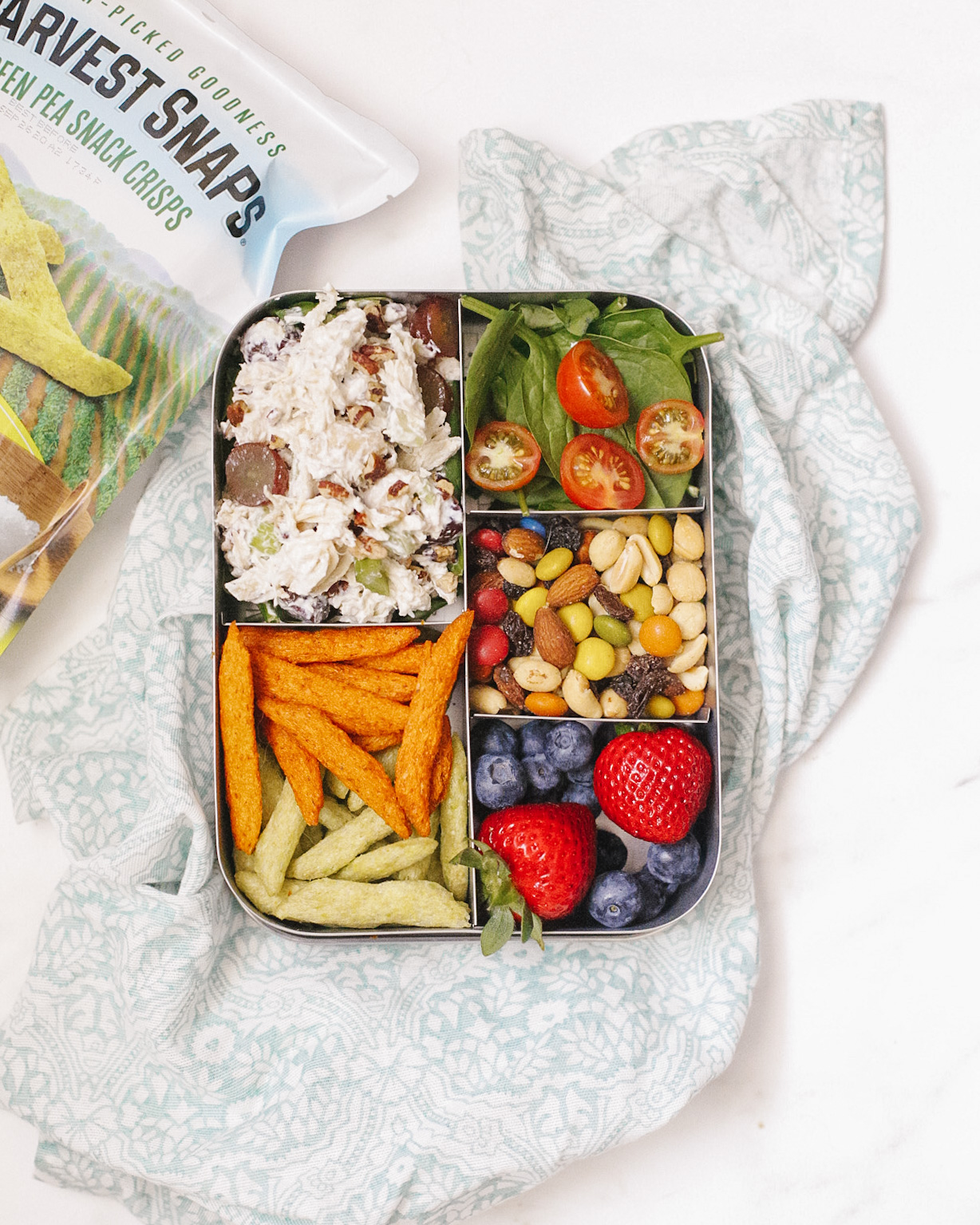 Let's get into my meal prep tips and some of my favorite snacks to pack for work!
Before you start meal prepping you should invest in some good food storage containers and a lunch box that's big enough to bring all your food to work in. I make sure to use a lunch bag that can fit my breakfast, morning snack, lunch, afternoon snack, and dinner (I always bring my dinner in case I am stuck at work late).
To make life easier I recommend prepping the same meals for your workdays– I know it's boring to eat the same things for 2-3 days in a row but prepping the same things really saves a lot of time and if you find a recipe you really enjoy then it's not so boring! If you are looking for more of a variety in your meals on your workdays, then find meals that have overlapping ingredients so that you are preparing some of the same things, and not spend hours in the kitchen. Some of the biggest inspiration for my meals come from Pinterest.
Break your meal prep into 2 sessions

–

If I have a weekend off from work I break my meal prep up so that I don't have to take a huge chunk of time doing it when I can be enjoying my time off from work. For example- Saturday cook your protein and veggies and Sunday prepare your breakfasts and set aside all of your snacks.
Bring snacks to work that are easy to grab— nut butter packets, protein bars, fruit, veggies, trail mix, and my new favorite

Harvest Snaps

. I've been packing my two favorite Harvest Snaps flavors, "Lightly Salted" and "Tomato Basil" in my Bento Box for work. I love having a savory, crunchy snack to eat with my salad at lunch. If I don't have a chance to eat them because I'm short on time then I just grab a few, throw them in a small bag, and munch on them while I

chart. These better- for- you snacks can be found in the produce section at your local grocery store!
What's in my Bento Box? My go-to lunch at work lately has been my better- for- you salad (made with shredded crockpot chicken, plain Greek yogurt, celery, red onion, grapes, pecans, salt, pepper, and garlic), spinach with tomatoes drizzle with a little balsamic vinaigrette, trail mix, berries, and Lightly Salted and Tomato Basil Harvest Snaps.
All of my nursing friends, what do you pack for work?