I've been on such an oatmeal kick lately! I used to go all out with my oatmeal toppings- granola, yogurt, nut butter, fruit, and cacao nibs, but lately I've been craving a simple bowl. I usually come straight home from the gym or from a run in the morning and whip up a bowl of stovetop oats. After I workout, my focus is always on getting enough protein and carbohydrates to aid in muscle recovery.
Post-Workout Nutrition
The two most important macronutrients after exercise are protein and carbohydrates.
Eating protein after exercise prevents muscle breakdown and stimulates synthesis, leading to increased or maintained muscle tissue. Carbohydrates replace the glycogen stores that were depleted during exercise to help prevent the body from breaking down muscle for energy. Carbohydrates also help maximize protein intake by signaling the insulin response. Insulin helps with muscle growth by facilitating the transport of amino acids into muscle cells.
Healthy fats are not as important as carbs or protein in the post- workout phase, therefore my focus after I workout is usually on carbs and protein. I do try to limit the amount of healthy fats I have post-workout, however having some fats after a workout will not affect recovery. I usually have about a tablespoon of nut butter after my workouts not only to help keep me full, but because it's really yummy!
One of my favorite post- workout meals is my Banana and Egg White Stovetop Oatmeal! It keeps me full and satisfied for hours. It's filled with carbohydrates and protein to aid in muscle recovery after the gym or running!
Oatmeal has so many health benefits. Oatmeal is low in saturated fat and cholesterol. It's also a good source of fiber and is packed with vitamins, minerals, and antioxidants. The soluble fiber found in oats can actually help lower cholesterol and reduce the risk of cardiovascular disease!
There are so many different ways to make oatmeal, but my favorite is on the stovetop! There's just something so cozy about eating a warm bowl of oats after a long run!
Whenever I cook my oats on the stovetop I add egg whites to the mix! I know it sounds weird, but trust me you can't taste the egg whites! The egg whites add extra protein and fluffiness to the oats. When adding them to the oats, it's important to stir them in really fast to avoid having chunks of egg whites in the oatmeal.
I also love adding mashed banana to my oats. The banana adds a nice touch of sweetness to the oats and makes them a little creamier!
My favorite oatmeal toppings lately include:
melted nut butter

dash of cinnamon

berries
and that's it! Simple but so yummy!
Other tasty oatmeal toppings include:
almonds, pistachios, walnuts

vanilla greek yogurt

granola

chia seeds

raisins or dried cranberries

banana slices
My banana and egg white stovetop oatmeal is the perfect meal to have after a workout or for breakfast before the busy day begins! If you try this recipe, be sure to tag me @becksliveshealthy on Instagram! Enjoy!
Banana and Egg White Stovetop Oatmeal
Ingredients
½ old fashioned rolled oats

½ mashed banana

½ cup unsweetened almond milk

½ water

¼ cup egg whites

1 tbsp vanilla protein powder

Dash of cinnamon

Toppings: melted peanut butter, berries, banana slices
Direction
In a saucepan over high heat, combine oatmeal, banana, cinnamon, almond milk, and water. Bring to a boil. 

Once the oats start to boil, turn the heat down and cook until most of the liquid is absorbed. 

Once the liquid is absorbed, pour in the egg whites and stir or whisk quickly until you reach thick/ fluffy consistency.

Add in protein powder, additional cinnamon if desired.

Place oatmeal in a bowl and add toppings! Enjoy!
xx Becks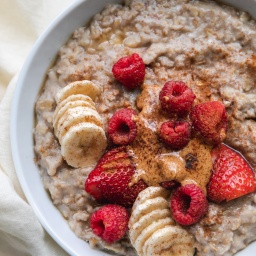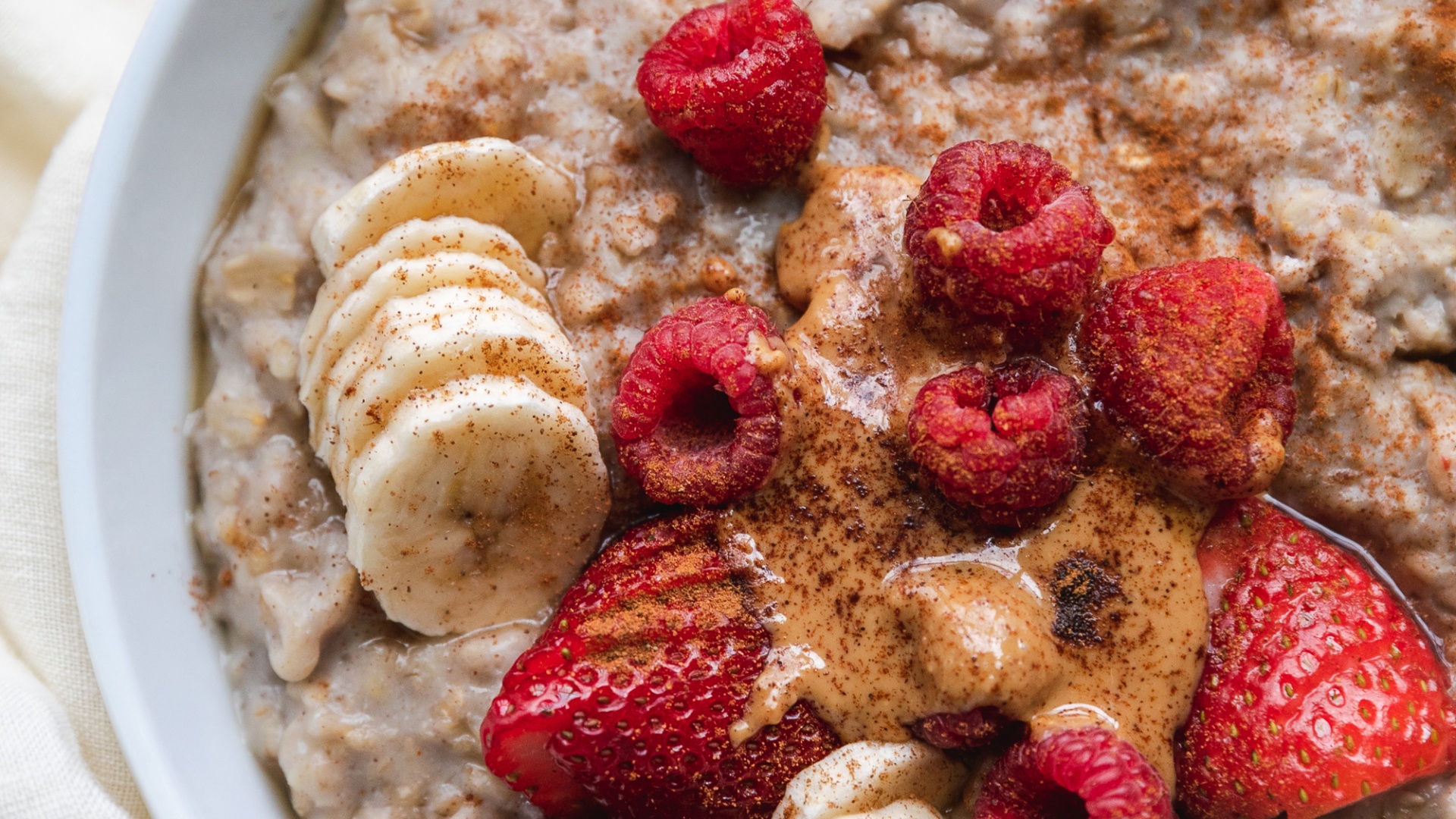 This Banana and Egg White Stovetop Oatmeal recipe is an easy to make, high protein breakfast! It's made with only a few simple ingredients and comes together in no time! It's perfect to have after a workout or for breakfast to fuel a busy day. Enjoy!
xx Becks

Sources:
https://www.healthline.com/nutrition/9-benefits-oats-oatmeal#section7
https://www.healthline.com/nutrition/eat-after-workout