Lately I've been hooked on stuffed sweet potato breakfast bowls. The warm sweet potato paired with cool, creamy yogurt, topped with crunchy granola, and melted peanut butter makes such a dreamy combination! I usually meal prep sweet potatoes at the beginning of the work week to be enjoyed for breakfast, dinner, or dessert throughout the week. After I get home from the gym in the morning, all I have to do is re-heat the sweet potato in the microwave, then add the toppings! It makes for a quick and easy breakfast!
These breakfast sweet potatoes are the perfect way to get in all macronutrients at the beginning of the day! Sweet potatoes are complex carbs, aka the "slow release carbs" that keep your blood sugar levels more stable between meals and help keep you feeling full. Sweet potatoes also have Vitamin A, which is an essential fat-soluble vitamin that is critical in maintaining eye health and is essential for immune function. It also contains vitamin C, which helps protect our cells from damage. Sweet potatoes are a good source of carotenoids, lutein and beta carotene, which are important for eye health as well. They have so many amazing health benefits!
In this recipe I used vanilla siggi's non- fat yogurt, which is packed with 15 grams of protein and only 9 grams of sugar per serving. Vanilla siggi's is my favorite because it's super creamy, made with simple ingredients, and has a high protein content per serving– but any vanilla yogurt works in this recipe!
I also used creamy peanut butter, which is a good source of all three macronutrients- carbs, proteins, and fats. Peanut butter is actually made of monounsaturated fats, aka the healthy fats, and is less likely to be stored as body fat.
Did you know that sweet potatoes are best enjoyed with 3-5g of fat per meal?
The the fat helps to increase the intake of beta-carotene! Therefore, it's good to pair them with a fat, like peanut butter!
In this recipe, I also added berries for a little more sweetness, along with granola for some crunch. The added granola in this bowl reminds me of sweet potato casserole at Thanksgiving! Yum!
---
How do I store my sweet potatoes?
When I meal prep sweet potatoes at the beginning of the week, I just store them in glass Tupperware then reheat when I'm ready to eat them! They're good in the refrigerator for a few days.
These breakfast sweet potatoes can be enjoyed for dinner or dessert throughout the week as well! If you try out this recipe, be sure to tag me @Becksliveshealthy on Instagram! Enjoy!
Sweet Potato Breakfast Bowl
Ingredients
1 medium sweet potato

⅓ cup low fat vanilla yogurt (siggi's)

1 tbsp creamy peanut butter

¼ cup granola

⅓ cup mixed berries

sprinkle of Cinnamon
Direction
Preheat oven to 375 degrees F. Line a medium baking sheet with parchment paper or foil.

Use a fork to poke several holes in the sweet potato, then place on prepared baking sheet and roast sweet potato in oven for 45 minutes-1 hour or until tender.

Remove from oven and allow to cool for 5-10 minutes.

Place sweet potato in a bowl and split it open with a knife.

Top sweet potato with vanilla yogurt, berries, and granola.

Place peanut butter in microwave for for 20-30 seconds until melted.

Next drizzle warm peanut butter on sweet potato and sprinkle with cinnamon. Enjoy! 
xx Becks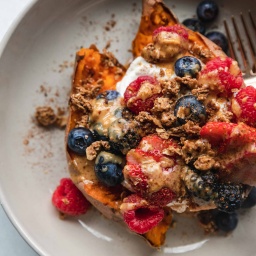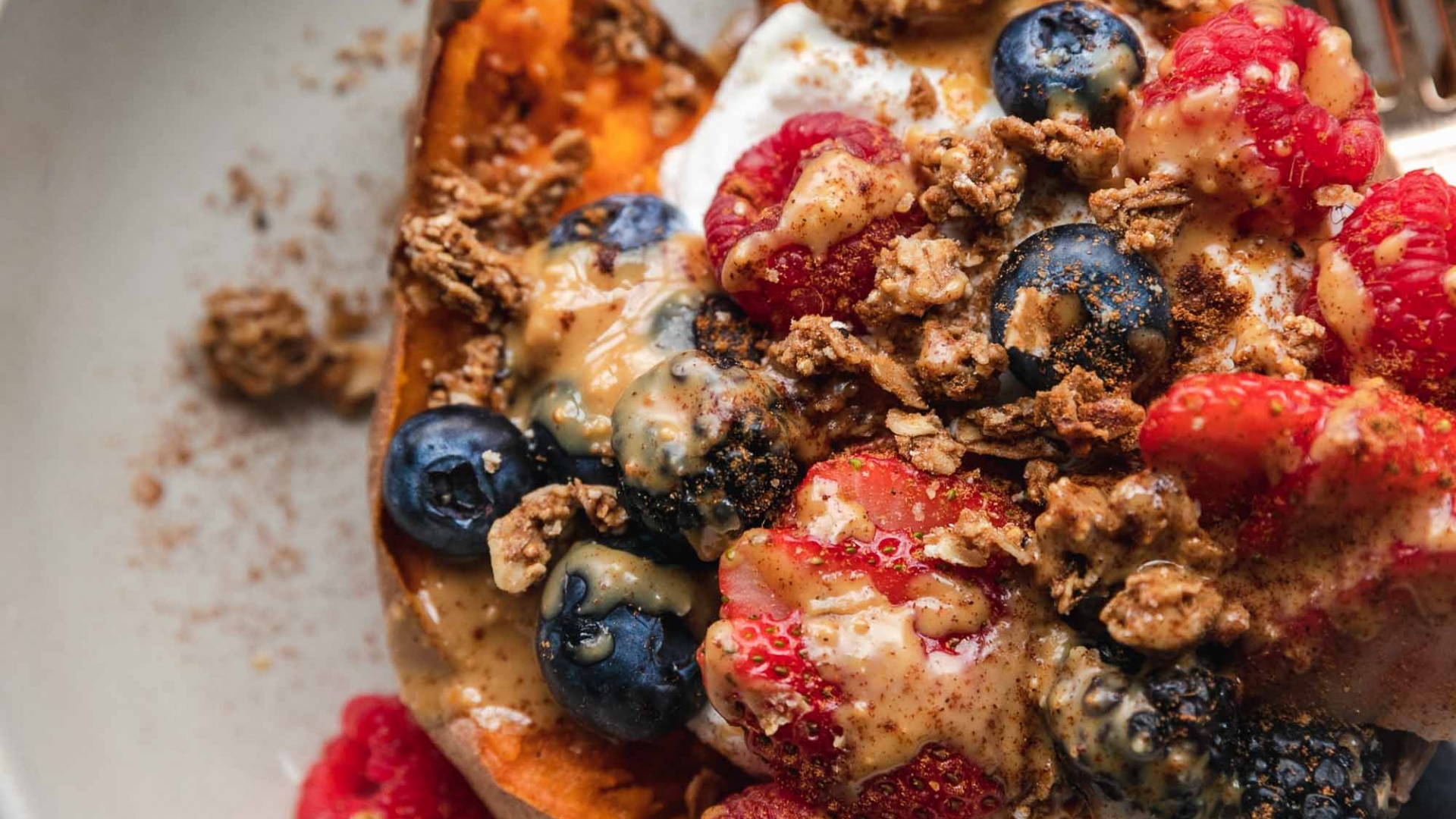 Breakfast sweet potato bowl topped with creamy yogurt, warm peanut butter, crunchy granola, and sweet berries. It's a quick and easy breakfast that tastes like dessert! 
xx Becks

SOURCES:
https://healthyeating.sfgate.com/list-slowrelease-carbohydrate-foods-1677.html
http://whfoods.org/genpage.php?dbid=64&tname=foodspice
https://siggis.com/product/vanilla-non-fat/