Today I thought it would be fun to share my carry on must haves! I've been lucky enough to travel to some pretty cool places over the last few years including Australia, Chile, Mexico, and Hawaii. I've gotten a lot better at packing over the years. I remember when I couldn't travel without checking a bag, and now I'm pretty good at packing everything into a carry on.
Today I'm sharing what I always pack in my carry on to make traveling go more smoothly!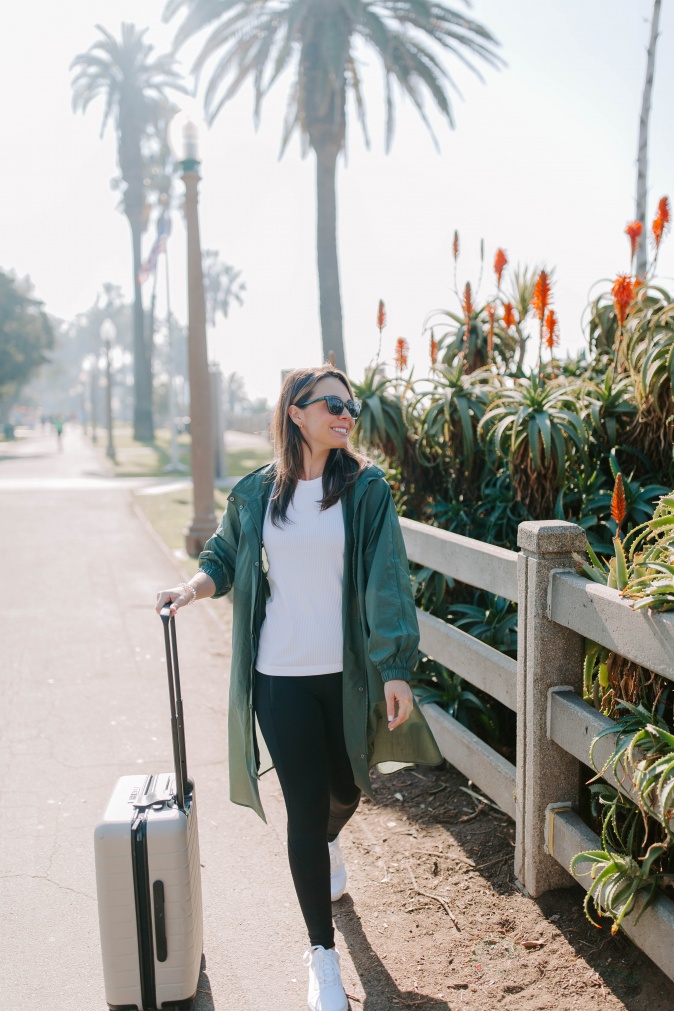 Away Carry On– I received my Away Carry On as a birthday gift a few years ago. It's honestly the best birthday present I've ever received. I've never had nice luggage before until this. This carry on makes traveling so much easier. It comes with a battery pack so I don't have to worry about my phone dying. It's also approved to be carried on to every flight or checked if you wish.
Travel Scarf– I'm always so cold on flights! I always wear a big scarf to the airport to help keep me warm while on a flight that can be used as a blanket or even as an extra cushion if the plane is actually warm.
Healthy Snacks– some of my favorite healthy snacks to pack for flying are: protein bars, trail mix, apple with nut butter packs, oatmeal cups, and turkey jerky.
Phone Charger– I usually pack another phone charger besides the one that my carry on comes with in case the person I'm traveling with needs to charge their phone or I use all of the battery in one of my chargers.
Headphones– Headphones are a must! I always make a new travel playlist that I can listen on repeat while I fly. I also download new podcasts and audio books to listen to before a trip.
Hand Sanitizer and Wipes– I always seem to pick up a cold while traveling so I try to do as much as I can to prevent that from happening by packing hand sanitizer and wipes to wipe the seats down when I fly.
Chapstick– My lips get SO dry traveling! I always have my chapstick packed so that it's easily accessible. Burt's Bees is my favorite brand!
Hydro Flask– I always have my hydro flask within reach. I fill it up as soon as I pass security to make sure I stay hydrated during my flight. I also always try to have an aisle seat because of this, haha!
Beauty Essentials– Chapstick, hair ties, eye masks, and hair brush all get packed in my carry on. I try to keep them in a small tote so they're easily accessible.
Mini Hair Straightener– I always pack a mini hair straightener in my carry on. It takes up less room than a full size one. That way I can touch up my hair if I have a layover or quick when I land!
Pen– I know this doesn't seem that important, but when you travel internationally and have to fill out paperwork before you get off your flight, having a pen is important! The flight attendants don't usually have extras and personally I get inpatient waiting for the person next to me to finish with their pen.
I would love to know what are some carry on items that you always pack?!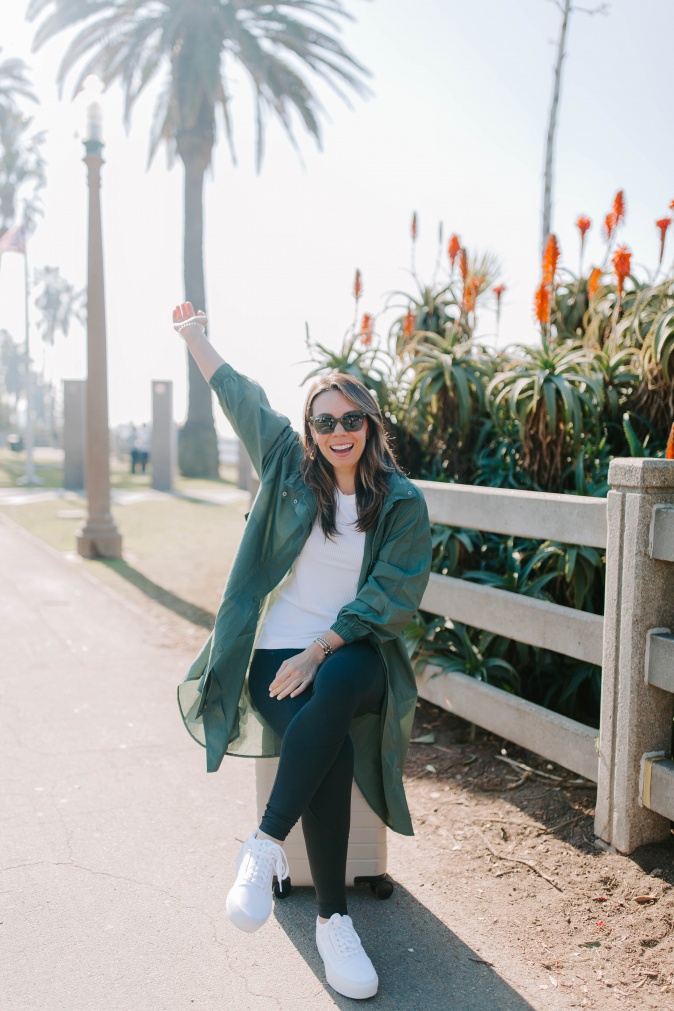 Top: CALIA by Carrie Underwood Rib Tank Top
Bottoms: CALIA by Carrie Underwood Journey Motto Leggings
Jacket: CALIA by Carrie Underwood Journey Trenchcoat