Palm Springs has become one of my favorite getaways over the past few years. When I moved to California I didn't get it— why were people leaving the beach to head to the desert?
Now after taking a few trips to Palm Springs I understand why. There's something SO relaxing about it. It's only two hours away from our house in Hermosa Beach so it's an easy weekend trip– and it's so nice because we can always take Team Lab with us!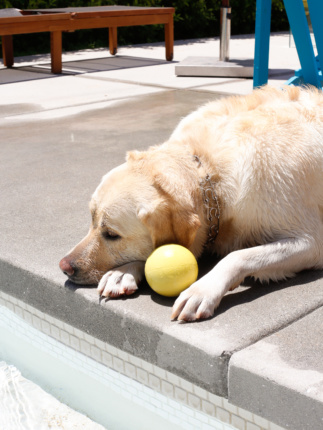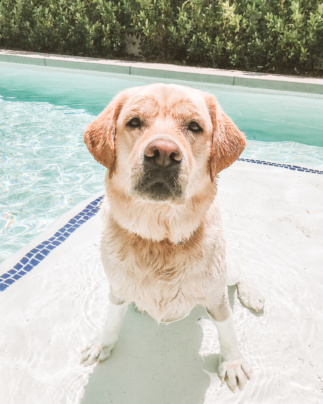 One of my favorite things to do in Palm Springs is just RELAX. I love unplugging from work and social media and laying in the sun with frose' in hand (of course)!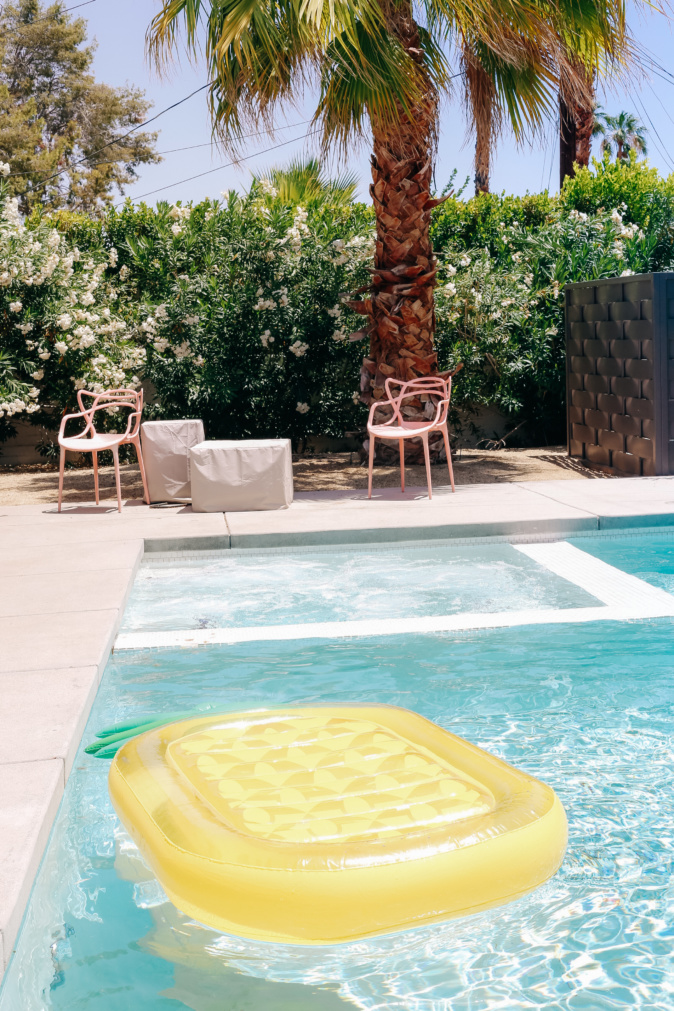 I'm all about relaxing in Palm Springs but I LOVE staying active too (well before it gets too hot outside). In the fall and winter you don't have to worry as much but in the summer when temps are 90-100 degrees you have to try to get outside for your runs/ activities by 6am. There are a bunch of road biking trails throughout Palm Springs and also trails that are perfect for hiking and trail running just outside the town!
Palm Springs Restaurant Favorites:
Birba– Every time we head to Palm Springs we make sure to hit up Birba! The food is AMAZING. They're known for their pizza. They offer gluten-free and cauliflower crust pizza. You can't go wrong with any of the appetizers either (I always order the the kale salad and brussels). I love the outdoor atmosphere at Birba too– especially at night. The restaurant is outdoors, with romantic string lights and a greenery throughout. The restaurant fills up quick, so I definitely recommend making a reservation!
Reservoir (at the Arrive Hotel): We've only been to Reservoir once, but I have a feeling we'll be back on our next trip! It's seriously the prettiest spot for breakfast. I was so overwhelmed by the menu because I wanted to order it ALL. We ended up ordering the shakshuka, avocado toast with a poached egg, and oatmeal (that basically tasted like dessert) topped with warm buttery apples, cinnamon, and toasted almonds! Mhhmm!
Azucar: One of the most "Instagrammable" restaurants in Palm Springs. I just wanted to take photos of everything because it was so cute there. We sat upstairs on the roof top deck for for dinner. It really was the perfect spot to enjoy food + drinks.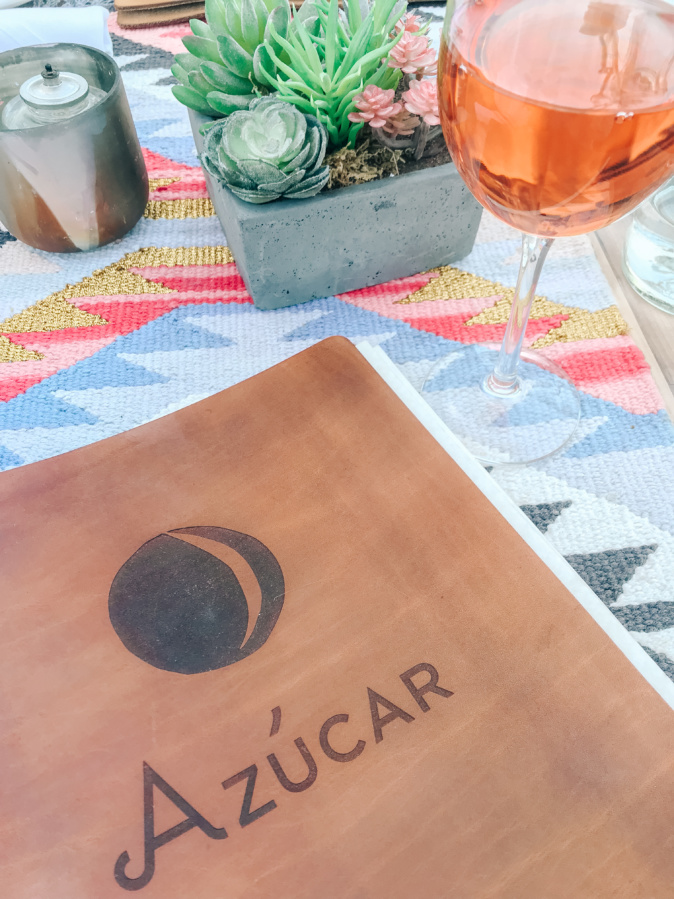 Lucious Lorraines: This cafe is actually located in Palm Desert. I've been wanting to go here for a while and since we were running errands in Palm Desert, I figured it was the perfect time to stop in! When we got there I was so overwhelmed by the menu because I wanted it ALL. They had salads, sandwiches, wraps with vegan and vegetarian options, juices, smoothies, and an espresso bar. I think I ordered the biggest turkey sandwich one the menu– it was SO good.
Juniper Table (at the Kimpton Rowan Hotel): It's the perfect spot for brunch or lunch on the go! Of course I was having anxiety over the menu when we went because I wanted it all, so we ordered 3 items to share– avocado flatbread with jalopenos, pumpkin seeds, and onions + quinoa and chia porridge topped with almond butter, bananas, dates, and cacao nibs + brioche french toast. Mhmm! Rob also said his coffee was the best he's ever had! We'll definitely be going back to Juniper Table!
Other food recommendations:
Jakes's- known for their bloody marys, super cute courtyard
Workshop Kitchen + Bar- dinner and drinks
Koffi for morning coffee
MOD Cafe- breakfast or lunch
Places on my list:
Cheeky's
King's Highway (located in Ace Hotel)
Wildest Greens (Palm Desert)
The Farm
Customs Coffee
Ice Cream & Shop(pe)
More photos from our trip!
Please let me know if you try any of the restaurants I listed– they're all SO good. Also, if you have any recommendations for me- food, hikes, places to see–I would love to hear! xoxo