Well this blog post is long overdue… 2 months overdue. To be honest I wasn't sure if I wanted to write it because Rob and I broke up shortly after our trip. When I launched this blog I wanted to have a whole section for my travel posts with Rob. Rob loves traveling more than anyone I know. Although we are no longer together, hopefully I can continue to travel and explore parts of the world.
In this post I don't share too much about my workouts during the trip because I already have a whole separate blog post on my workouts and how I stayed active while in Chile.
We headed to Chile for ten days in October. Our first stop was Santiago. We stayed at the beautiful Hotel Magnolia in downtown Santiago. This was the perfect place to spend our first night in Chile. It was within walking distance of restaurants and running trails. The rooms were super cozy- which was perfect after a long overnight flight from Los Angeles. They offered slippers to all of their guests, which I took with me for the rest of the trip. If you know me I wear my LL Beans slippers 24/7 when I'm home. I couldn't fit them into my suitcase for this trip, so I was super excited that the hotel gave them to all of their guests, haha!
We only stayed in Santiago for one night. We enjoyed dinner and wine at one of the downtown restaurants nearby that evening. The next morning we woke up and headed out for a run in the Parque Foresta before boarding a flight to La Serena and then driving north to the Elqui Valley.
The Elqui Valley is Northern Chile's wine country. They're known for their Syrah and Carmenere wines. While in the Elqui Valley we stayed at Aldea del Valle villas. These villas were extremely hard to find. We drove around for a good hour up and down different roads (that weren't paved) trying to find the hotel. Once we finally arrived, we were greeted by two adorable dogs! They were german shepherds who made being away from our sweet dogs a little easier!
The villas were absolutely gorgeous surrounded by trees and located right along the river. The outdoor patio was the perfect place for me to get in a quick resistance band workout before breakfast was delivered to us that morning. After we had breakfast, we left the villas and headed to explore the town and go wine tasting. We headed to Cavas Del Valle Winery- this wine tasting experience was very different than any other wine tasting I've been too. I pictured it to be like Napa or Sonoma. There weren't any tourists- which was nice. It was very quiet and relaxing. We ended buying a bottle of Sauvignon Blanc because it was SO good. Neither one of us are big white wine drinkers, but we were huge fans of the one we tasted here!
Our next stop on the trip was the Atacama Desert. This was by far my favorite part of the trip. It was so different than anywhere I've ever been. Studies conducted by NASA have concluded that the Atacama Desert is the driest desert in the world. Some parts have never had rain! We stayed at the Terrahtai Lodge in San Pedro De Atacama- which I would highly recommend! The staff went above and beyond for us and all of their guests. We enjoyed a complimentary breakfast every morning with local homemade bread and an omelette station. They also had wine tastings at the hotel every night.
The first day in the desert we drove out to the Lagoons Miscanti and Miñiques, which are a part of the Los Flamencos National Reserve. It was a long drive, but definitely worth it. The views were spectacular. I couldn't get over how blue the water was and how beautiful the green mountains were behind the lagoons. The lagoons are over 4,000 meters (13,000 feet) above sea level, so I definitely felt a little short of breath walking around while we were there.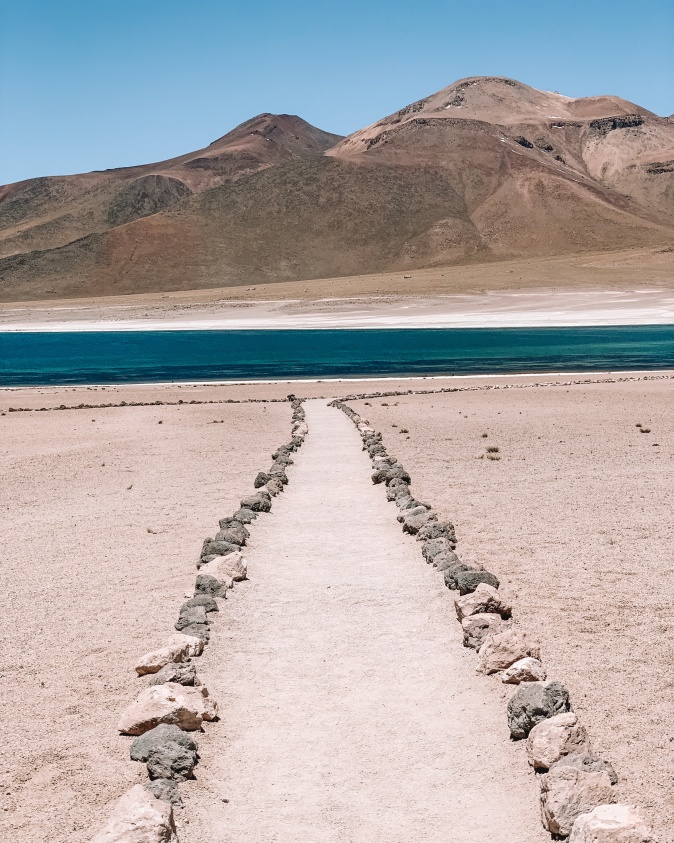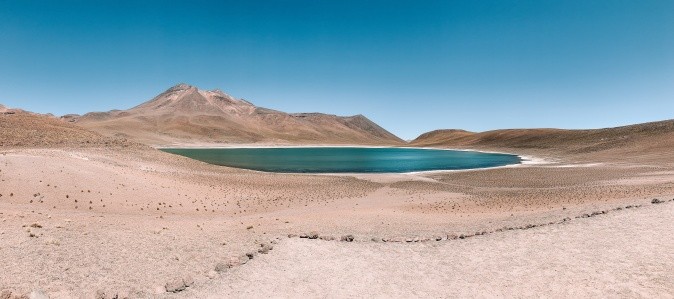 After exploring the lagoons, we headed back to the town to do some more exploring. I ended up having lunch alone at Barros Cafe. It was such a cute and cozy spot with salads, smoothies, coffee, vegetarian & vegan dishes, and more! It was the perfect opportunity for me to try to order my meal on my own in Spanish.
The next day we woke up and headed to the Puritama Hot Springs. Once we arrived, we had to hike to the actual location. The springs weren't as hot as I thought they would be, they were more like warm bathes, but it was still a beautiful and relaxing experience. We spent time just hanging out by the water and taking in the beautiful scenery.
My favorite part of our time in the desert took place that evening. We headed to Valle de la Luna (Moon Valley) to hike the caves and watch the sunset.
The hike through the caves was SO cool! I felt a little claustrophobic at one point hiking through the tight spaces but it was an amazing experience overall.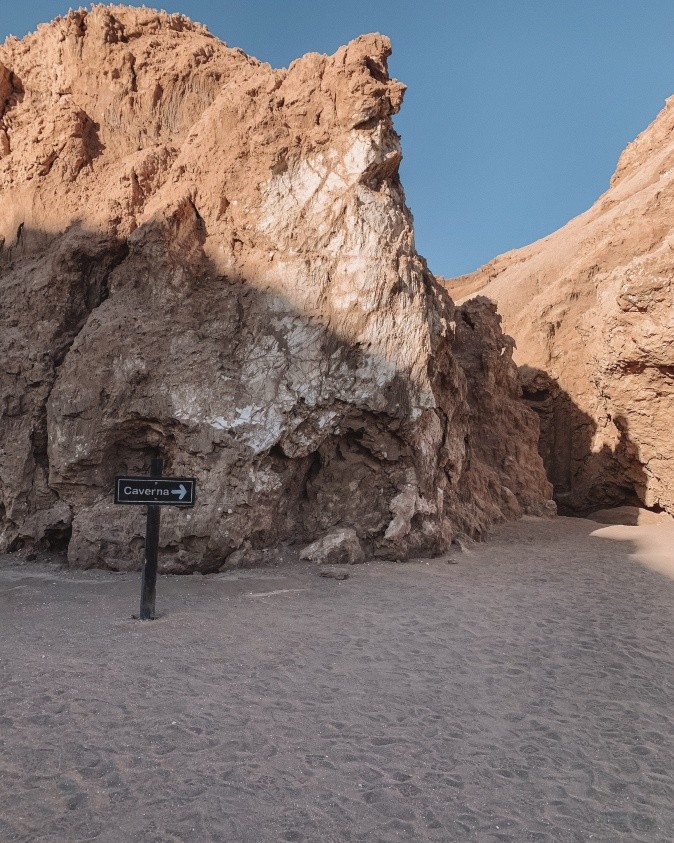 In order to take in the sunset views over moon valley, we had to hike again to the top of the dune. Once the sun started to set over the desert, the skies turned the most beautiful shades of pink and purple. I feel like my photos don't even do this part of the trip justice- the scenery and sunset was just so gorgeous!
If you're lucky enough to visit the Atacama Desert and plan on hiking moon valley at sunset- bring a pair of hiking or trail shoes and a warm coat! It was pretty chilly watching the sunset!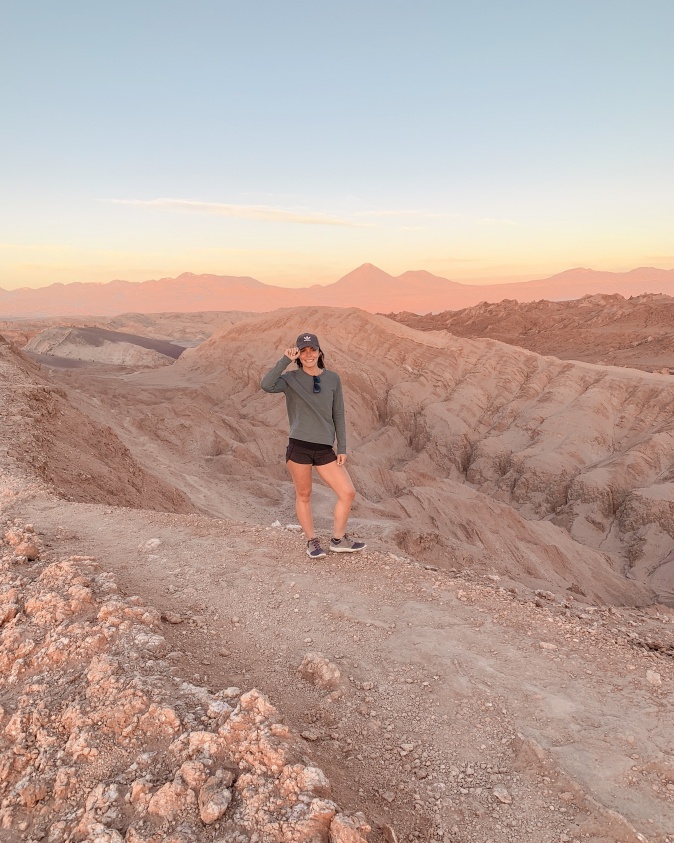 The final stop of our trip was Valparaiso! Valparaiso was definitely one of my favorite parts of the trip! It's located on the coast of Chile, about an hour from Santiago. It's such a fun, colorful place, with so much history! For the remainder of our trip we stayed at Caso Galos Hotel and Lofts, located in Cerro Alegre— it's a short stroll from restaurants, cafes, and shops! By the time we arrived in "Valpo" as the locals call it, we were HANGRY! I found the restaurant, Fauna, on Yelp- it had really good reviews so we headed there for dinner. Fauna did not disappoint! It's actually one of the most popular restaurants in Valparaíso. The views were spectacular and food was amazing. We ended up heading back there 3 more times during our trip because it was THAT good.
Breakfast at Casso Galos was incredible too. Every morning after I finished my run or workout, Rob and I enjoy breakfast at the hotel. From fresh bread and fruit, to scrambled eggs, coffee, and pastries, breakfast did not disappoint! I really didn't mind eating there for 4 mornings straight!
One of the highlights from our trip to Valpo was our city tour with GD Excursions. We explored the city by foot and by car, learning about the history, taking in breathtaking views, and finding the coolest street art.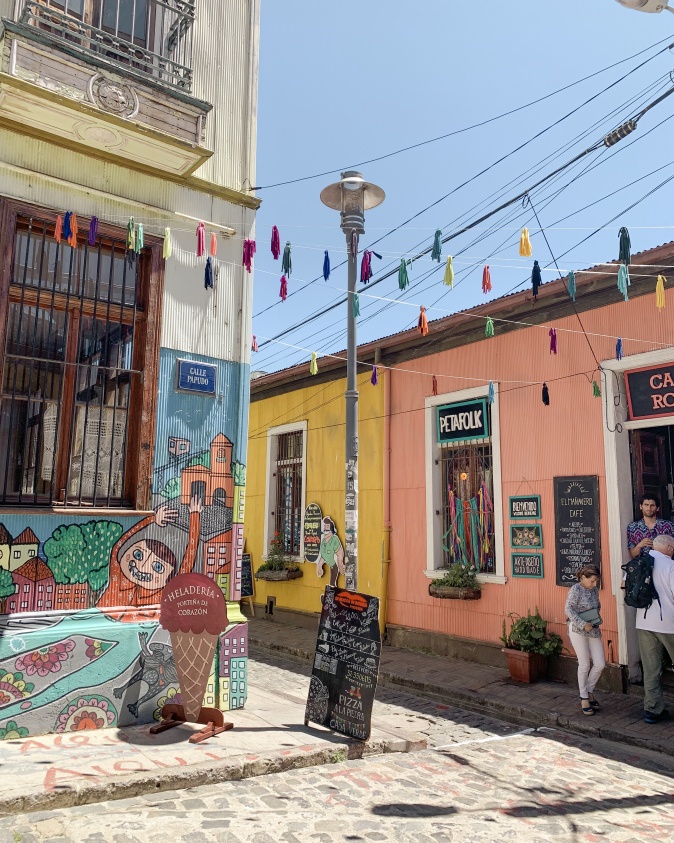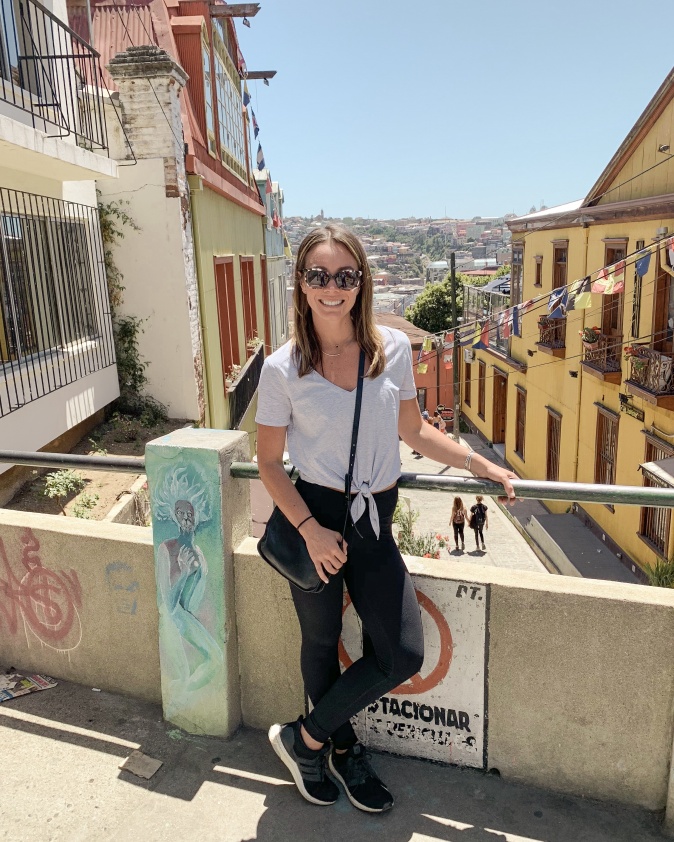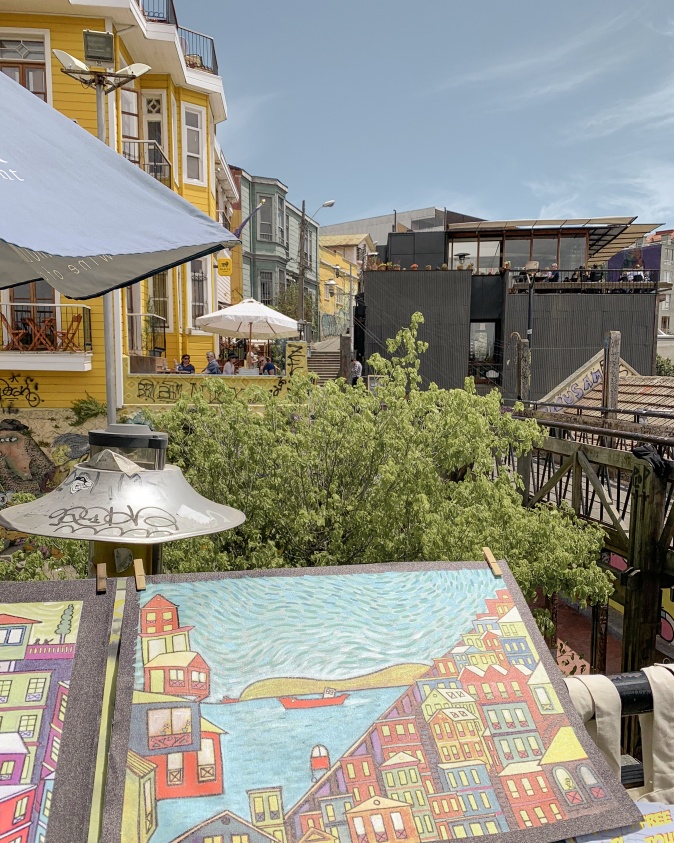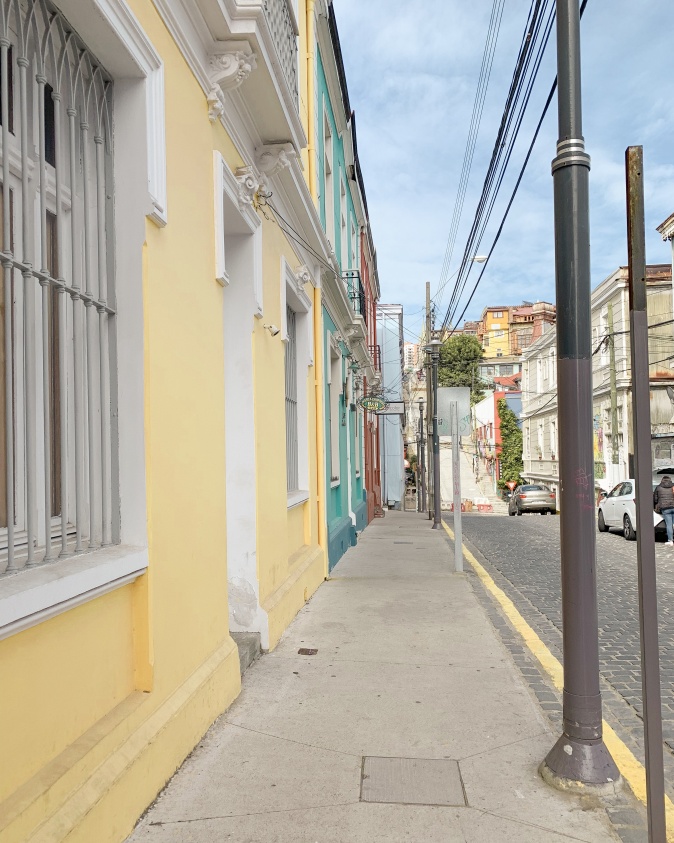 On our final morning in Chile, we headed to Vina Del Mar to go for a run along the coast, which was a short 20 minute drive away. I wish we went to Vina Del Mar sooner— it was one of my favorite runs of the trip! The scenery was absolutely gorgeous. It was the perfect way to close out our time in Chile!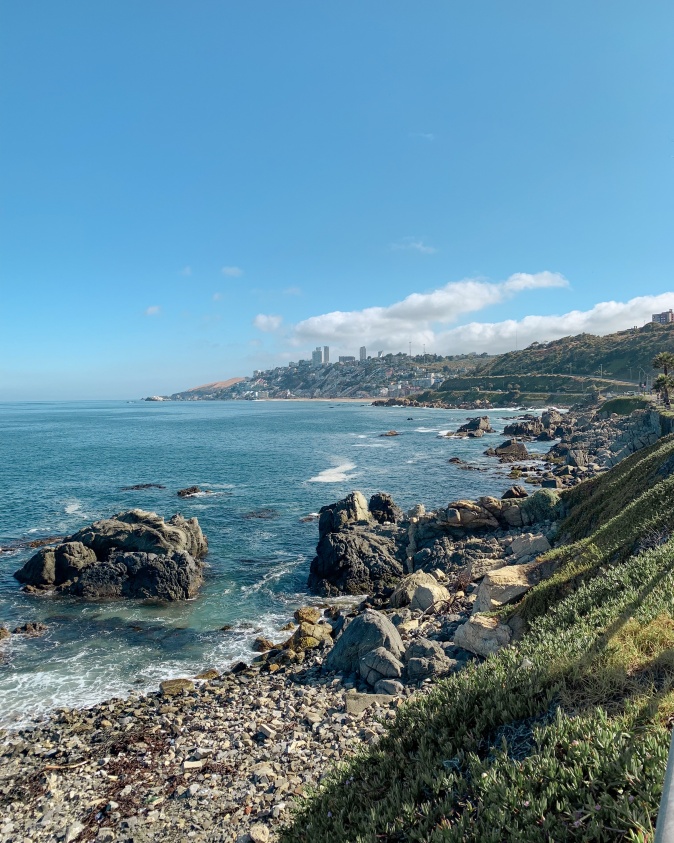 Although Rob and I are no longer together I am really grateful to have been able to experience Chile. It was a trip of a lifetime and I'm so thankful that I was able to visit such an amazing place. Also a big shoutout and thank you to Abi for helping us plan our trip!