Now that fall is finally here I'm excited to be back in the kitchen baking all the fall goods! I don't really enjoy spending time cooking indoors during the summer. I rather be outside at the beach enjoying the sunshine. Who else feels the same way?!
When fall rolls around I spend more time baking my favorite fall recipes, like cinnamon baked pears.
Pears are one of my favorite fall fruits not only because they're tasty but they're just so good for you! They're packed with fiber, vitamins, and antioxidants that help with digestion and help lower inflammation. Studies have shown that fiber intake is associated with reduction in the risk of heart disease and diabetes.
Did you all know that pear skins have nutritional benefits too? Their skins contain important phytonutrients that help prevent disease formation.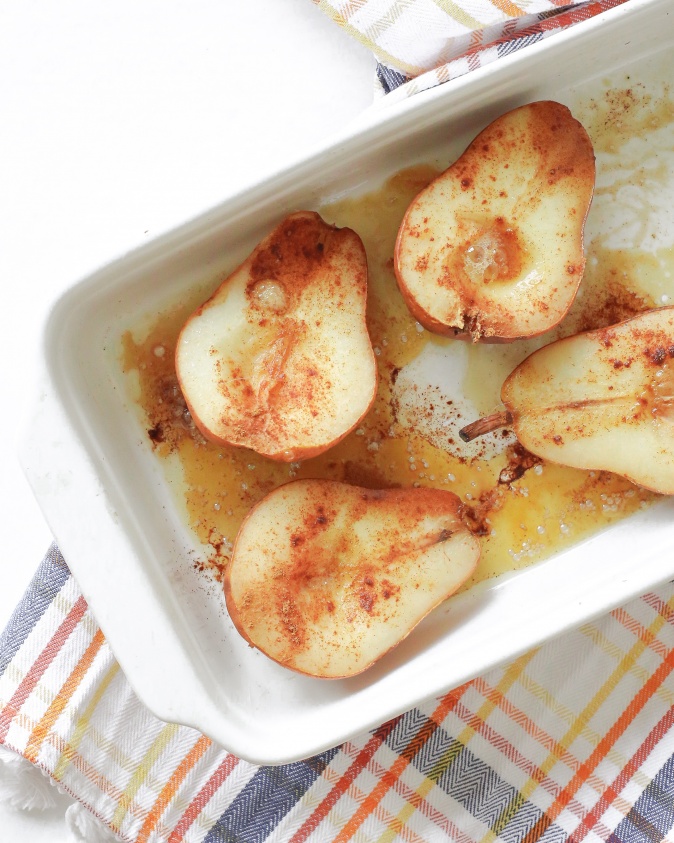 I love baking pears in the oven with cinnamon and a little maple syrup. They're so easy to make. All you have to do is slice the pears in half, scoop out the seeds, then drizzle them with some maple syrup and sprinkle them with cinnamon. Into the oven they go!
The best part about this recipe (besides how good the pears taste), is how amazing your kitchen smells when they're baking! No need to burn a fall scented candle when you have pears baking in your oven.
If you don't have any pears on hand, apples taste just as yummy baked in the oven. Their aroma fills the kitchen and makes it smell like apple pie is cooking!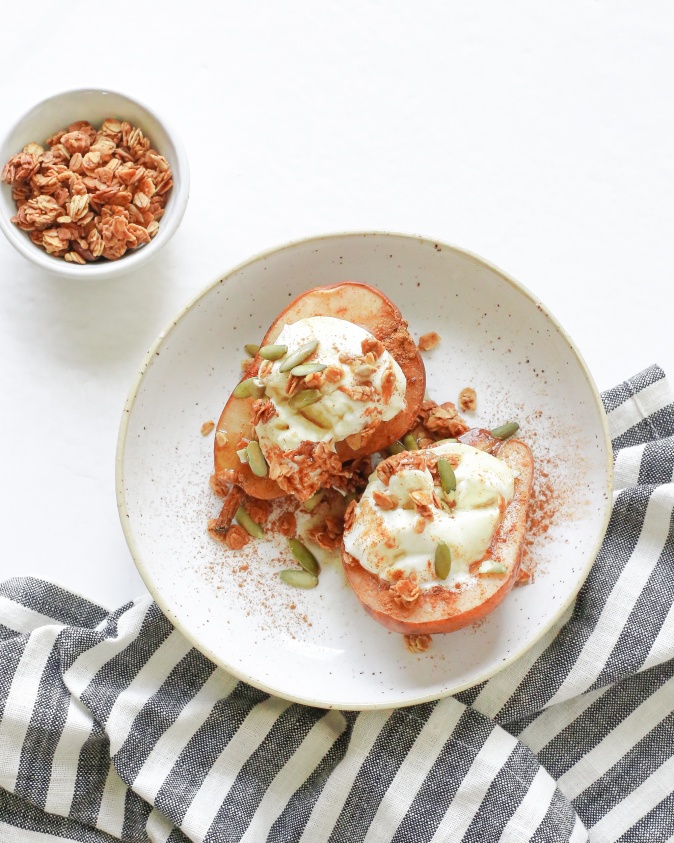 Once the fruit is finished baking I love topping it with some vanilla yogurt and granola for a little crunch! It can be enjoyed as a tasty dessert after dinner and also served as a healthy breakfast. If you're not a fan of yogurt, you can chop the pears up instead and enjoy them on top of some warm oatmeal or a stack of your favorite pancakes. If you want to turn this recipe into a real treat then add a scoop of vanilla ice cream and enjoy!
My healthy cinnamon baked pears can also be a part of your meal prep at the beginning of the week. After baking, store in an air tight container and keep in the fridge to have as breakfast throughout the week! You'll save time in the morning by having these delicious baked pears already made. Just pop in the microwave and top with your favorite toppings.
I was lucky enough to team up with Fabletics for this post- head to the Fabletics Blog for my full recipe! Enjoy and happy baking! =)