I can't believe the holidays are already here! Where did 2020 go? Today I'm sharing my top holiday gifts! I've rounded up a mix of fitness, home, beauty, wellness, and kitchen ideas. I'm not going to lie, this was so much fun to put together because these are all items that are either on my OWN wishlist or items that I already have and LOVE, haha! Also, I may or may not have caved and bought a few things on this gift guide for myself already, whoops! Okay let's dive into this gift guide!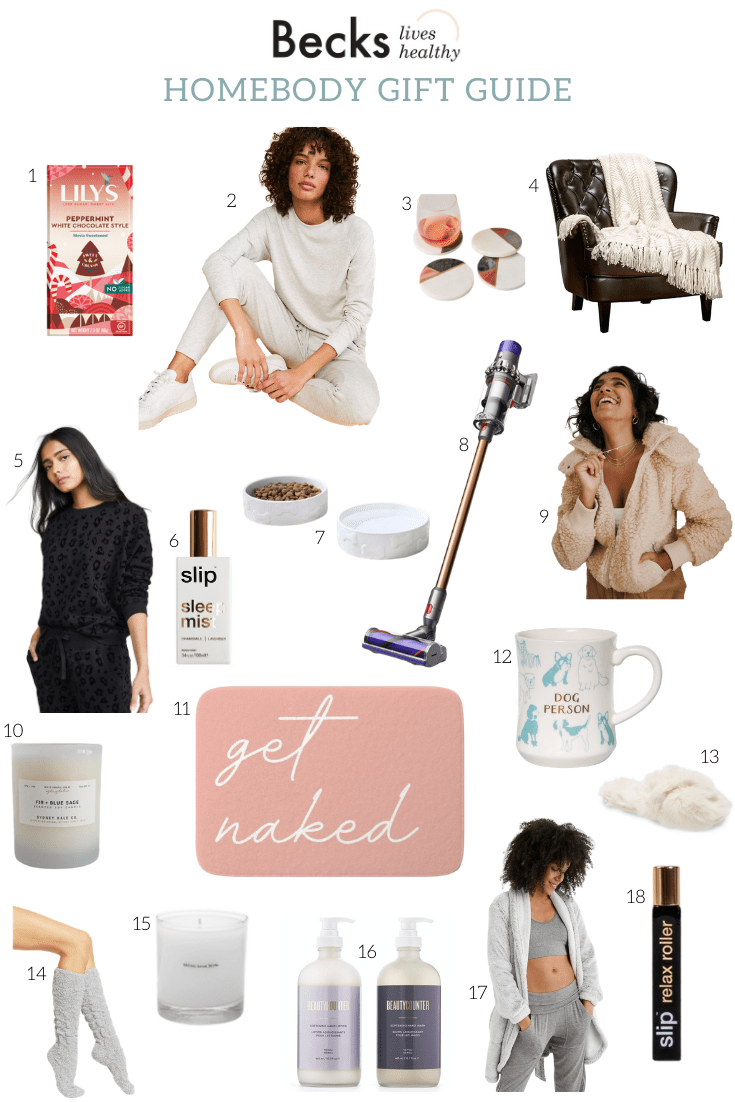 HOMEBODY GIFT GUIDE
1. Holiday Variety Pack Lily's Chocolate
Peppermint, mocha hot chocolate, gingerbread, and salted caramel
2. Lou and Grey Sweatshirt and Sweatpants
4. Knitted Super Soft Throw Blanket
Soft and lightweight knitted throw blanket, perfect for snuggling up on the couch or in bed this winter
5. Z Supply Leopard Sweatpants and Sweatshirt
Sleep mist to help create a calming environment to help you sleep
7. Pottery Barn Set of Dog Bowls
Pottery Barn dog bone bowls for your fur babies
8. Dyson Cyclone Cordless Vacuum Cleaner
9. Abercrombie Sherpa Full Zip Jacket
11. Society 6 Get Naked Bath Mat
Memory foam cushion bath mat
14. Slipper Socks
16. Beauty Counter Softening Hand Duo
Softening hand wash and hand lotion
Cozy Sherpa Robe to wear this winter
An aromatherapy rollerball that helps you relax.
19. Travel Home- Coffee Table Book (Not pictured)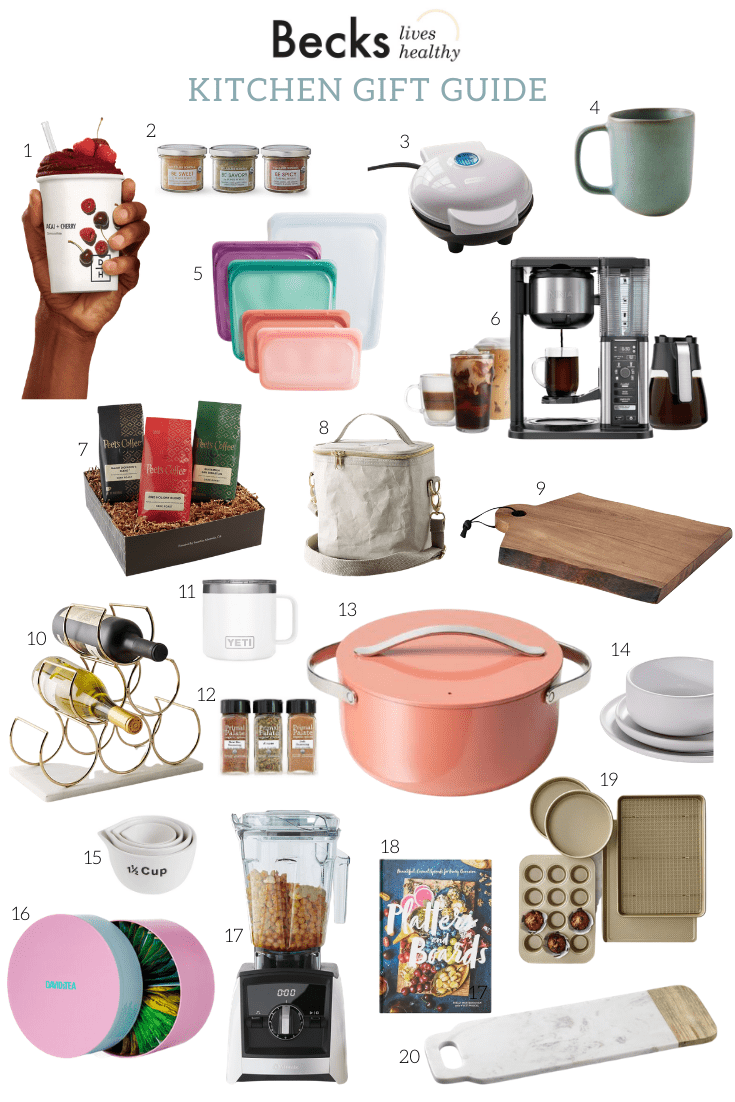 KITCHEN GIFT GUIDE
1.Daily Harvest Smoothies custom smoothie gift box
2. Be Well By Kelly Seasoning Trio
5. Stasher Bags
6. Ninja Specialty Coffee Maker
7. Peet's Coffee Classics Gift Set
8. Anthropologie Petite Lunch Poche Bag
10. Brass Wine Rack
11. Yeti Rambler Mug
12. Primal Palate Food Lover's Seasoning Pack
14. Speckled 12 Piece Dining Set
15. White Stoneware Measuring Cups
16. David's Tea "Feel Good" Tea Wheel
17. Vitamix A2300 Ascent Series Blender
18. Platters and Boards Cookbook
19. Williams Sonoma 6 Piece Bakeware Set
20. Williams Sonoma Marble and Cheese Board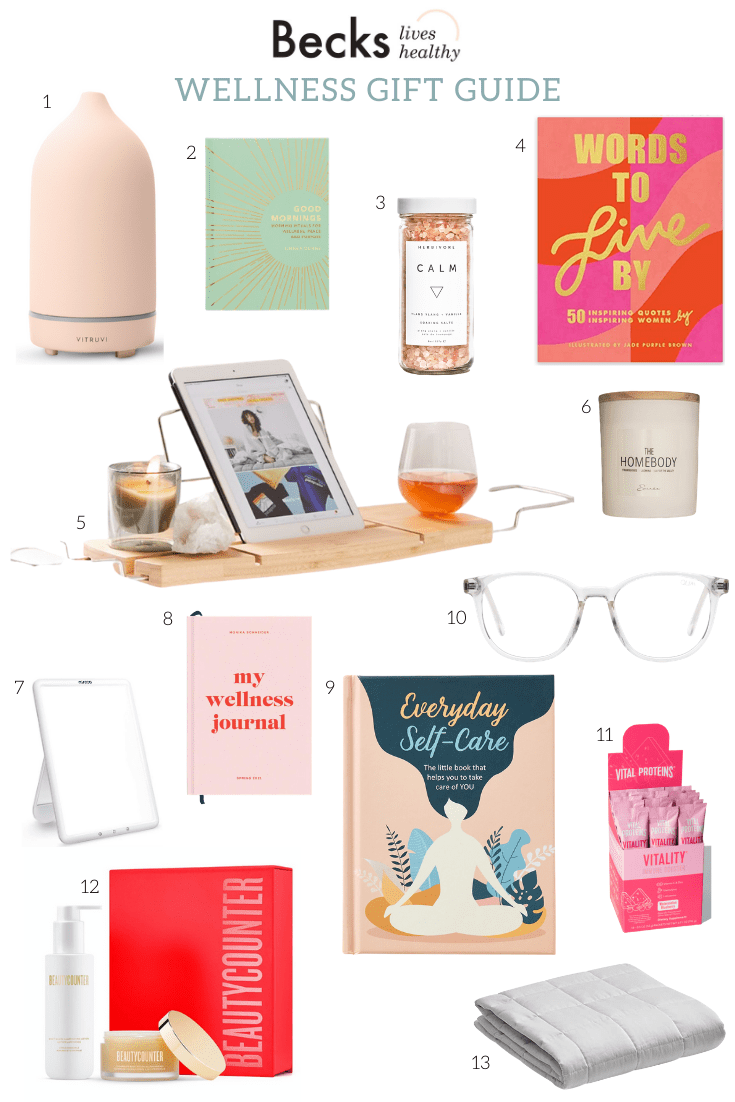 WELLNESS GIFT GUIDE
1.Vitruvi White Stone Diffuser
2. Good Mornings– Morning Rituals Book
4. Words to Live By Inspiration Quote Book
Local Hermosa Beach candle company
11. Vital Proteins Vitality Immune Booster
12. Beautycounter Sugar Body Scrub
13. Weighted Blanket
ATHLEISURE GIFT GUIDE
1. Lululemon Muscle Love Tough Crop Tank
2. Lululemon Wunder Under Train Tights
4. Zella Restore Soft Lounge Longline Bra
6. Lorna Jane No Ride Booty Ankle Biter Legging/ Lorna Jane Compress and Compact Sports
LACHANCE20 for 20% off Lorna Jane
7. Zella Live in Pocket Joggers
8. Zella Body Fusion Sports Bra
9. Bombas Performance Running Ankle Socks
10. Nike Essentials Women's Fleece Cropped Crew
11. Nike Metcon 6 Training Shoe
12. Lululemon Fast and Free Tight
14. Sweaty Betty Switch Up Backpack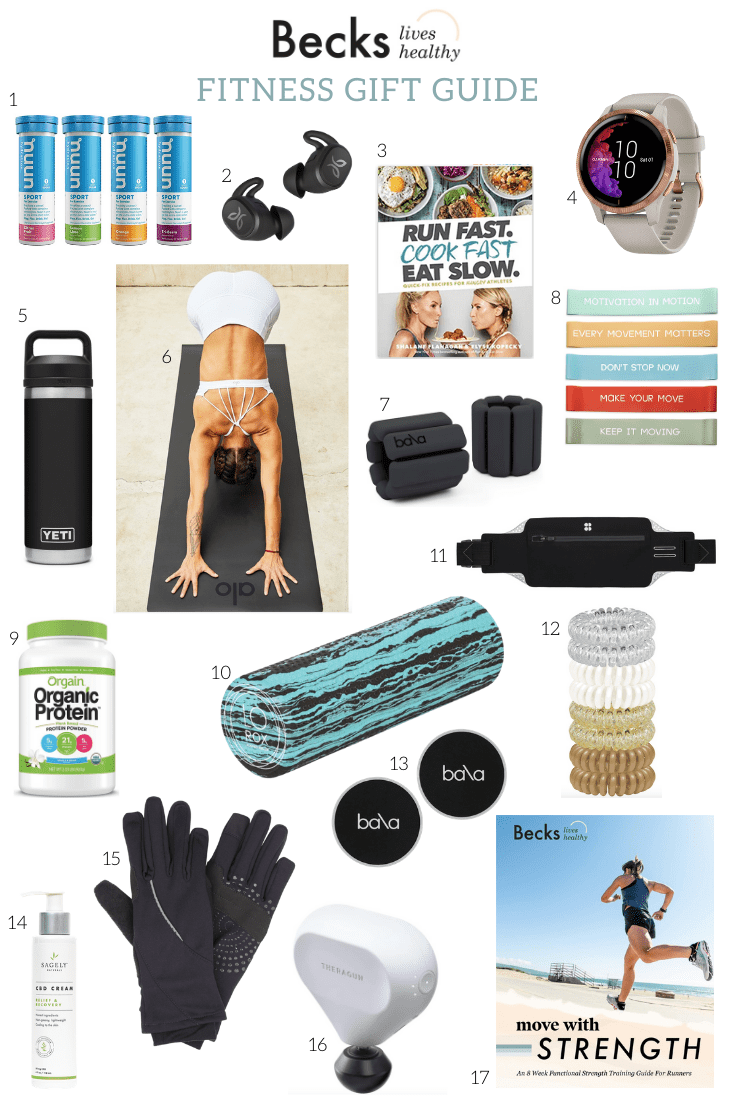 FITNESS GIFT GUIDE
1. NUUN Sport Electrolyte Drink Tablets
2. Jaybird Vista Wireless Bluetooth Headphones
3. Run Fast Cook Fast Eat Slow Cookbook
7. Bala Bangles
adjustable wrist and ankle weights
9. Orgain Plant- Based Protein Powder Travel Pack
10. Lorax Travel Size Foam Roller
12. My Kitsch 8 pack Hair Coils
13. Bala Sliders
14. Relief and Recovery CBD Cream
15. Sweaty Betty Tech Running Gloves
16. Mini Theragun
My 8 Week Functional Strength Training Program- Now 25% off!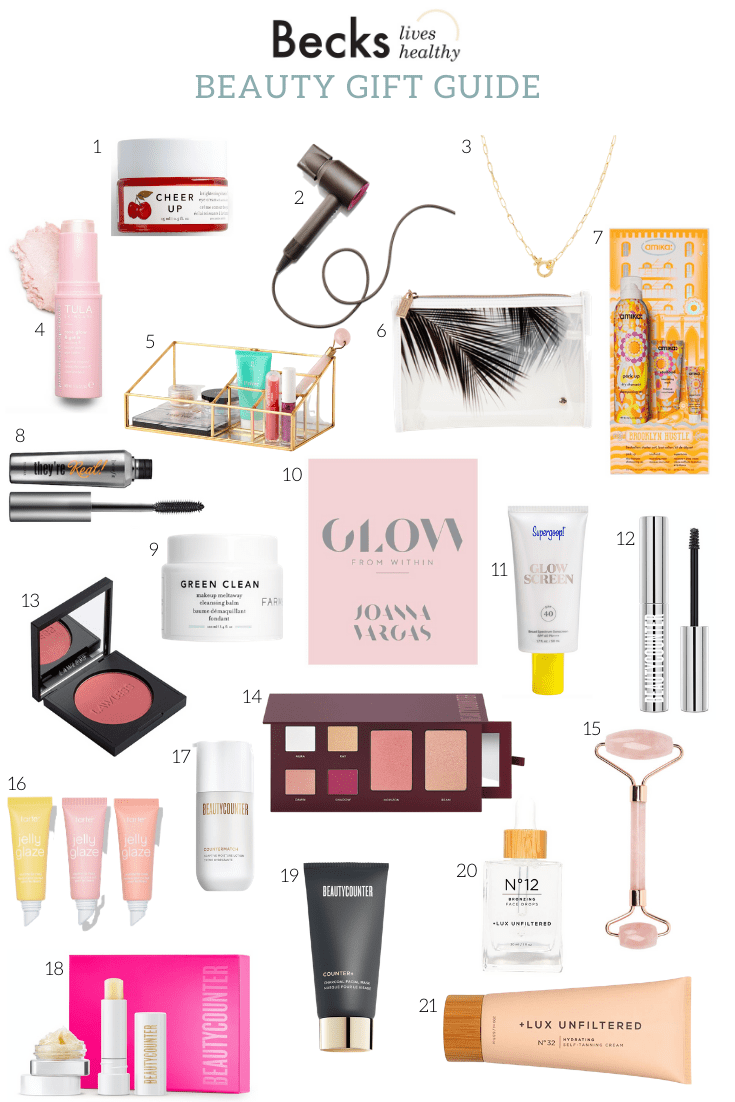 BEAUTY GIFT GUIDE
1. Farmacy Beauty "Cheer Up" Brightening Vitamin C Eye Cream
2. Dyson Supersonic Hair Dryer
4. Tula Cooling and Brightening Eye Balm
7. Amika Haircare Bestsellers Starter Set
8. Benefit's "They're Real" Lengthening Mascara
9. Farmacy Green Clean Makeup Removing Cleansing Balm
12. Beautycounter Brilliant Brow Gel
14. Beautycounter Classic Eyeshadow Palette
16. Tarte Sea Jelly Glaze Anytime Lip Mask Set
17. Beautycounter Countermatch Adaptive Moisture Lotion
18. Beautycounter Lip Conditioner Set
19. Beautycounter Charcoal Facial Mask
20. Lux Unfiltered N12 Bronzing Face Drops
21. Lux Unfiltered N32 Hydrating Self Tanning Cream
22. Beautycounter One- Step Makeup Remover Wipes (Not pictured)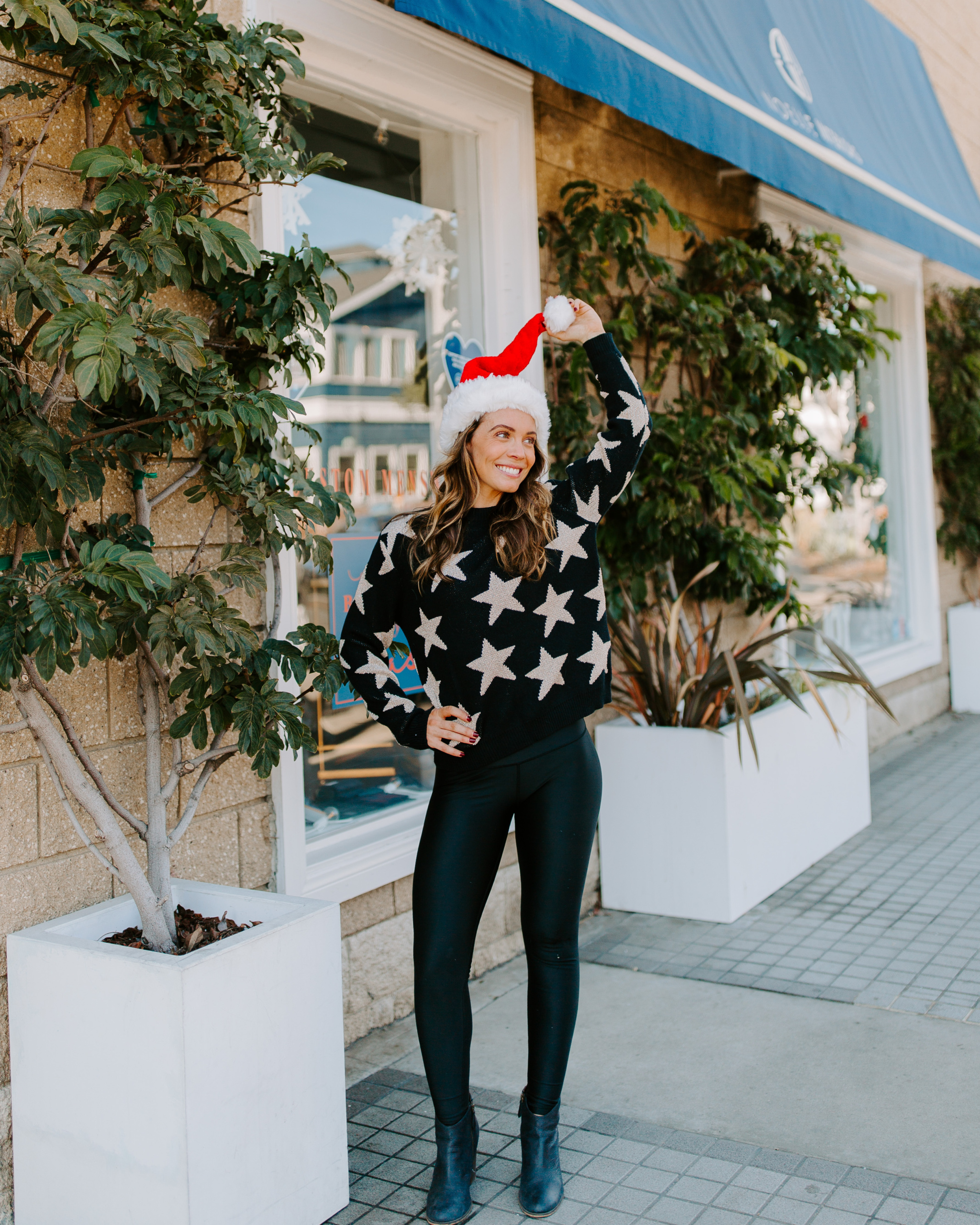 Over the next few days on my Instagram page I'll be sharing HOLIDAY GIVEAWAYS to celebrate the release of my gift guide and give back this holiday season!
Happy Shopping!!
A big shoutout to Jessica Lamoureux and Dani Esposito for all of their help with my gift guide!! Thank you ladies!