Blueberry protein waffles are one of my favorite post- workout breakfasts to make! They're packed with protein and carbs to help recover after a hard workout. I love topping mine with a warm blueberry chia seed jam, which makes you feel like you're eating dessert for breakfast!
A few years ago I would have never made waffles for breakfast. I thought they were loaded with too many carbs and unhealthy fats. I would only order them on special occasions or if I wanted to indulge for Sunday brunch because I didn't want to ruin my "diet." Waffles have always been one of my favorite breakfast foods but I felt like I could never eat them because they "weren't good for you." I decided to come up with a healthier waffle recipe a few years ago made with Kodiak Cakes flapjack and waffle mix, protein powder, egg whites, blueberries, and water! That's it! Such a simple recipe that can be made in no time. I love prepping a bunch of these waffles at the beginning of the week to have after my morning workouts and runs on my busy mornings. They're packed with protein and carbs to help refuel your muscles. I also love drizzling them with a little melted nut butter for some healthy fats to keep me full for hours!
These waffles can be made using different flavors of protein powders, different types of berries, or even some chocolate chips sprinkled in. I've been loving this blueberry chia jam recipe lately, but any frozen berry can work for this recipe! This recipe doesn't have to just be a post- workout meal either, it's a great way to sneak in a healthier breakfast for kiddos out there too!
Blueberry Pie Protein Waffles with Blueberry Chia Jam
Ingredients
Waffle:
½ cup Kodiak Cakes Buttermilk Flapjack & Waffle mix

2 tbsp egg whites

1 tbsp cinnamon bun protein (vanilla works well too)

⅓ cup blueberries

1 tbsp peanut butter

Dash of cinnamon

Water for mixing (I never measure, just try to get the batter thick/ thin without any lumps)
Blueberry chia jam:
½ cup frozen blueberries
½ cup water
1 tbsp chia seeds
Direction
Waffle:
Mix together waffle ingredients and pour mixture on waffle iron

Cook until slightly crisp (time varies based on the waffle iron)

Top with warm blueberry chia jam and drizzle of peanut butter.
Blueberry chia jam:
Cook on stovetop on low- medium heat for 5-10 mins to thicken, stirring occasionally.

Top waffle with jam when finished. Extra jam can be stored in the fridge!
xx Becks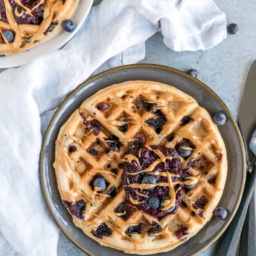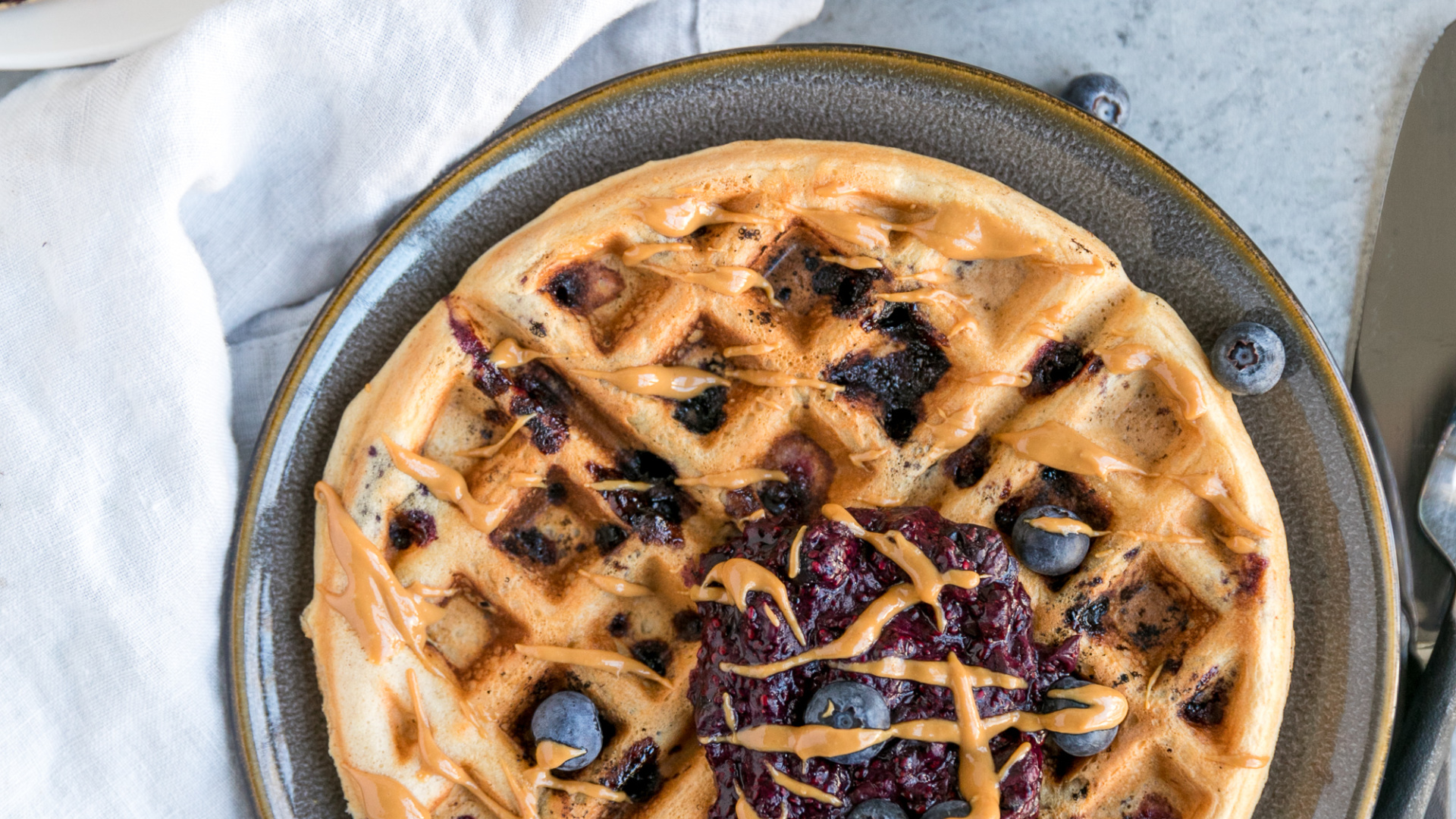 These blueberry protein waffles are packed with protein and carbs to help recover after a hard workout. I love topping them with a warm blueberry chia seed jam- you'll feel like you're indulging in a tasty dessert for breakfast!
xx Becks