Yesterday I shared a poll on my Instagram stories on which topic to write my next blog post about! You guys chose "My favorite pantry items" so here ya go— Below is a list of my favorite brands, products, go-to grocery items, and staples in my pantry!
I do most of my grocery shopping every week at Trader Joe's, Whole Foods, and Milk and Eggs (online grocery delivery). I used to LOVE grocery shopping (my sisters used to hate going with me because I would take forever trying to find my favorite food products and looking at all the labels). Since I started using Milk and Eggs, I don't really enjoy going to the grocery store anymore. It's just so much more convenient to have my favorite products show up at my doorstep! I still love finding new products at Trader Joe's and going to Whole Foods for my favorite turkey and veggie wrap or the hot foods bar, but honestly I rather just sit in the comfort of my own home and order groceries!
Here is the a list of all the goods I try to keep stocked up at home! I don't buy ALL of these items every week, but try to have most of them on hand.
Fruit and Vegetables:
Bananas

Strawberries

Blueberries

Raspberries

Frozen berries & bananas (for smoothies)

Asparagus

Brussels

Mini Bell Peppers

Zucchini

Spinach

Romaine

Red onion

Yellow onion

Broccoli

Avocado

Grape tomatoes

Sweet Potatoes

Frozen bell peppers and onions (for stir fries)

Frozen cauliflower rice (for stir fries)

Cauliflower Gnocchi (from Trader Joe's)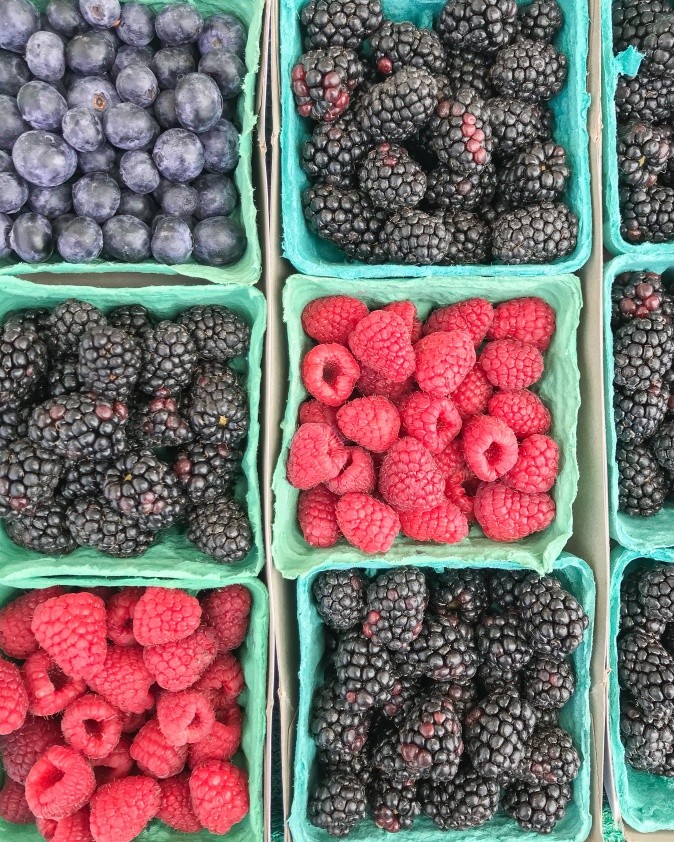 Dairy and Eggs:
Siggis Icelandic Style Vanilla Yogurt

Califia Farms Pecan or Vanilla Caramel Creamer

Califia Farms Unsweetened Vanilla Almond Milk

Liquid Egg Whites

Eggs

Goat Cheese

Feta Cheese

Halo Top (PB&J, Cookie Dough)

Yasso Frozen Greek Yogurt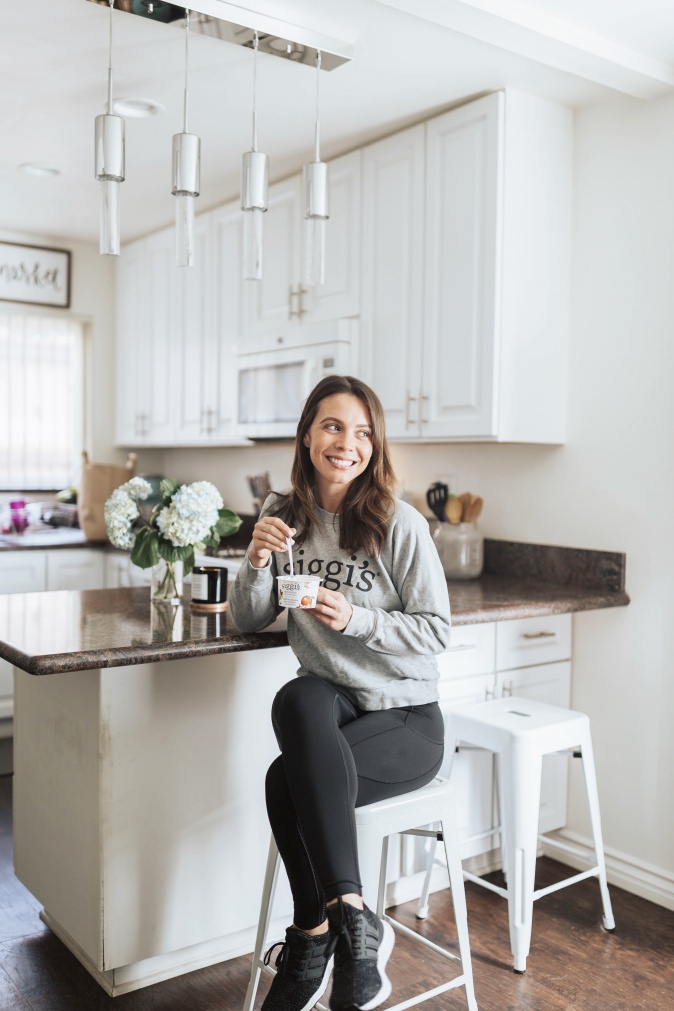 Beverages:
Stumptown Cold Brew

Dunkin Donuts French Vanilla K Cups

Yogi Green Tea Kombucha

La Croix Water
Meat:
Applegate Naturals Roasted Turkey Breast

Trader Joe's Boneless Skinless Chicken Breasts

Trader Joe's Jalopeno Chicken Sausage

Trader Joe's Sweet Apple Chicken Sausage

Safe Catch Elite Canned Tuna
Pantry (this list is LONG but it has everything from breads, grains, cereals, protein bars, condiments, spreads, etc):
Kodiak Cakes Almond Poppyseed PowerCakes Mix

Whole Foods Fresh Mango and Pineapple Salsa

Trader Joe's Garlic Hummus or Hope Foods Jalopeno Red Hummus

Trader Joe's Bolognese Sauce

Eat Banza Pasta

Eat Banza Rice

Trader Joe's Tricolor Quinoa

Rudi's Whole Grain Wheat English Muffins

Alvarado Street Bakery Sprouted Multigrain Bread

Flat Out Wraps
Cashews
Trader Joe's Sesame Honey Cashews

Earth Balance Coconut Peanut Butter

Justin's Honey Peanut Butter

Georgia Grinders Cashew Butter

Trader Joe's Sunflower Butter

Eating Evolved Caramel and Sea Salt Coconut Butter Cups

Sriracha

Primal Kitchen Honey Mustard Vinaigrette

Primal Kitchen Avocado Oil Spray

Primal Palate New Bae Seasoning

Primal Palate Barbecue Rub

Trader Joe's Everything but the BAGEL Seasoning Blend

Trader Joe's Pink Himalayan Sea Salt Crystals

Simply Organic Cinnamon

Perfect Bar Dark Chocolate Chip

ONE Birthday Cake Protein Bar
Syntha- 6 Protein Crisp Salted Toffee Pretzel Bar

Rise Bar Chocolatey Coconut

Naturally Clean Eats Almond Blueberry Crumble

Rachel's Overnight Oats

Better Oats

Purely Elizabeth Ancient Grain Oatmeal

Purely Elizabeth Granola (the dark chocolate sea salt is my FAVORITE)

Chia Seeds
Stevia
Trader Joe's Coconut Oil Spray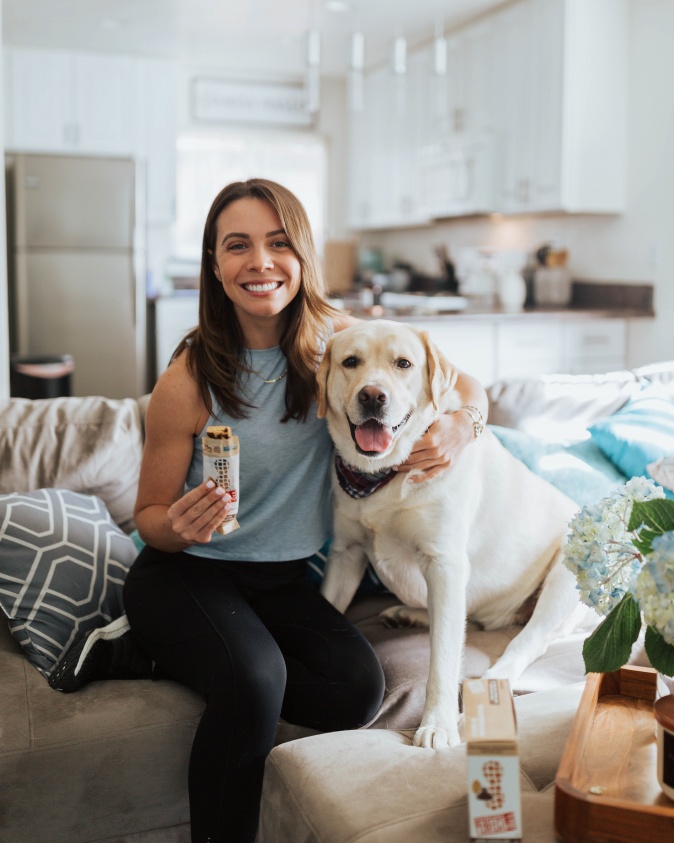 Supplements:
NUUN hydration tabs (pre-run)

XTEND BCAAs (intra, post- workout)

Pescience Snickerdoodle Protein

Vital Proteins Collagen Peptides

Meal Prep:
Although I no longer work in the hospital and have to prepare for 12 hour nursing shifts, I still like to prep a few things on Sunday evenings to make my week a little easier!
Grilled Chicken– chicken cooked on the grill with Primal Palate's BBQ seasoning- that's it!! It's SO good and easy!
Roasted Sweet Potatoes– I actually have a blog post on how I roast my sweet potatoes. CLICK HERE to check it out!
Banana Bread Overnight Oats– I usually prep a couple batches to get me through a few weekday mornings! Here's the recipe I usually use!
Cinnamon Bun Protein Waffles– I usually prep a few waffles to have during the week as well. Sometimes I'll even have them for lunch or I'll freeze them to have in the future. Check out my go-to protein waffle recipe!
Happy Shopping!