This post is sponsored by Renew Life. All opinions stated are my own.
If you guys have been following along on Instagram, I've been sharing my journey as I train for the Revel Big Cottonwood Marathon in September. I've been sharing on my stories and in my posts all about my running, strength training, nutrition, and recovery as I work towards another 26.2. One topic I haven't really touched on is gut health. I started incorporating Renew Life®'s Ultimate Flora Probiotic™ at the beginning of this training cycle to support my immune and digestive health. In this post I'm going to talk about why taking probiotics has been so important to me while training for another marathon and why I chose Renew Life!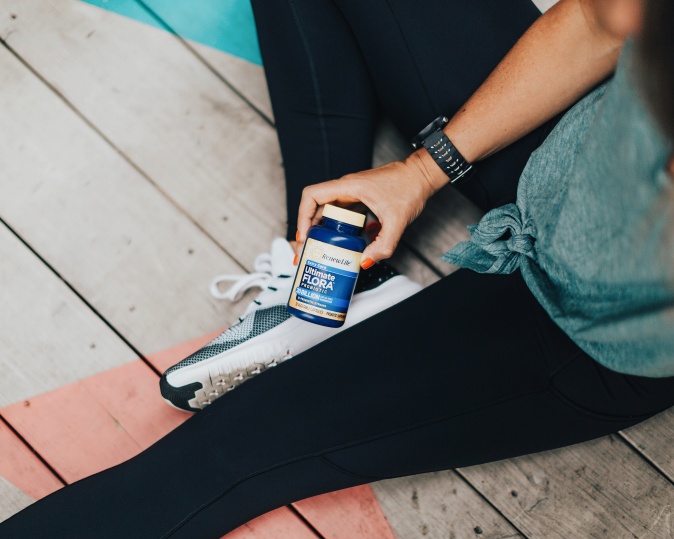 When I started training seriously for marathons back in 2016, I didn't realize that running can cause major stress to our gastrointestinal tract. Running decreases blood flow to our stomach and intestines and shunts it to our muscles and lungs in order to supply them with oxygen rich blood to meet the demands of running. The longer the run, then the less blood flow to the GI tract. This contributes to digestion issues on long mileage days.
Not only does running cause digestive problems, but it can also weaken our immune system. By adding in a daily probiotic, we can give our digestive tract more beneficial bacteria to help avoid common gastrointestinal and upper respiratory infections that can interrupt training when our immune system is down.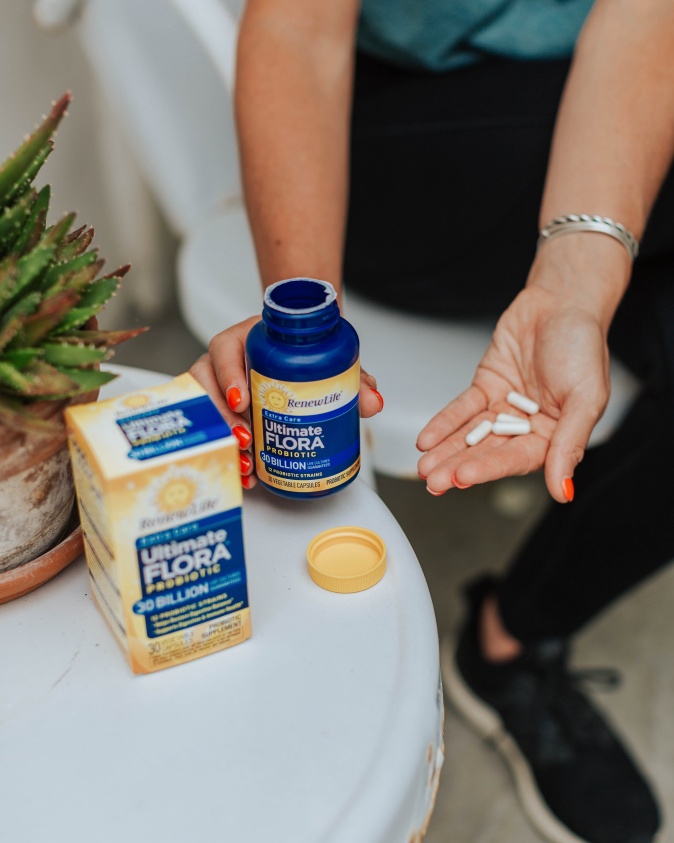 Did you guys know 70% of our immune system is located in our gut?
Probiotics play an important role in our immune function– 70 percent of our immune system is located in our gut. How crazy is that?! Good digestive health is a key part of maintaining your immunity and overall health during marathon training. Last year when I was training for the Chicago Marathon I had to shut down training for almost a week due to an infection. I barely moved from the couch and missed one of my longer and most important training runs. I didn't want that to happen again during this training cycle, so I decided to start taking Renew Life Ultimate Flora Probiotic daily to provide powerful digestive and immune system support during my training.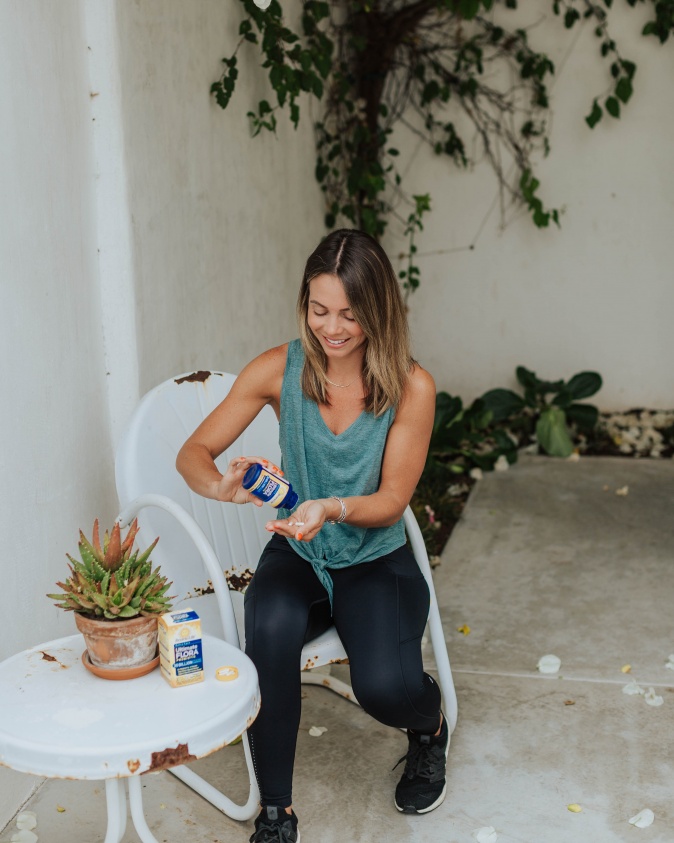 Why Renew Life?
I've had GI issues since I was in nursing school. They've been on and off for 7 years now, so a few months ago I decided enough was enough. I started eliminating foods from my diet that might be causing problems, but I also started taking Renew Life Ultimate Flora Probiotic. So how did I hear about Renew Life? I was lucky enough to be invited to the Renew Life retreat in Ojai, California back in June. It was a weekend filled with spa treatments, amazing food, time by the pool, pottery making, yoga while learning all about gut health. I walked away from the retreat feeling super inspired and ready to take charge over my gut health and started implementing Renew Life Ultimate Flora Probiotic into my daily routine.
Honestly, the last 2 months has been the best my digestive system has felt in years. This has been so important during my marathon training. Last summer I would head out for most of my morning runs with an upset stomach that would be made even worse by running. I honestly haven't had any stomach issues during this training cycle, which has allowed me to focus on my runs and hitting my paces.
Benefits of Renew Life Ultimate Flora Probiotics:
30 billion live cultures per capsule

12 specially selected Bifidobacterium and Lactobacillus strains

Supports digestive and immune health

Helps restore digestive balance

Taken once daily, delayed-release capsule for targeted delivery

Dairy and gluten free
I am SO excited to continue my journey to 26.2 and thankful to have found Renew life during this training cycle!!
Please visit Renew Life® to learn more and see the full line of supplements!
Let me know if you guys try Renew Life and tag me on Instagram- @becksliveshealthy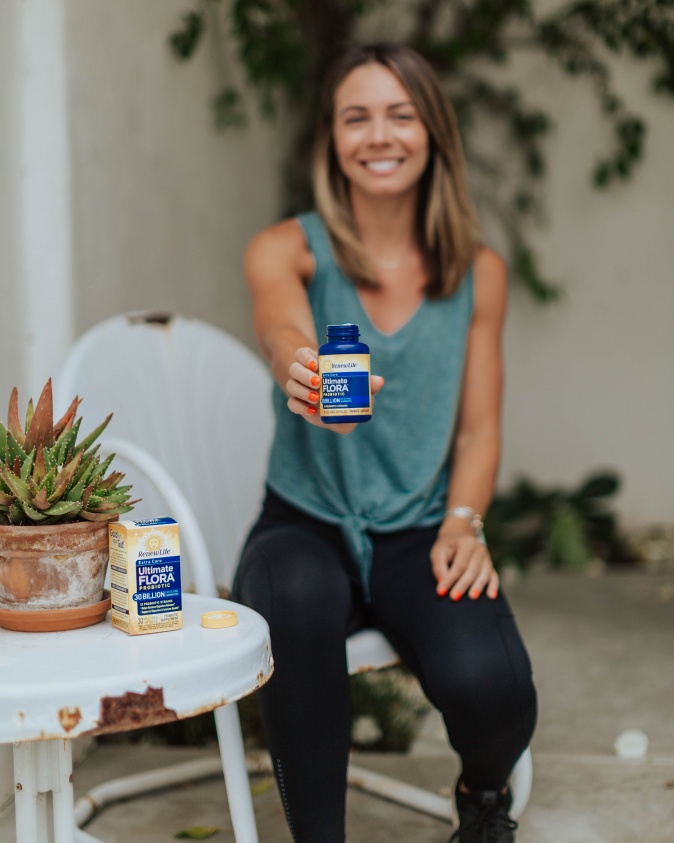 Photos taken by: @jessrochowphoto
Sources:
https://www.mindbodygreen.com/0-27009/6-things-runners-need-to-know-about-their-gut-health.html
https://www.runnersworld.com/nutrition-weight-loss/a20266889/probiotics-benefits-for-runners/
https://www.uptodate.com/contents/exercise-related-gastrointestinal-disorders?search=running%20and%20gastrointestinal%20system&source=search_result&selectedTitle=5~150&usage_type=default&display_rank=5