It's officially the holiday season and I couldn't be more excited! This year I'm excited to spend the holidays with my sister, brother in law, and new nephew in Hawaii. Even though I won't be snuggled up by the fire back on the east coast with the rest of my family, I'm excited to meet my new baby nephew! Back in the summer at my sister's baby shower, my brother in law put together the most incredible charcuterie board. That inspired to create my own holiday version- which I can't wait to recreate for them when I visit!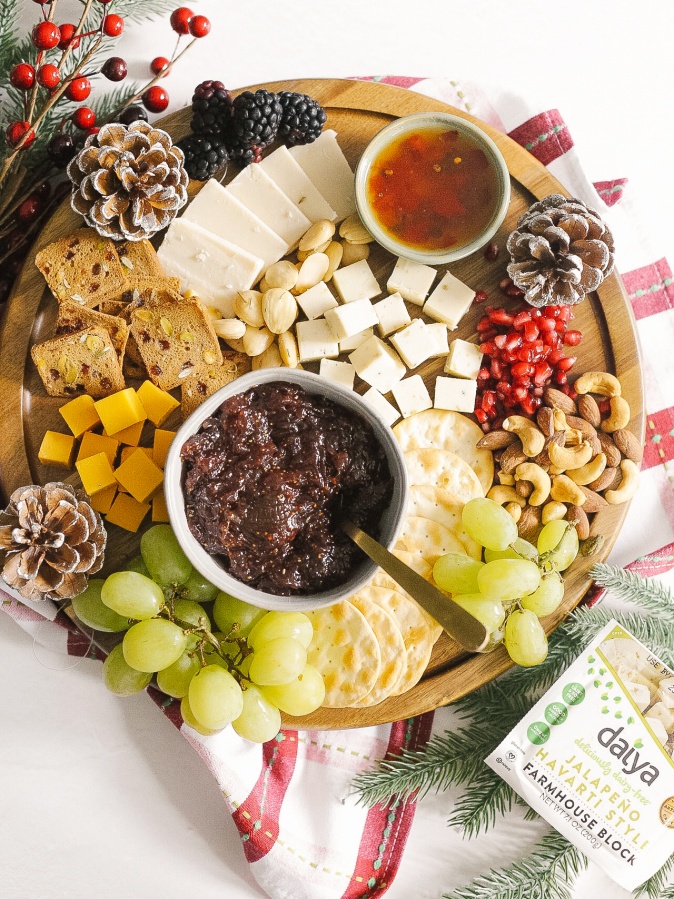 Cheese boards make the perfect holiday appetizer. They're so fun and easy to make and the good thing is, there's no cooking involved! Plus, they create a whole centerpiece for everyone to gather around and enjoy at a party!
In today's post I'm going to break down the steps I used to create my holiday plant- based cheese board. Even though this board is plant- based, there really is something on here for everyone!
STEP 1: Select your cheeses
I wanted to have somewhat of a variety in my cheese board since everyone is different in what they prefer! To create this cheese board, I partnered with Daiya Foods and used their Jalapeño Havarti, Medium Cheddar, & Monterey Jack Blocks. All of Daiya's cheeses are dairy free, gluten free, and soy free! They can be found across the country at Sprouts, Kroger, Safeway, and Publix stores!
While preparing the cheeses for the board, I cut up the blocks in cubes and slices to add some variety so they could be enjoyed in different ways.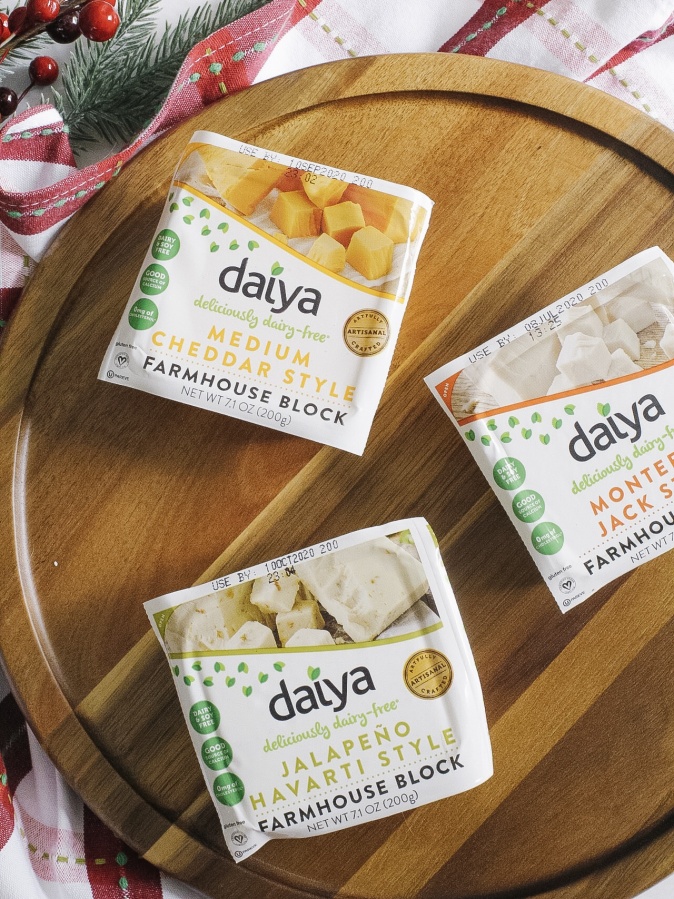 STEP 2: Sweet and Savory Pairings
I wanted to have some sweet and savory items on my cheese board! I tried keeping the items seasonal and festive for the most part.
Sweet- I added fresh fruits- grapes, blackberries, and pomegranate seeds. Next up- I added some tasty fig jam!
What other sweet items would work for a cheese board?
Dried fruit, honey glazed nuts, and chocolate also work too!
Savory- I added mixed roasted nuts, rosemary Marcona almonds, and hot pepper jelly.
What other savory items would work?
Olives, tapenade spreads, tomatoes, mini bell peppers, carrots, cucumbers, pickles, or different nuts. Choose what you and your guests like and what pairs well with your spreads!
STEP 3: Crackers
Every cheese board needs a variety of crackers to enjoy with the cheese and other goodies! For this board I added water crackers and these amazing pistachio and pomegranate crisps. Yum! You can also add some sesame crackers, multi-grain crackers, or crostini bread slices!
STEP 4: Garnish
This part was fun and made my cheese board extra festive! I filled in the gaps on and around the board with pinecones. cranberries, and greenery.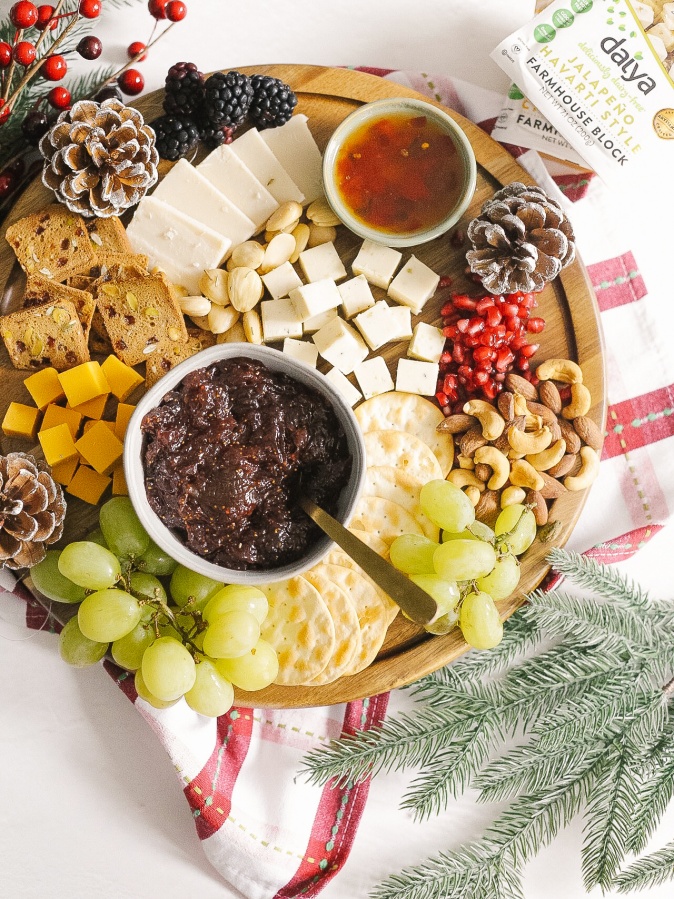 How to assemble the cheese board:
Start with the board. You can choose a wooden or slate tray (round, square, or rectangular). Cutting boards or a large plate also work. No one will really notice what you use once you have all the ingredients piled high on there.
Next add the small bowls filled with jams, jelly, or other spreads!
Arrange the cheese on the board followed by the crackers.
Fill in the gapes with the nuts and fruit.
Finish by garnishing the board, and you and your guests will be ready to dig in!
This plant-based holiday cheese board is such a fun and festive way to celebrate the season that has something for everyone to enjoy!
This post is sponsored by Daiya Foods. I'm thrilled to be partnering with them this holiday season! As always my thoughts and opinions are my own.