Last week I was lucky enough to travel to Oahu to visit my sister, Katie. Before my visit, we made a plan to go on an acai bowl tour of the island. Acai bowls are probably one of my favorite foods ever. My motto has always been "I run for acai!" I crave them more in the summer and love having them on a hot, sunny day after a long run! My sister and I ended up having one every day either after our morning workout or for lunch after the beach.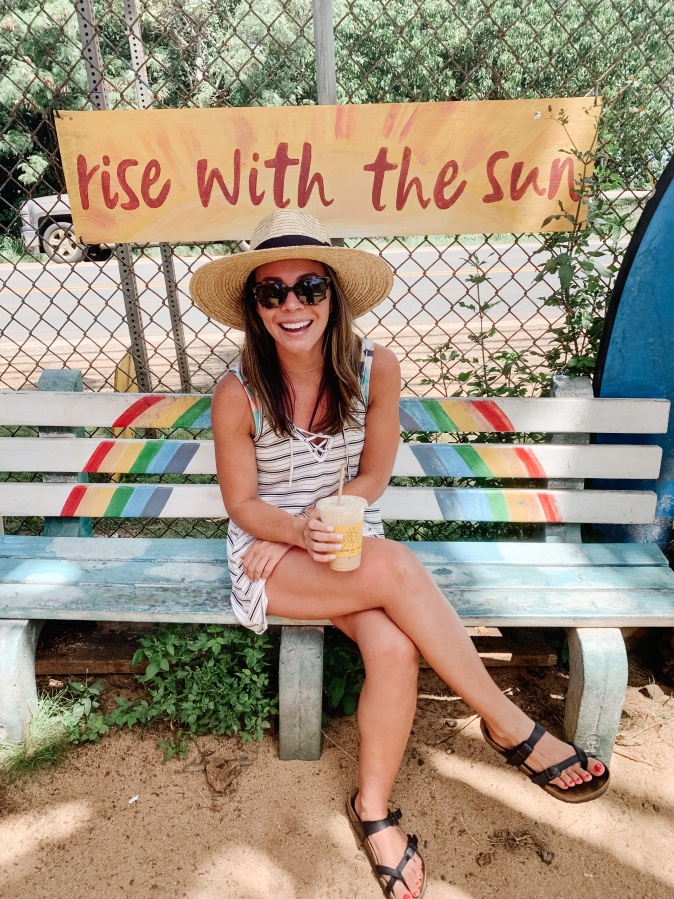 What are acai bowls?
Acai bowls have an acai berry blend as a base and are either layered or topped with granola, fruit, honey, and other superfoods!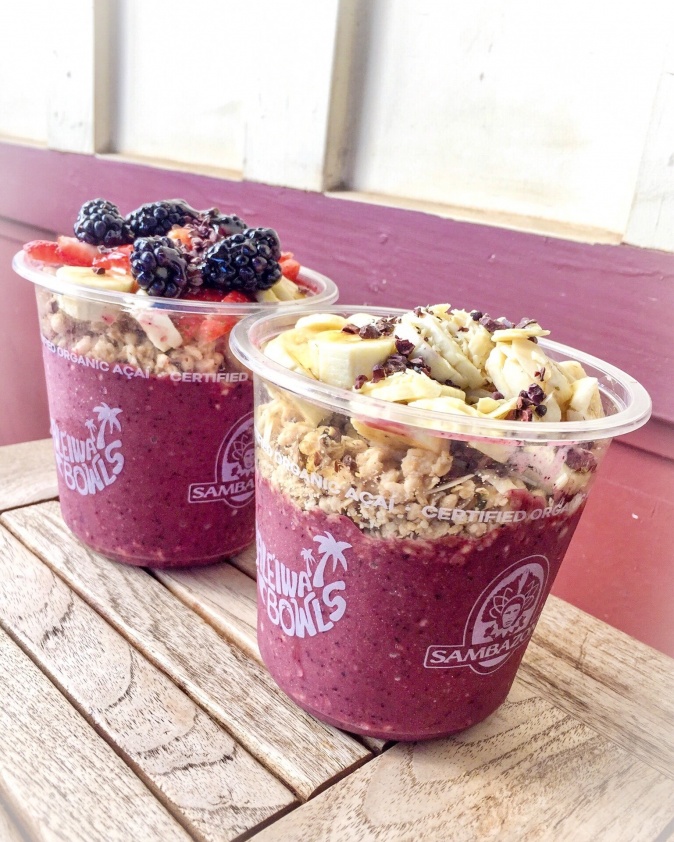 If you're planning a trip to Oahu, this post is for you!! Here are my favorite acai bowls on the island:
Island Vintage Coffee– My favorite bowl place from the trip!! They offer a couple of different acai bowls on their menu. I got the Liliko'i bowl topped with strawberries, papaya, banana, liliko'i honey, granola, and added almond butter. Katie got the Haupia bowl topped with haupia cream, coconut, banana, strawberries, honey, and granola. Both of our bowls were SO good!! I LOVED the added liliko'i honey and haupia that we both got on our bowls. They also offer a bunch of other topping options as well. The great thing about this place is that there are several locations in Oahu- Waikiki, Honolulu, Ko' Olina, and Haleiwa!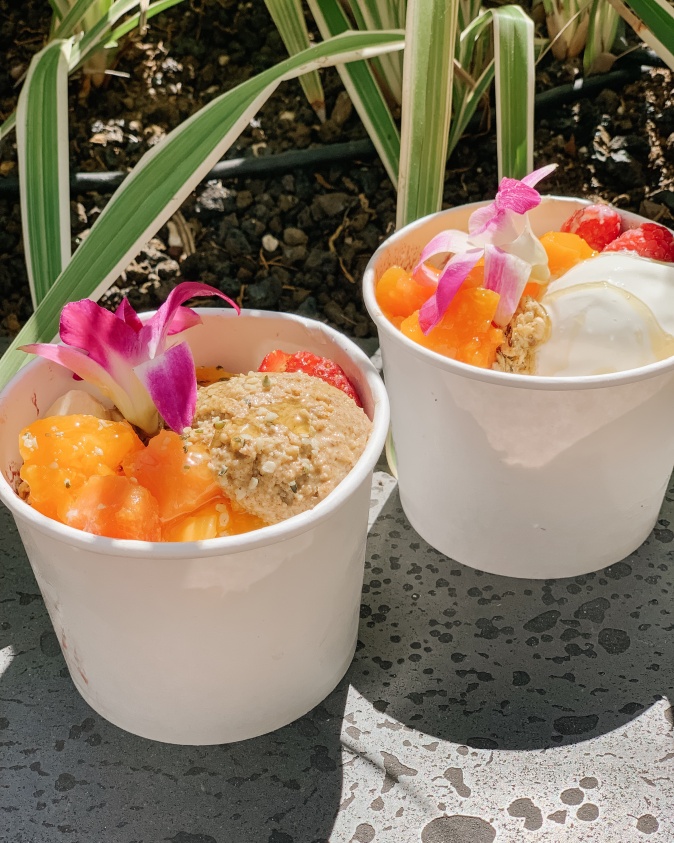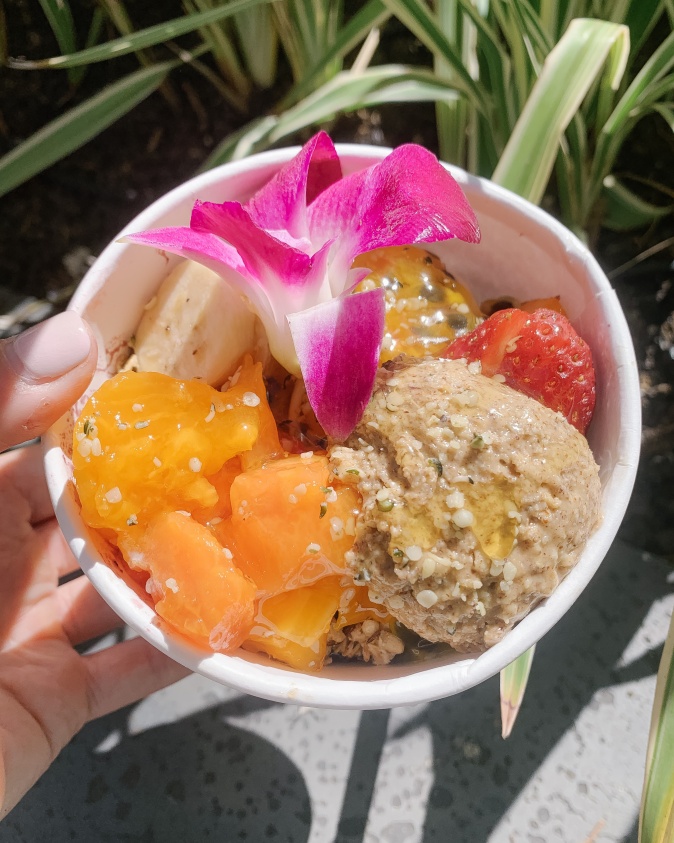 Haleiwa Bowls- one of the most popular bowl spots on the island!! It's located in Haleiwa, Oahu's north shore. This was my third trip to Haleiwa bowls. It never disappoints! They have two main acai bowls on the menu- the hapa acai bowl (which is more like a smoothie) and the mana acai bowl (which is more like a sorbet). They both come with bananas, granola, coconut, and Hawaiian honey, with options to add more toppings!! I ended up getting the hapa bowl with added strawberries, cacao nibs, and papaya! Mhmm!! They also have a few other non- acai smoothie bowls on their menu. The blue bowl looks amazing! I may have to get it next time I go back!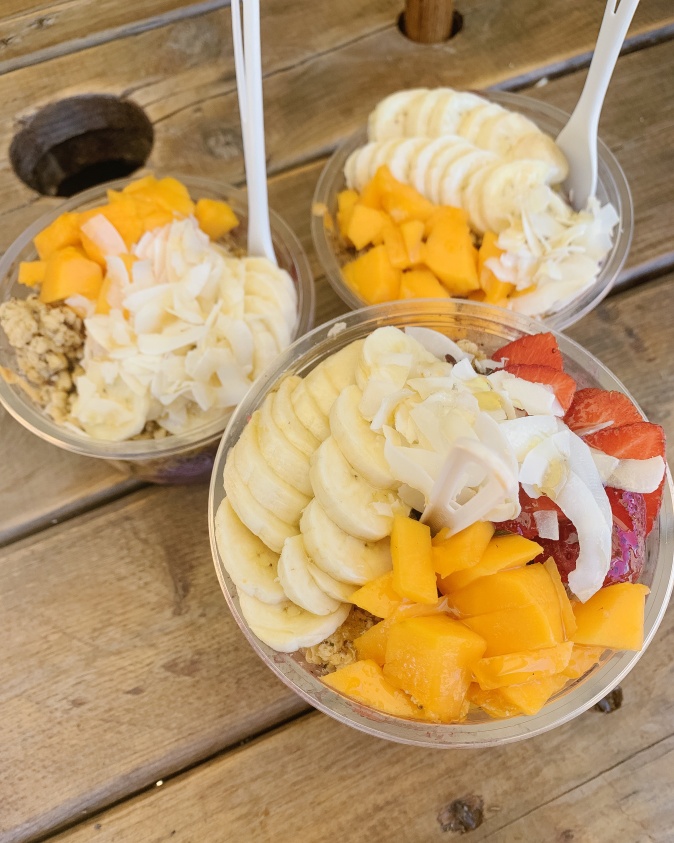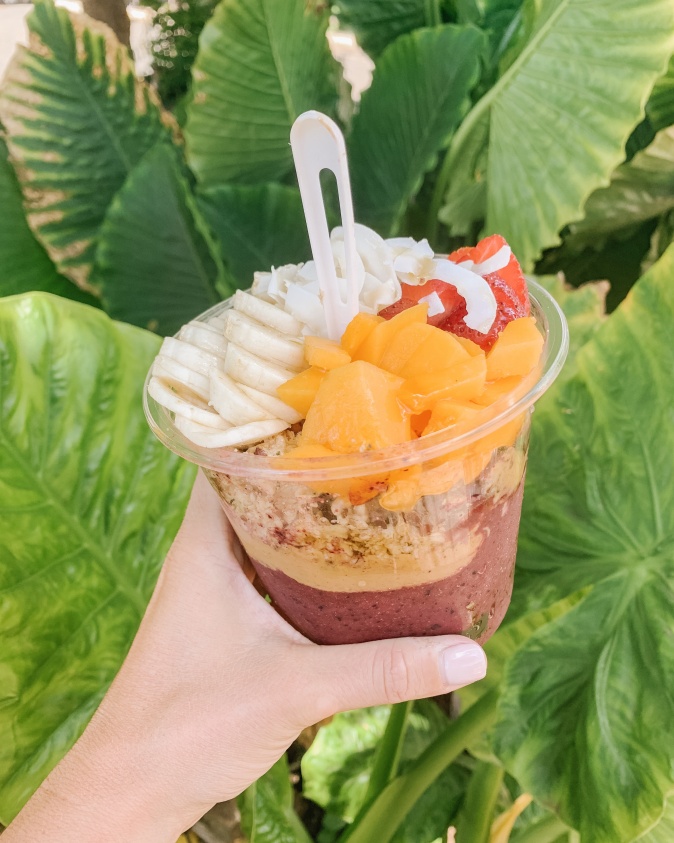 Down to Earth- Down to Earth is a natural foods store in Oahu. Katie and I stopped on the way home from the airport to grab something to eat and ordered two acai bowls. We didn't expect them to be great because we were just ordering them from a grocery store and to our surprise they were amazing!! The only thing missing from them was added peanut butter on top, and luckily I always keep a packet in my purse so we just added it ourselves! They have three acai and pitaya bowl options on the menu. We both got the Amazon Warrior Acai bowl topped with raspberries, bananas, strawberries, coconut, and granola! My favorite part about this bowl was that the berries were frozen. I've never had an acai bowl with frozen fruit on top. Katie and I liked our bowls so much that we came back a second time before I left!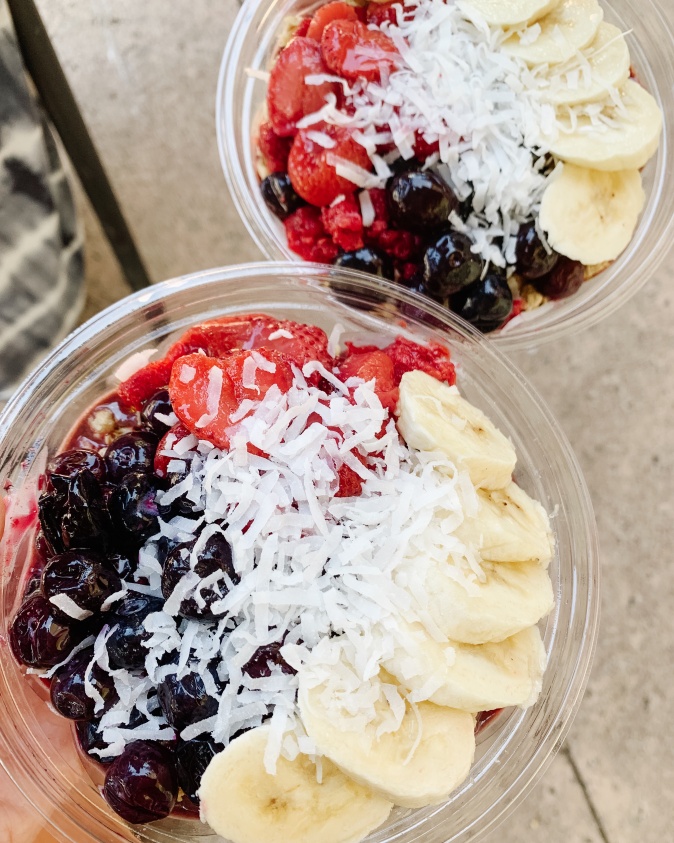 Sunrise Shack (North Shore location)- Sunrise Shack is a cute little spot in the North Shore! We stopped their twice on the way to the beach! They specialize in bulletproof coffee and acai bowls! I wasn't really a huge fan of their coffee but I LOVED their acai bowls. They were topped with granola, coconut, banana, house made dragon fruit sauce, honey, and almond butter! I loved that the granola and almond butter were layered in the bowl. They also have a few more bowls on the menu- the tropical bowl, monkey bowl, blue dream bowl, and jungle matcha bowl. Sunrise Shack also has another location in Waikiki.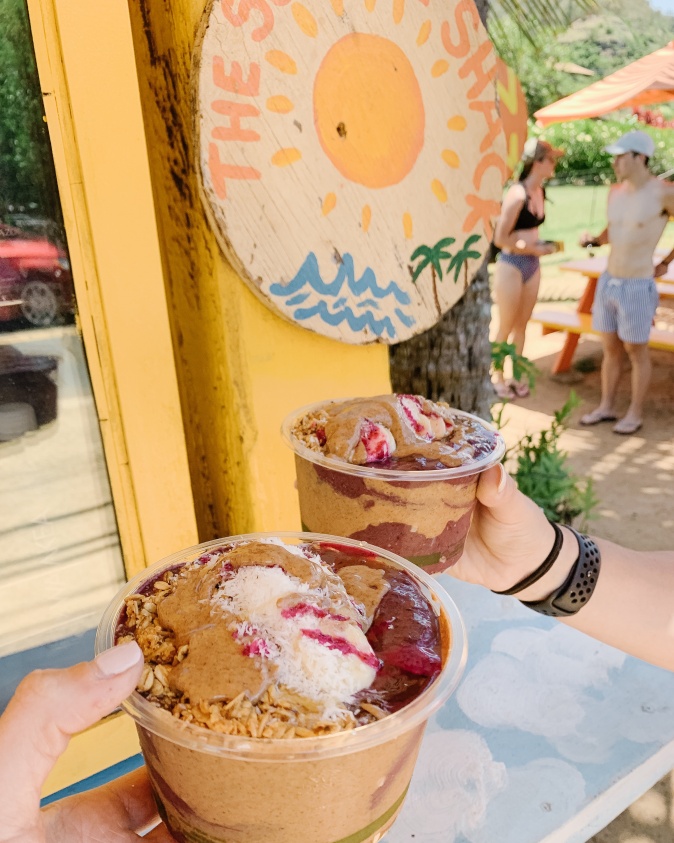 Nalu Health Bar- Nalu is a health bar with several locations on the island. Their menu is made of acai bowls, smoothies, juices, wraps and sandwiches, salads, and coffee! I ordered their Nalu acai bowl, which was topped with bananas, strawberries, blueberries, bee pollen, granola & honey. They didn't have too many acai bowl options on the menu. Next time I would probably order a salad or sandwich instead, they looked really good!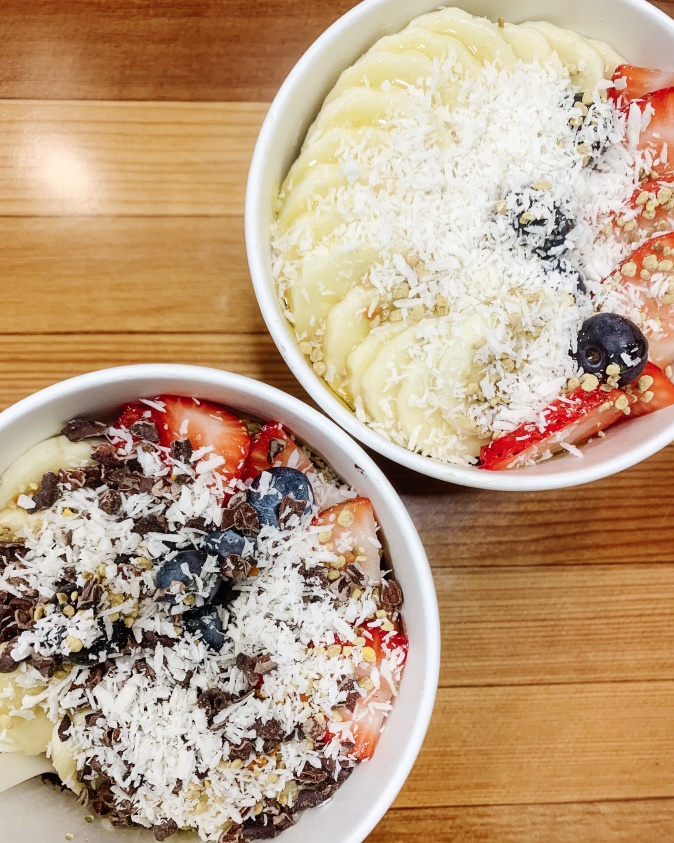 Unfortunately we weren't able to make it to every acai bowl place on our list, but here are the names of the others in case you guys want to try them out. Let me know if you do!
Makai Bowls
Island Brew Coffeehouse
Kahuku Farms
Surfers Coffee
Salted Lemon
Now I would love to know, have you been to Oahu? What was your favorite acai bowl on the island?!