Tulum has been on my travel bucket list for years!! When Ryan and I were planning our second Mexican vacation together to celebrate his birthday I figured it would be the perfect opportunity to go to Tulum. We fell in love with Sayulita and wanted to go back- but decided we should try somewhere we've never been. One thing I wish we looked into prior to going to Tulum was the weather. We picked the hottest time of year. It was 90 degrees and 70% humidity throughout our whole trip, making the weather a little unbearable at times. The water was also super sea-weedy so we didn't go in a ton. If I had the opportunity to go back, I would pick the winter or spring, when it's not as hot. The good part about going this time of year though was that it wasn't super crowded with tourists!
Where to stay:
Tulum is divided into two areas: the town and the beach. Tulum beach is where all the trendy hotels are with one main road running down the entire length. Tulum town is off the beach, is more budget friendly, and has more Mexican authenticity. I would have loved to stay at the beach, but we were trying to find somewhere budget friendly so we decided to stay at an Air BnB in town. It was only about $70 per night!
Although I would have preferred to stay at the beach, I'm glad we got to experience the town and culture. We had some really good Mexican food and found some good places that not all the travel blogs talk about!
How to get to Tulum:
To get to Tulum you have to fly into Cancun- which is about 1.5 to 2 hours away. There are a few ways to travel to Tulum from the airport. You can either take a taxi, ride in a shared shuttle, take the ADO bus, or drive rental car. Our plan was to take the ADO bus, but at the last minute we decided to rent a car. BEST DECISION EVER! Tulum was a lot bigger than I thought and not very walkable. Well the town is walkable, but to get to the beach from town you either need drive or ride a bike. We were supposed to have bikes provided by our Air BnB, but there was a miscommunication and they didn't have any. Honestly it worked out better because the weather was too hot and humid to be biking everywhere. For the most part, it was easy for us to find parking in town and by the beach.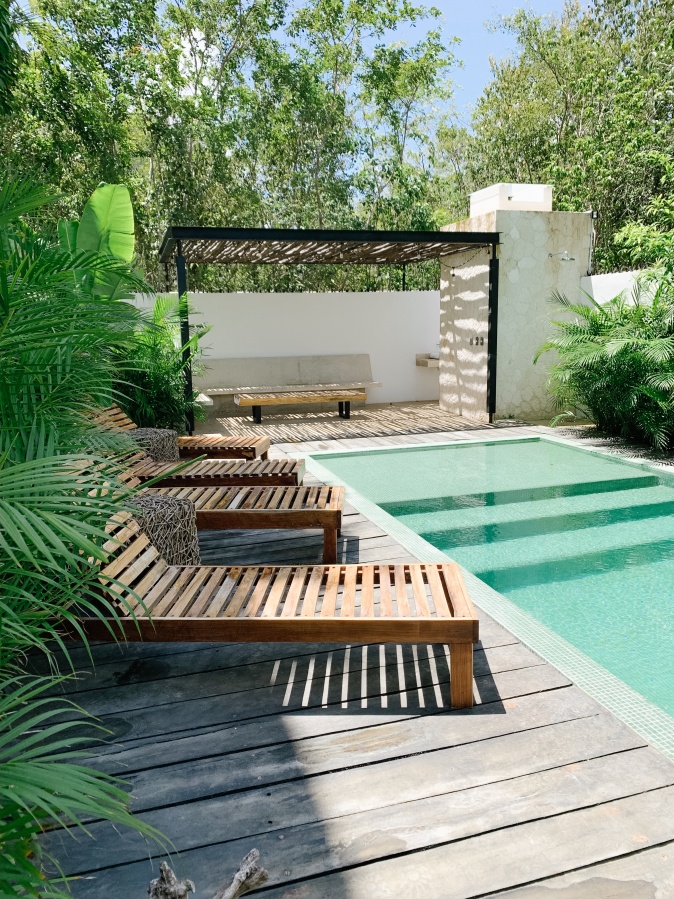 ---
The Best of Tulum
Now that I've talked about where we stayed in Tulum and how we got there, let's chat about my favorite spots from the trip!
BEST BEACH CLUB:
Coco Tulum: Coco Tulum was our favorite spot to relax at by the beach! We ended up going there twice during our trip. Not only was the beach club was super trendy and Instagrammable, but the margaritas were amazing! They offer 2 for 1 mezcal margaritas there so when you order 1, they automatically bring you your second. They also have beach swings, hammocks, and shaded daybeds, which make for the most relaxing afternoon. And if you're into the party scene- Sundays are supposedly the beach party day!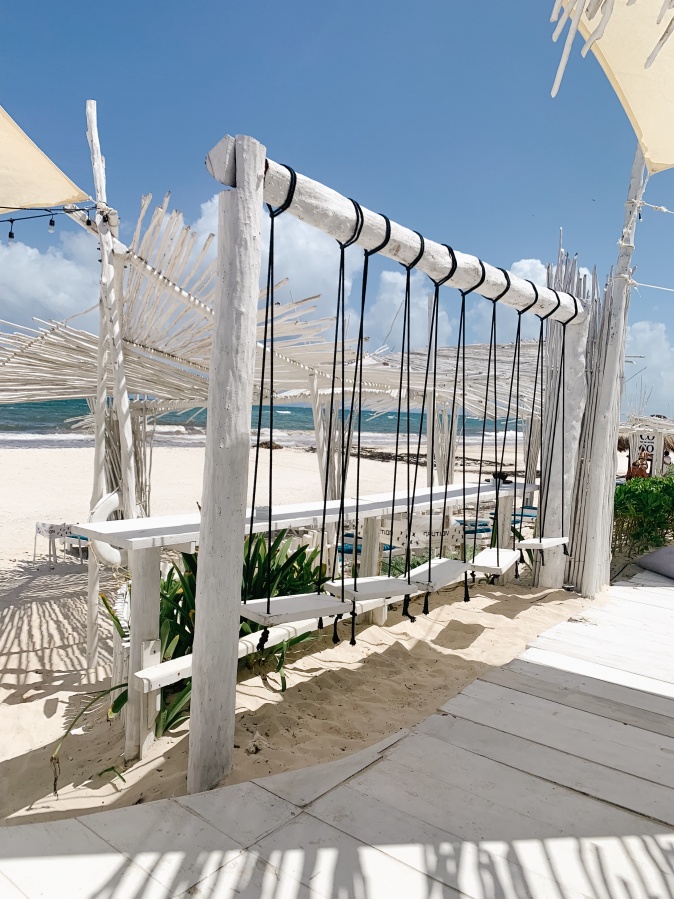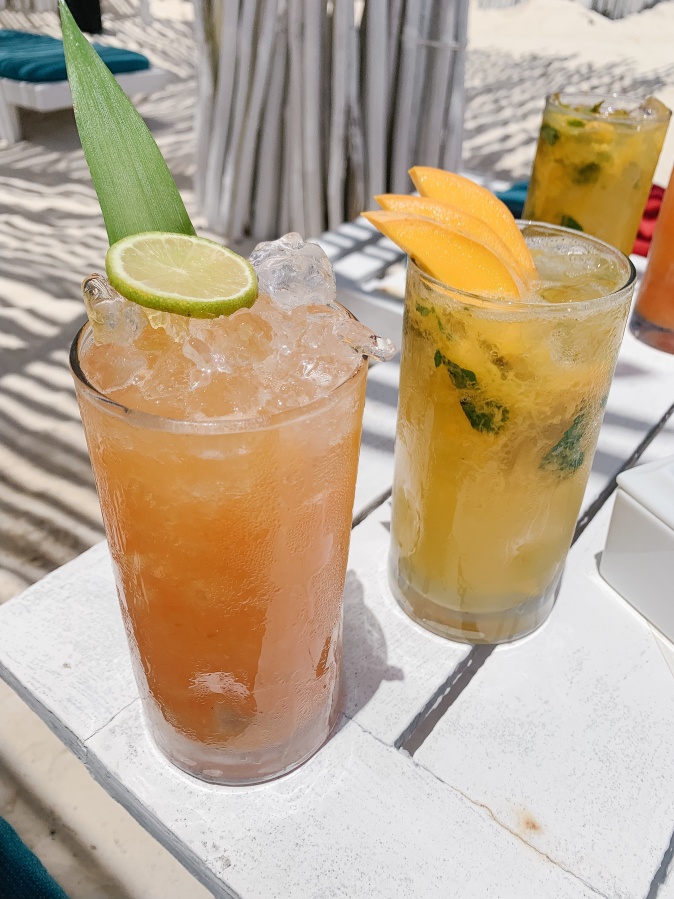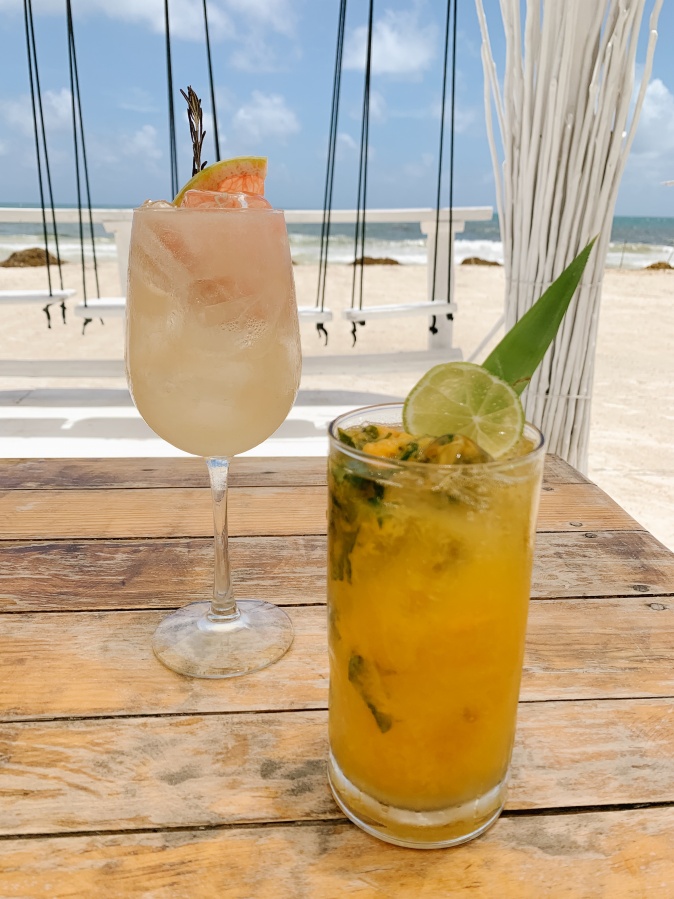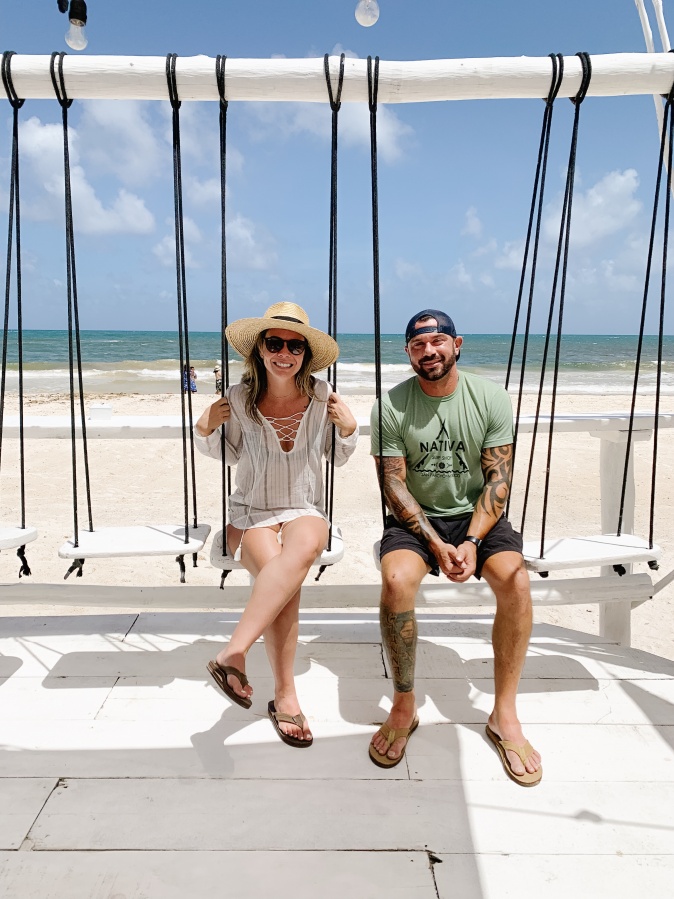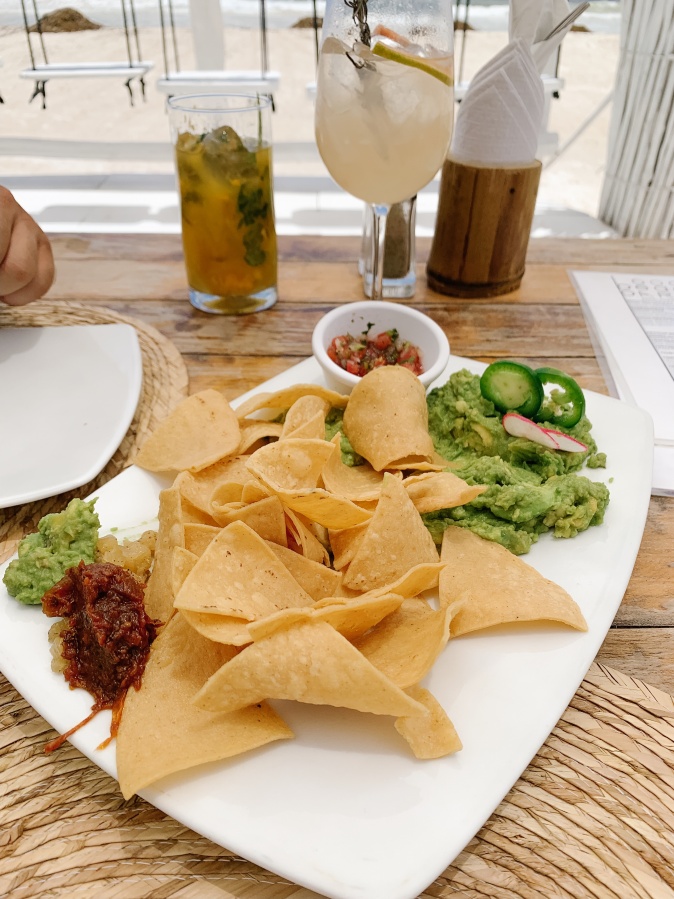 BEST GYM:
We worked out at Evolve Fitness in town every day during our trip. This gym was close to where we were staying and our favorite morning coffee spot. We also got to experience the Tulum Jungle Gym! It was a real life Flintstone gym and one of my favorite experiences from the trip! The Tulum Jungle Gym is an outdoor gym with almost all of the equipment made of natural materials. Plus it's located right on the beach!!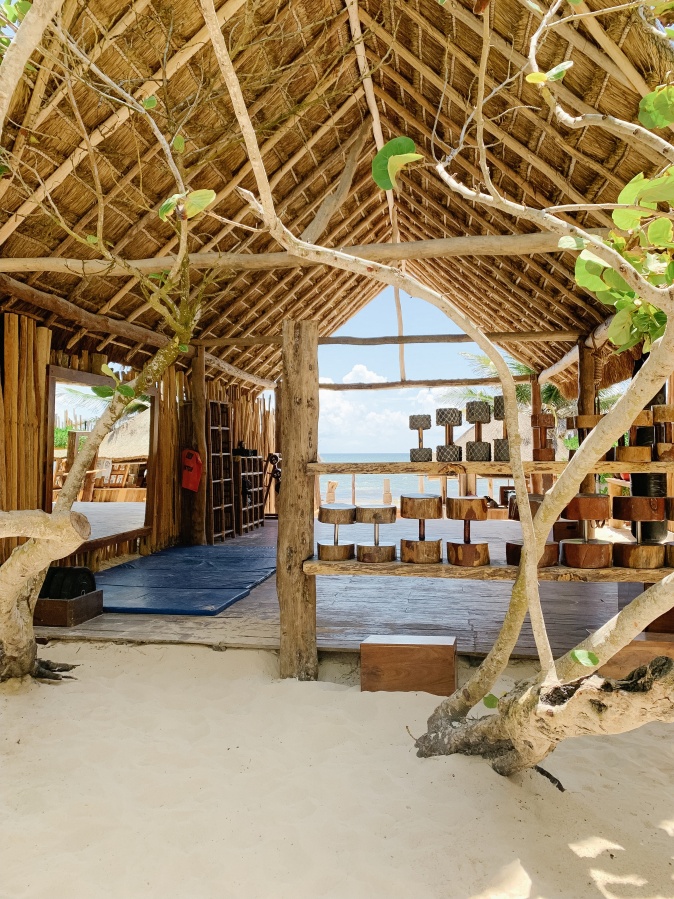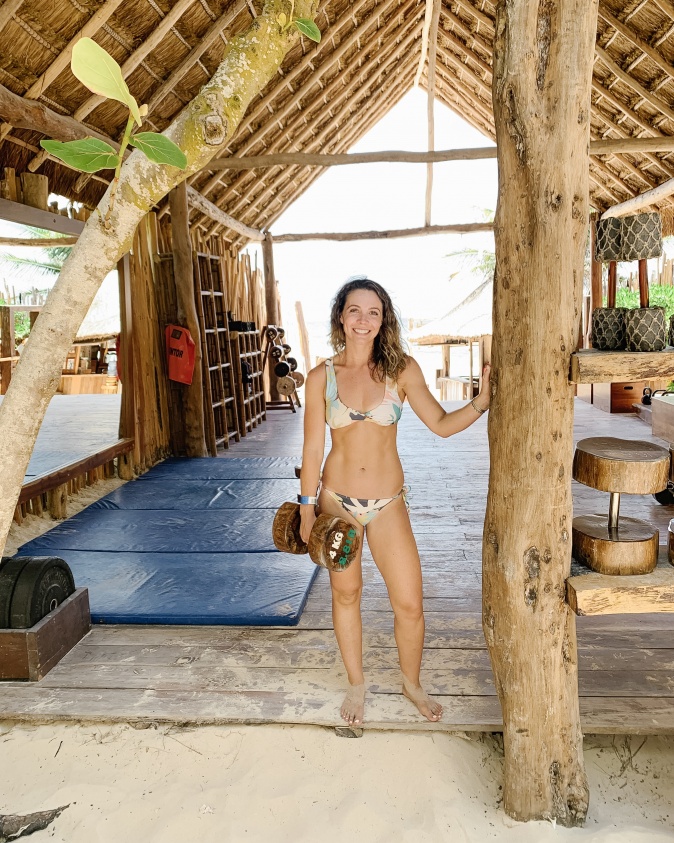 BEST COFFEE:
Our favorite coffee spot in Tulum was Ki' Bok, which is located in town. We went there every morning for a dirty iced chai latte! So good!! They also have a small food menu- I ordered the tropical fruit plate a few times!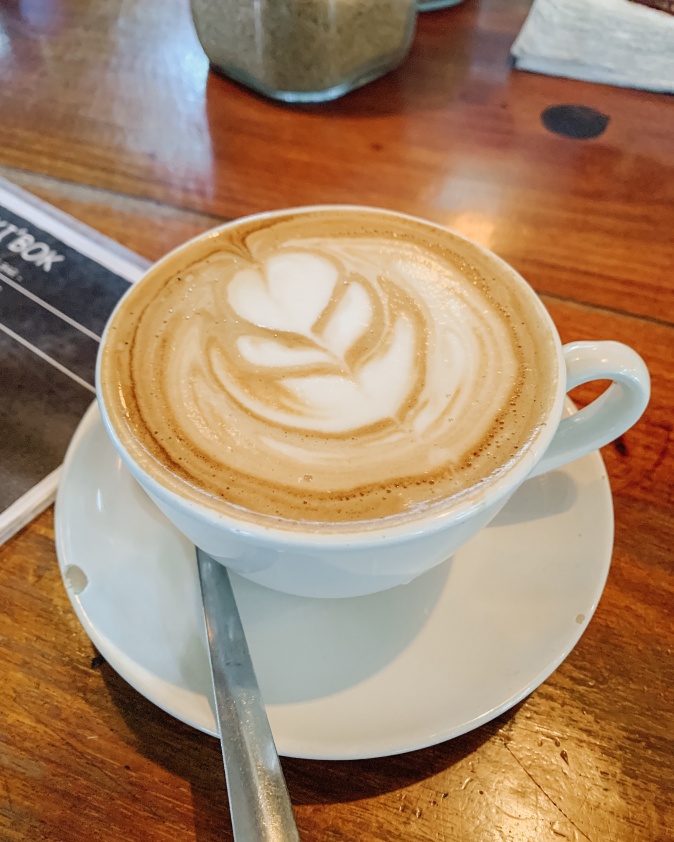 BEST ACTIVTY:
Cenotes Dos Ojos is a must!!! There are actually 2 cenotes located there, so if you go don't forget to check them both out. Several blog posts recommended getting to the cenotes early to swim before the crowds and tours showed up. We were there by 8am and the only ones there! It was perfect for swimming and grabbing photos. The first cenote was a little easier to swim in than the second, but they were both amazing to experience!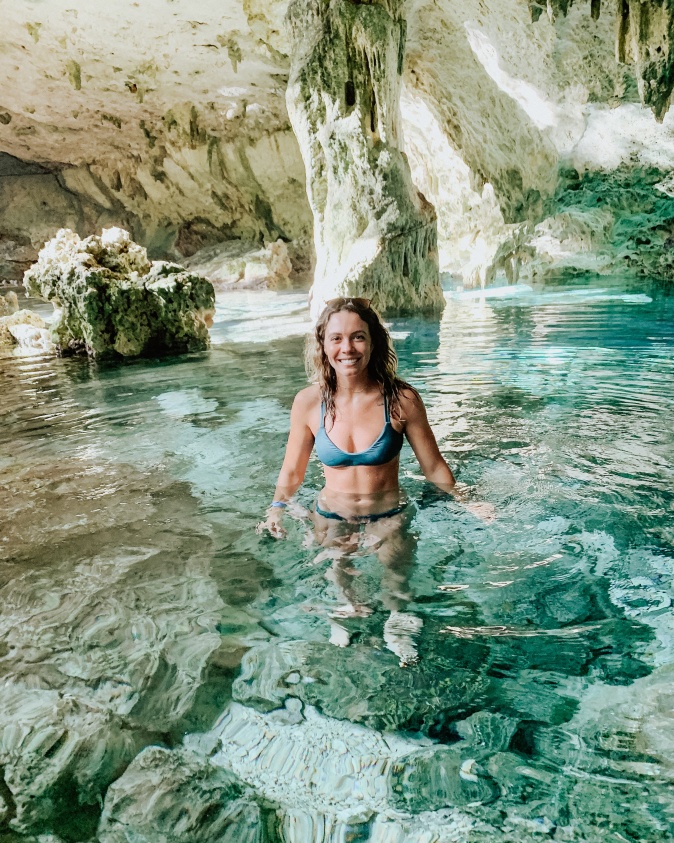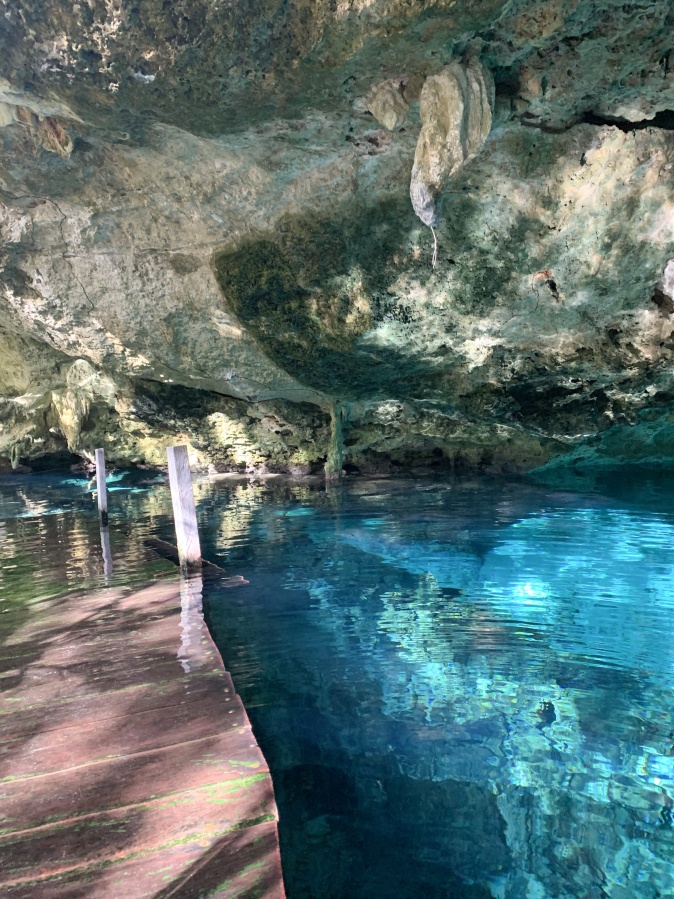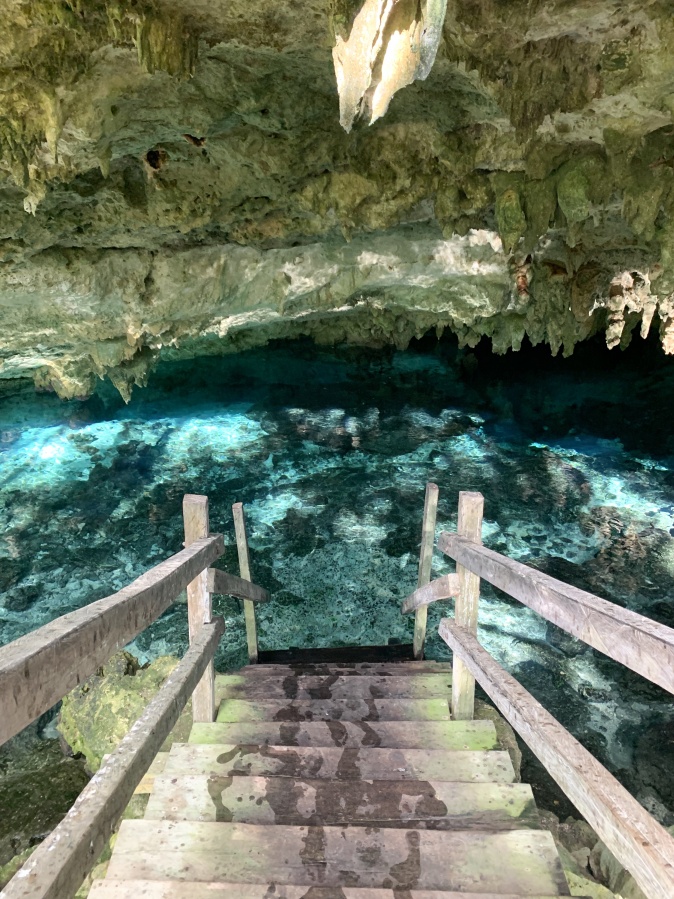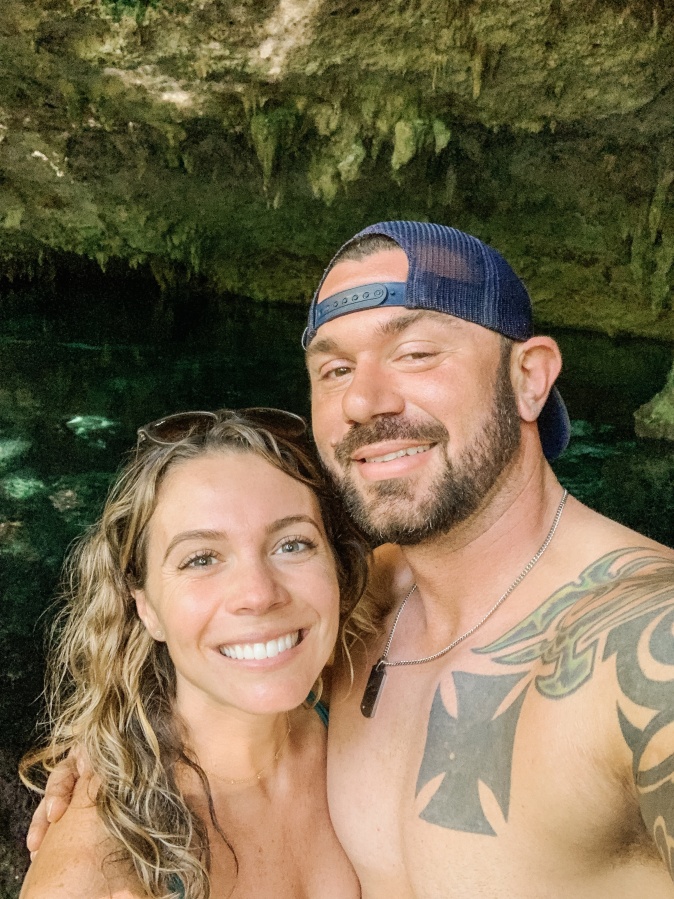 BEST SMOOTHIE BOWLS:
One of my favorite things to do when I travel is find the best smoothie bowl spots. Raw Love and Mama Matcha were my two favorite spots in Tulum! I would have easily eaten at either of these places everyday!
BEST DINNER VIEW:
We went to Casa Maria Mexican Grill on our last night in Tulum. The view was incredible and the drinks were perfect. The food was ok…. but everything else made up for it!
BEST BURRITOS:
Burrito Amor was one of our overall favorite restaurants in Tulum! They had the best burritos in town! We went there twice during our trip- one night for dinner and one morning for breakfast burritos.
BEST MEZCAL MARGARITAS:
We had so many good drinks during our visit, it was hard to pick!! My favorites were: Coco Tulum on the beach, Estancia Jujena in town, and El Milagrito in town!
BEST ITALIAN:
GUSTO!! I wish I took a photo of the food we ordered for dinner at Gusto. It was so good and such a cute little spot in town, right down the street from our Air BnB. The pizza, salad, and carbonara were all amazing!
BEST MEXICAN:
We went to El Asadero on our first night in Tulum. It's located in Tulum town. Their Mezcal drinks, guacamole, fajitas, burritos, and ice cream hit the spot after a long travel day.
BEST BAR:
Clandestino was by far the coolest bar we went to during our trip because there is a cenote located inside the bar. The bar is located across the street from the beach, but hidden from the road so it's a little hard to find. When we arrived, we enjoyed burgers and mezcal drinks while overlooking the cenote. So cool!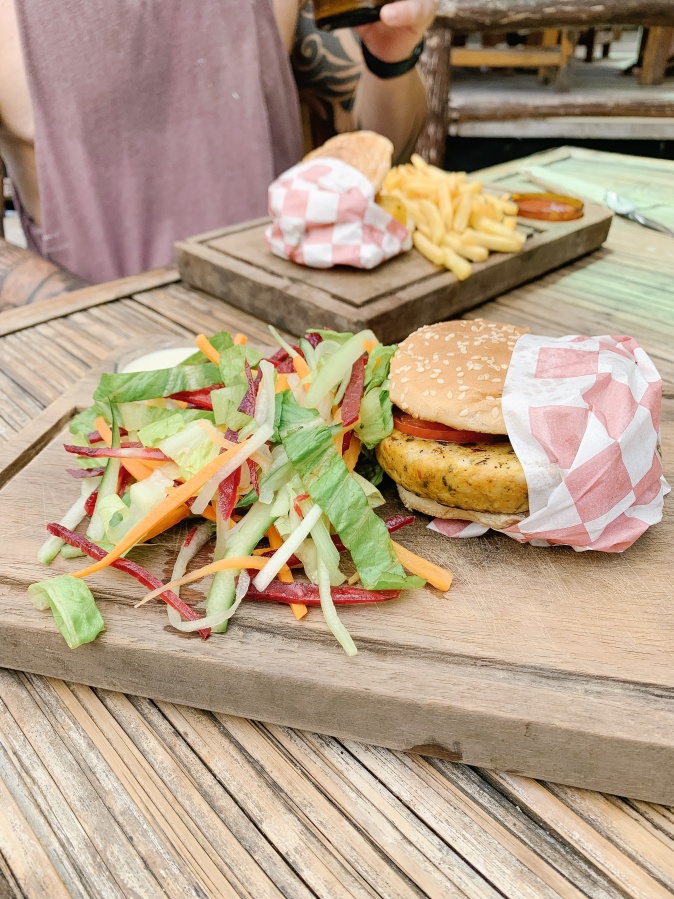 BEST DESSERT:
The best gelato in town was at El Arte De Cafe. We ended up going there twice because it was so good. I ordered the lemon cake gelato each time. I wish I snapped a picturre, but I ate is so quick so it wouldn't melt- whoops!
BEST BREAKFAST:
DelCielo was my favorite spot for breakfast! Everything on their menu looked good so we ordered a bunch of items to share! We enjoyed the English breakfast, superfood acai bowl, tropical fruit plate, and avocado toast with a fried egg on top.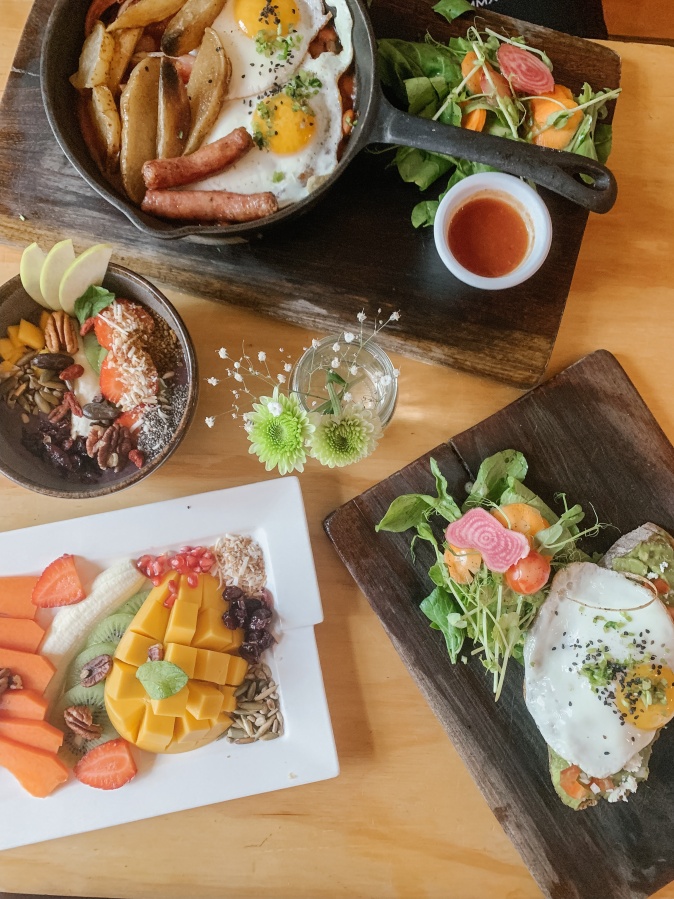 A few other places we visited and enjoyed during our trip:
Ziggy's Beach Club to lay on the daybeds and enjoy sun and drinks, Papaya Playa Project for lunch and drinks, La Flor de Michoacan for popsicles, Playa Santa Fe Beach in the northern part of Tulum, El Gourmet for sandwiches, and Prieto Coffee Shop for morning coffee.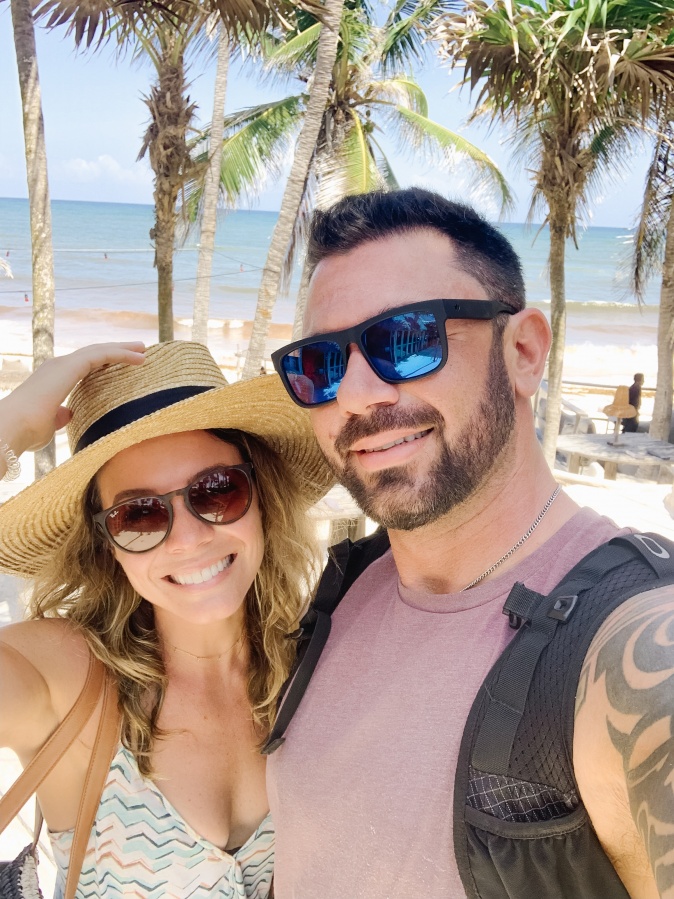 Hope you enjoyed my BEST OF TULUM guide!! If you have any questions about Tulum, let me know!!! It's such a fun place to visit and a perfect getaway!