Today on the blog I am featuring my friend Mandy Gleeson, founder of Replica Surfaces.
I was lucky enough to connect with Mandy a few months ago on Instagram. She recently reached out to tell me about the launch of her new company- Replica Surfaces.
Let's get right into my interview with Mandy—
I would love for my followers to learn a little more about you Mandy. Tell me a little about yourself! (This can be anything from where you went to school, where you live now, any fun facts!)
Alright, my elevator speech! For starters, I'm a Canadian girl in Dallas by way of Cleveland. In a former life, I was an actor in a Canadian kids television show called "Monster Warriors"! It was a cross between Power Rangers and Ghostbusters, and my job was to run around in pink Spandex killing computer-generated monsters! Nowadays, I'm a medical resident finishing my last year of Radiology training. So I'm the type of doctor that interprets medical imaging (CT, MRI, ultrasound, etc) and helps other doctors make the diagnosis. Next year, I'm excited to be specializing in Breast Imaging. So yeah photo backdrops and mammograms. Thats me.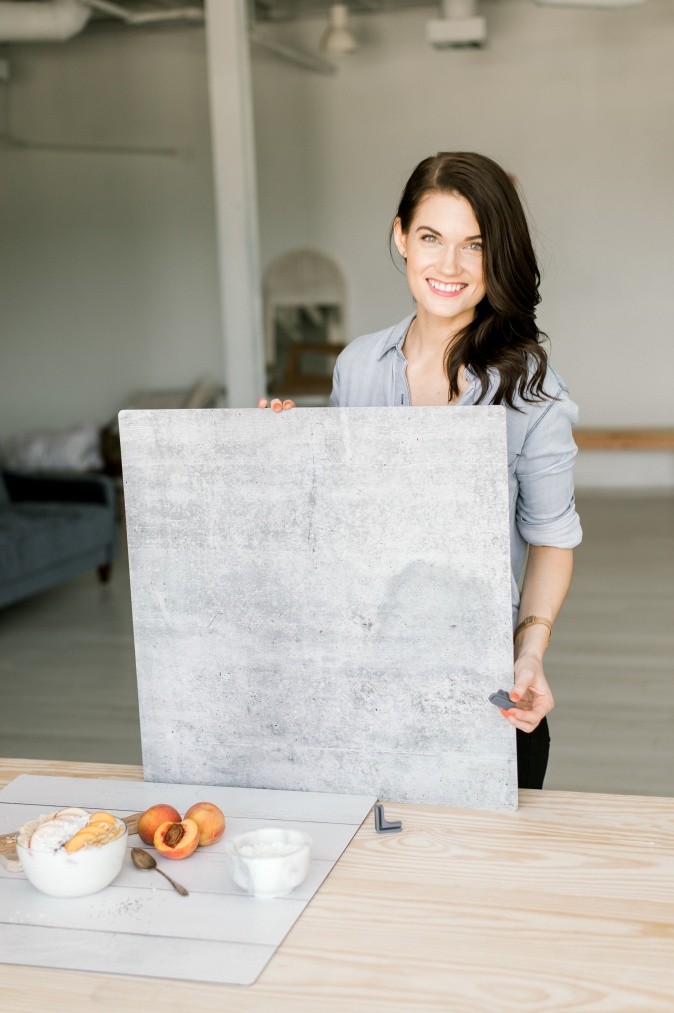 Where did your idea for Replica Surfaces come from?
Back in 2017, I invented a gadget with a friend as a fun project. I had such a hard time getting professional photos of the prototype since I didn't have a lot of natural light in my apartment and my kitchen counter didn't look great. I needed lightweight, realistic backdrops I could take outside or place next to a big window, but I couldn't find any rigid ones that looked realistic enough. That's when I got the idea to scrap the gadget idea and create the perfect photography backdrop instead!
What designs are available?
Replica Surfaces will have four designs to start – Shiplap, Marble, Rose Marble, and Concrete. I chose colors and textures that would pair perfectly together in an L-configuration (which people can create with custom-fit Replica Stands) or next to each other in side-by-side Instagram posts.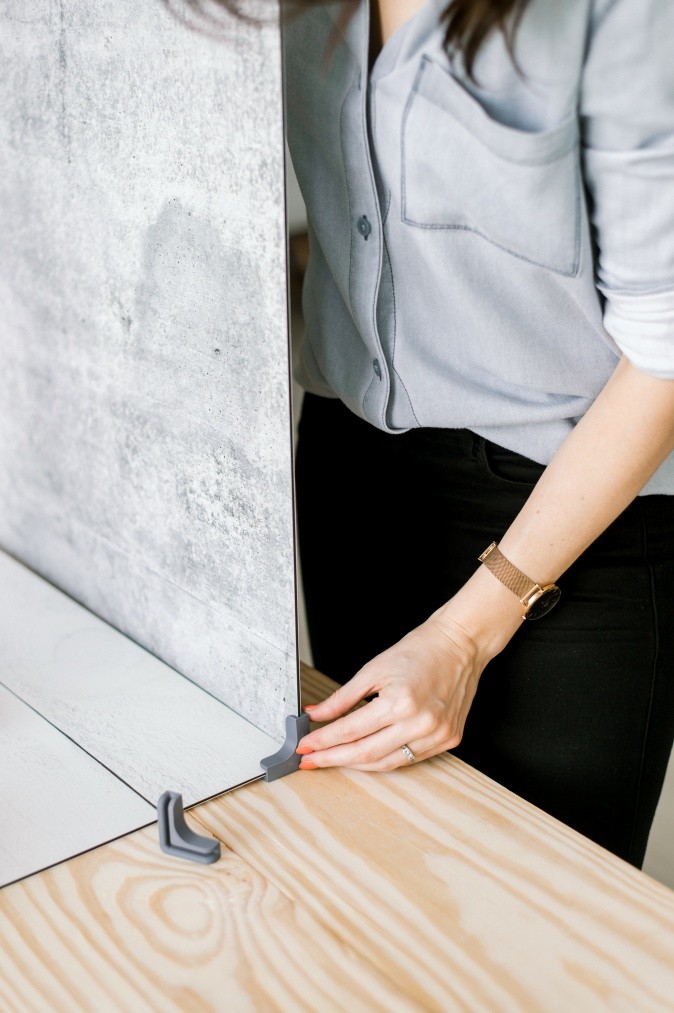 How is Replica different than other food photography backdrops (Surfaces)?
Other backdrops have their pros and cons. I wanted to pack as many pros into one backdrop as I could! Real wood and marble backdrops look great, but are crazy heavy, easy to stain, and pretty darn expensive. In comparison, Replica Surfaces weigh only 2 lbs, are stain-proof (seriously, I haven't found anything that will stain them), and are much more affordable. All of that means you can easily move them anywhere the light looks best, they're designed for the messiest food blogger, and they won't break your budget!
Plus, Replica Surfaces are super rugged and can be used over and over again. I want these to be the go to surfaces you buy once and keep forever. So basically, these guys are more affordable than heavy "real" surfaces that can stain and will last you much longer than lower cost vinyl backdrops. Finally, I'm proud to say that they are 100% American made!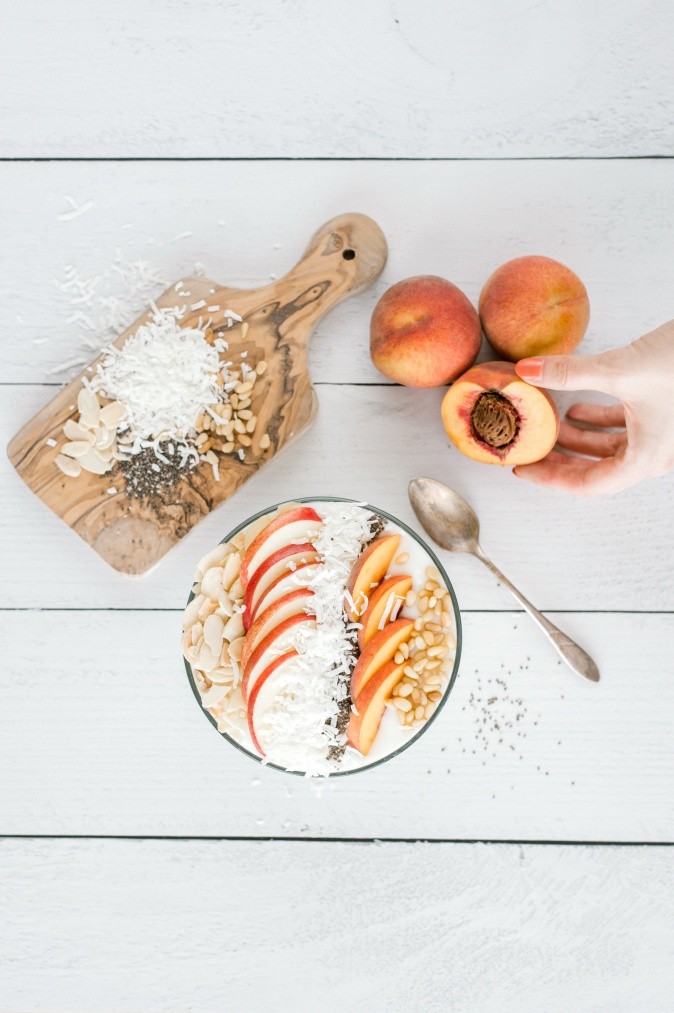 What are some of your food photography tips?
Haha you KNOW I'm all about the photo tips! My all-time favorite tip is pairing two rigid backdrops (I'm clearly partial to Replica, but any rigid backdrops will work) in an L-shape to create a wall and floor/table effect. This will allow you to take immersive close-up shots like you see all over top blogger's pages. My other go-to tip is using exotic spices – whole nutmeg, cardamom pods, saffron, cinnamon sticks, etc – as garnishes for your flat lay or close up scene. If you're like me, your spice cupboard is full of gorgeous spices you used for one recipe and never touched again! So try giving them a new life as styling props – you'll add a ton of visual interest to the foreground or background of your scene and it won't cost you a thing!
What are your favorite photography apps to use?
I'm absolutely smitten with the photo blurring app FabFocus! As a girl who shoots on an outdated iPhone, it's the perfect way to add depth to your close-up photos. It lets you choose which objects to blur and which to keep in focus, giving your phone photos a seriously professional look. It's only a couple dollars on the AppStore and worth every penny! For Instagram stories, I'm all about WordSwag. It lets you add text overlays to your photos and has tons of font and color options. The text is so pretty that I get asked ALL THE TIME what app I use for stories.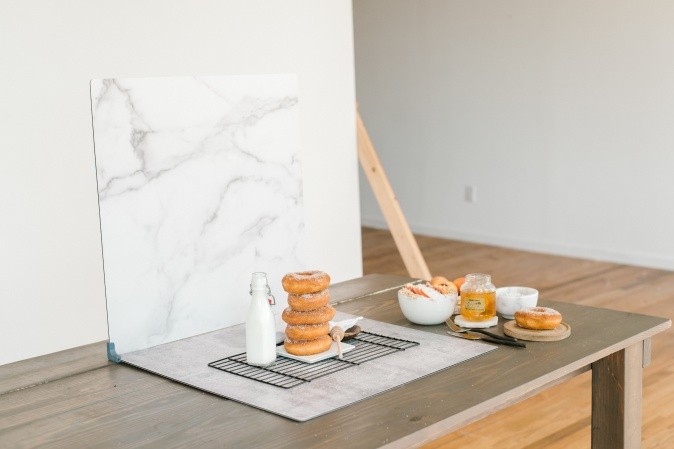 Now I know you're not a food blogger but you've had some practice. What's your favorite meal to shoot?!
I am definitely NOT a food blogger! After trying my hand at it for Replica promo shoots, I have SO much admiration for everyone who is! Food styling is HARD and you guys just crush it over and over. But let's see, my favorite meal to shoot would be anything with fruit in it! To me, fruit is the perfect photo prop because the styling options are endless: slice it in half to show the pit or seeds (peaches are perfect for this), slice it thin and spread out the slices, or "garnish" the foreground of your scene with small berries. See? Endless!
Becky, this has been so much fun chatting with you! You're my lifestyle hero and I'm honored you wanted to chat me up!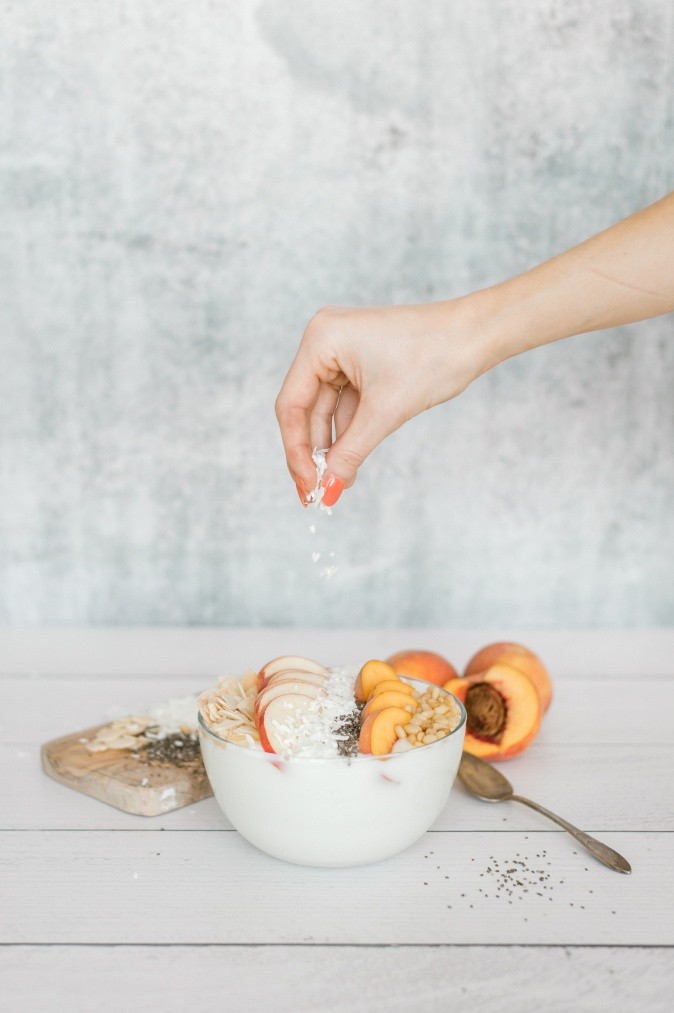 Mandy, thanks so much for taking the time to chat with me today! It's been so fun to hear all about Replica Surfaces. I know that so many food bloggers and food stylists are going to love your surfaces!
To pre-order your Replica surface now and fund the Kickstarter campaign- click here!!
If you have any questions at all about Replica Surfaces, feel free to reach out to Mandy!