Lately I've been on a real oatmeal kick! It's the only thing that sounds satisfying after a workout or run! It also keeps me full all morning long so I'm not snacking my way to lunch!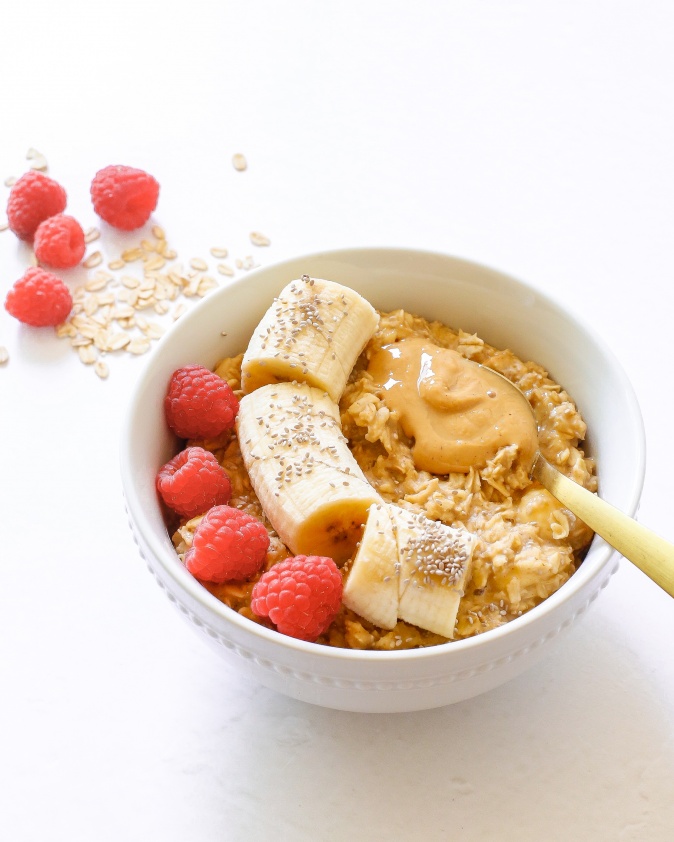 Peanut butter and oats is one of my all time favorite combos too. I mean who doesn't love warm, creamy oats with melted peanut butter swirled in? SO good! I LOVE adding banana chunks as well, to make the oats a little sweeter and extra creamy!
This recipe is SO easy to make and comes together in minutes. I'm always starving when I get home from my workout and don't always have food prepped, so these oats have been my go-to breakfast lately because they don't take long to make! I usually sip my coffee while whipping a bowl of these together.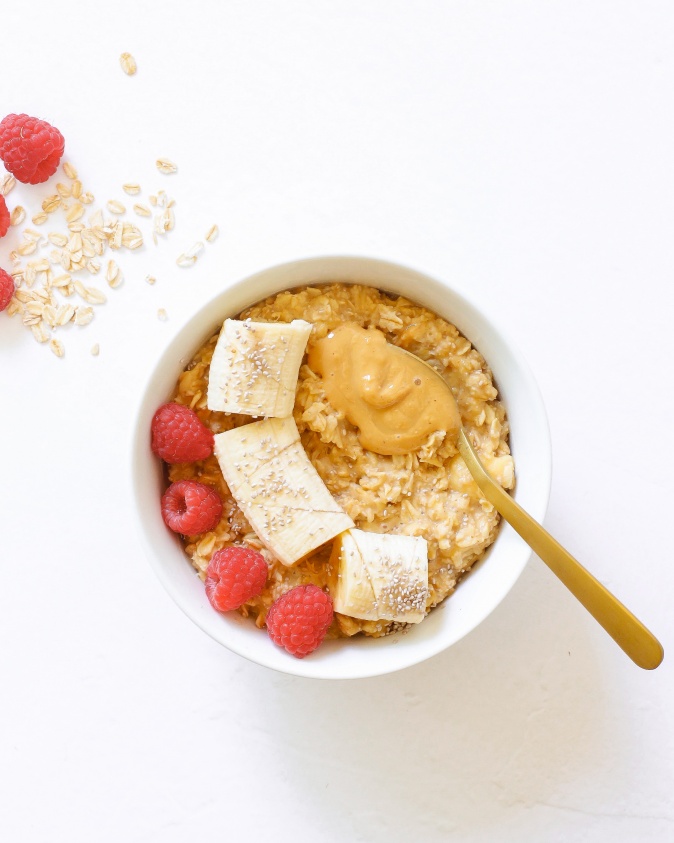 To make these stovetop peanut butter banana oats– Cook 1 cup of oatmeal on stovetop with 2 cups of vanilla almond milk and 1 sliced banana.
**I used the original Rachel's Overnight Oats in this recipe but you can use old fashioned rolled oats and add 1 tbsp of chia seeds when oats are done cooking**
Once the oats are done cooking and liquid is fully absorbed, turn heat to the lowest setting, add 1 tbsp chia seeds (if cooking with old fashioned rolled oats) and 2 tbsp creamy peanut butter and mix until fully incorporated!
Next, pour the oatmeal into bowls and top with more banana slices and peanut butter, chia seeds, and berries! The added berries kind of make this like PB&J oats, right?!
Rachel's Overnight Oats can be purchased on AMAZON or if you live in Southern California- head to your local Erewhon Market or Bristol Farms!
Be sure to tag me on Instagram @becksliveshealthy if you make my peanut butter banana oats! Enjoy!!
Peanut Butter Banana Stovetop Oatmeal
Ingredients
1 cup Rachel's Overnight Oats or old fashioned rolled oats

2 tbsp creamy peanut butter

2 cups almond milk

1 tbsp chia seeds (if cooking with rolled oats)

1 sliced banana

Toppings- more banana, peanut butter, berries, chia seeds
Direction
In a medium-size pot over medium-high heat, add oats, milk, and banana, and bring to a boil.

Once oatmeal boils, lower heat to a simmer and simmer until thickened. 

Stir in peanut butter and chia seeds until fully incorporated.

Serve in a bowl with more peanut butter, banana, berries, and chia seeds. Enjoy!
xx Becks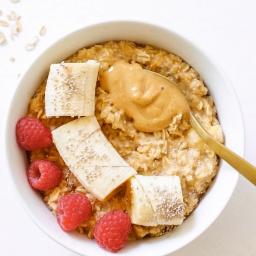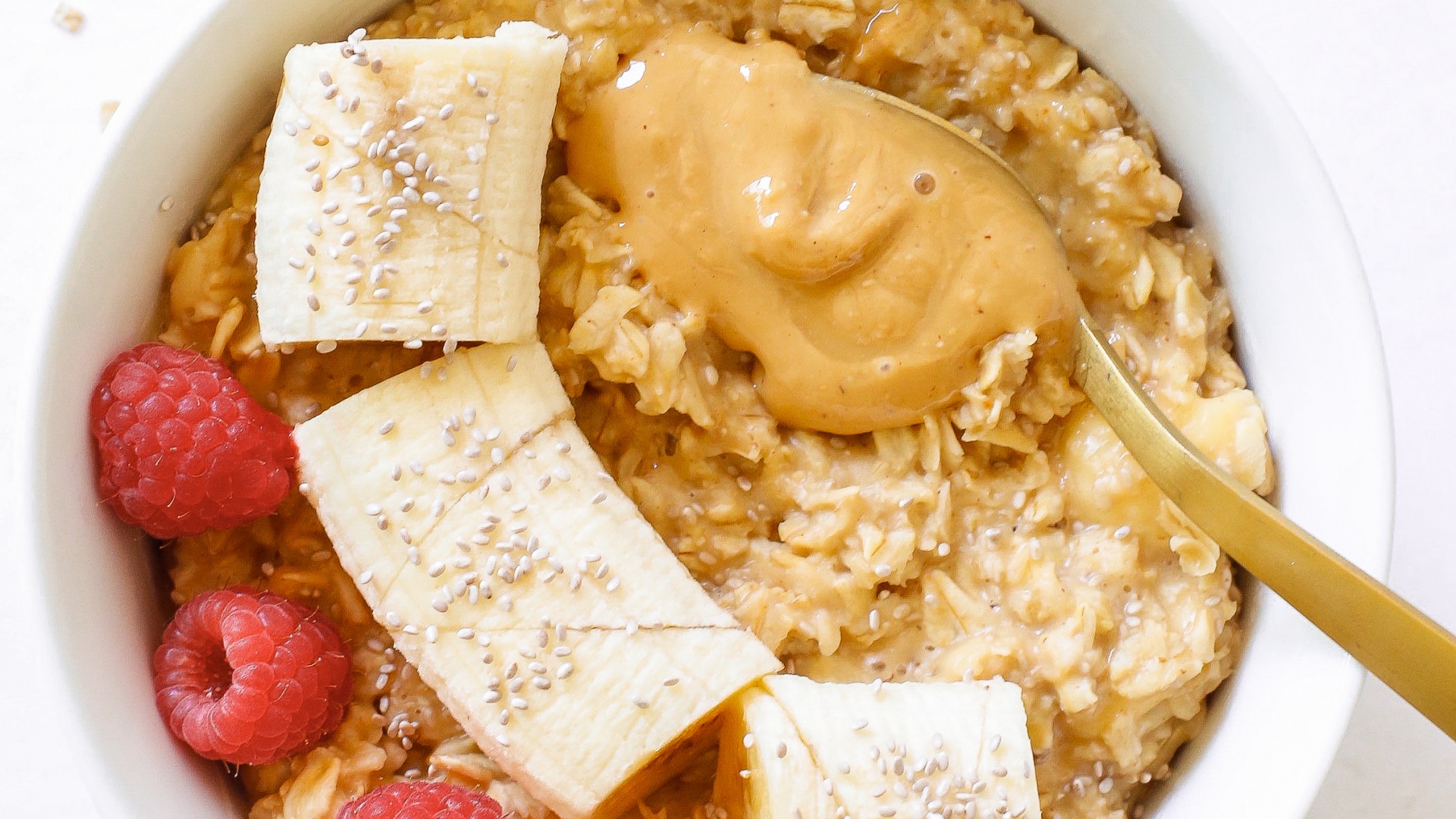 xx Becks