Oatmeal is one of my favorite breakfasts of all times!! There are so many ways to make oatmeal too- on the stovetop, in the crockpot, placed in the refrigerator overnight, or baked in the oven! I go through phases how I like my oatmeal cooked. In the summer I prefer cold and creamy overnight oats. In the winter I usually crave the warmer version! Lately I've been hooked on baked oatmeal.
My single serving peanut butter banana baked oatmeal comes together in no time. It's a quick and easy recipe to make that can be enjoyed on the weekends with family. It's also a great healthy meal prep recipe!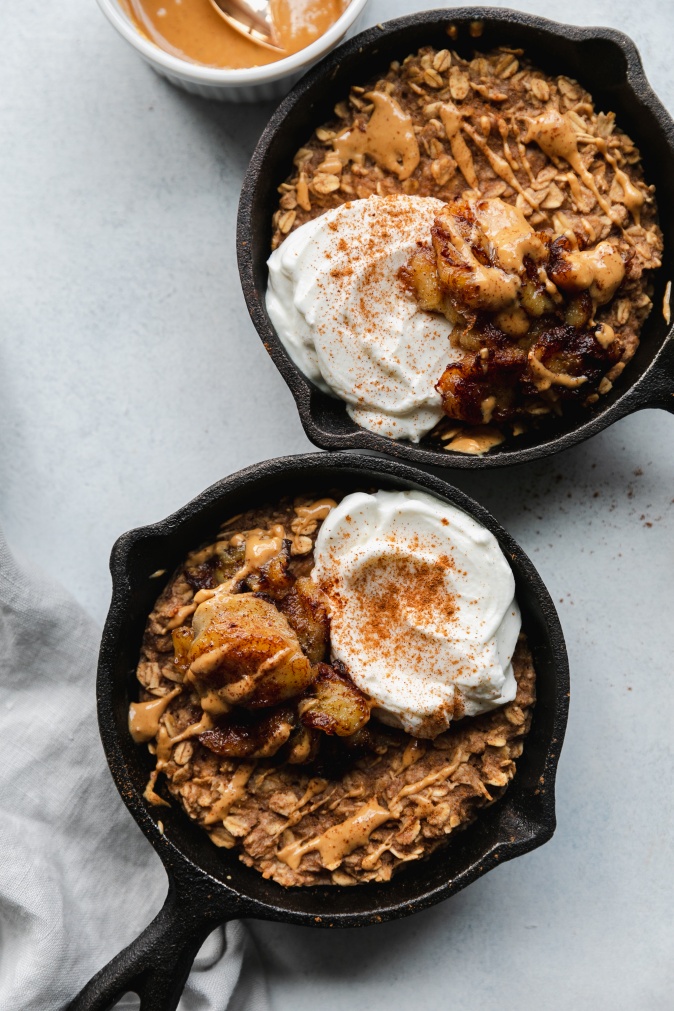 My peanut butter banana baked oatmeal is made with ingredients you probably already have at home– bananas, oatmeal, vanilla extract, almond milk, cinnamon, and peanut butter! It takes less than 20 minutes to make. It can easily be popped in the oven while you're getting ready for work in the morning.
The fiber from the oats and healthy fats in the peanut butter make this recipe nice and filling. It's the perfect breakfast to fuel a busy morning at work!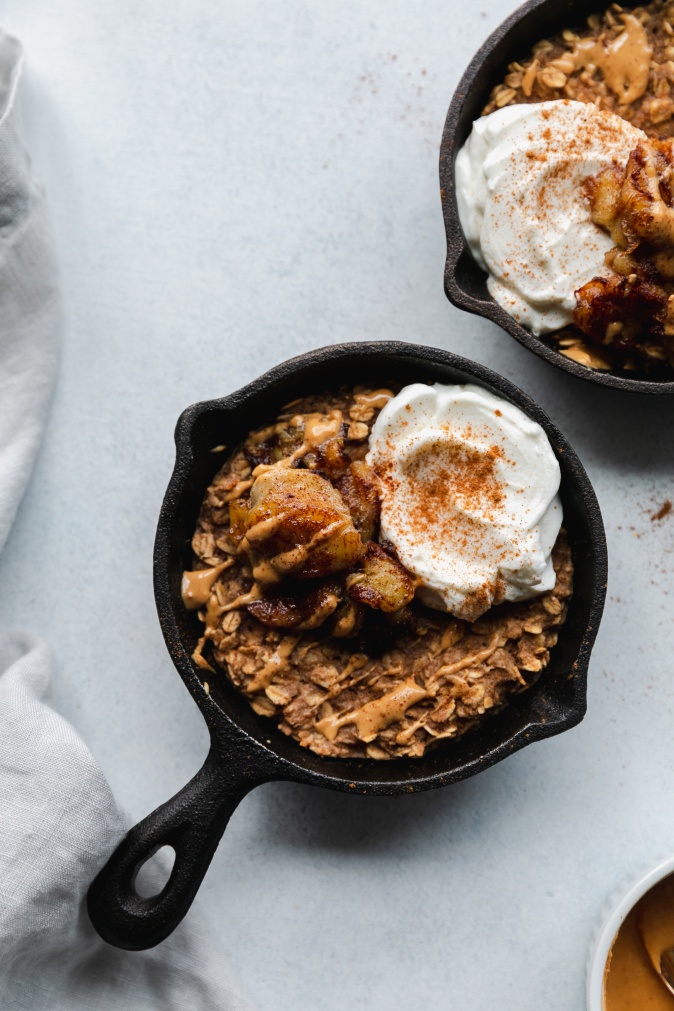 Sautéed Cinnamon Bananas
I love topping my baked oatmeal with sautéed bananas! They take this oatmeal recipe up a notch! They're so easy to make too. All you have to do is slice them up then cook them on the stovetop for a few minutes with a little bit of cinnamon and coconut oil, and voila they're done!
I love combining the sautéed bananas with some cool and creamy vanilla greek yogurt. This combination also makes for a yummy and healthy afternoon snack or a tasty topping for the oats!
If you give my peanut butter banana baked oatmeal a try, be sure to tag me on Instagram @becksliveshealthy Enjoy!!
Peanut Butter Banana Baked Oatmeal
Ingredients
½ cup old fashioned rolled oats

½ mashed ripe banana

½ tsp cinnamon

¼ tsp vanilla extract

¼ cup almond milk

1 tbsp peanut butter
Sautéed Bananas:
½-1 medium banana

cinnamon

1 tbsp coconut oil
Direction
Preheat oven to 375 degrees Fahrenheit.

Combine oats, spices, banana, peanut butter, and milk.

Pour mixture into a small baking pan or 1-cup ramekin coated with non stick cooking spray.

Cook for 15 minutes or until firm. Set oven to broil for 3 more minutes to give it a lightly brown crust.

Remove from oven and serve with vanilla greek yogurt, drizzle of peanut butter, sautéed bananas.
Sautéed Bananas:
Slice the banana into ¼ in slices and sprinkle with cinnamon

Heat a small skillet over medium heat then add coconut oil

Add banana slices in a single layer

Cook until golden (2-3 mins per side)

Serve on top of oatmeal. Enjoy!
xx Becks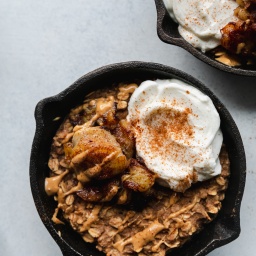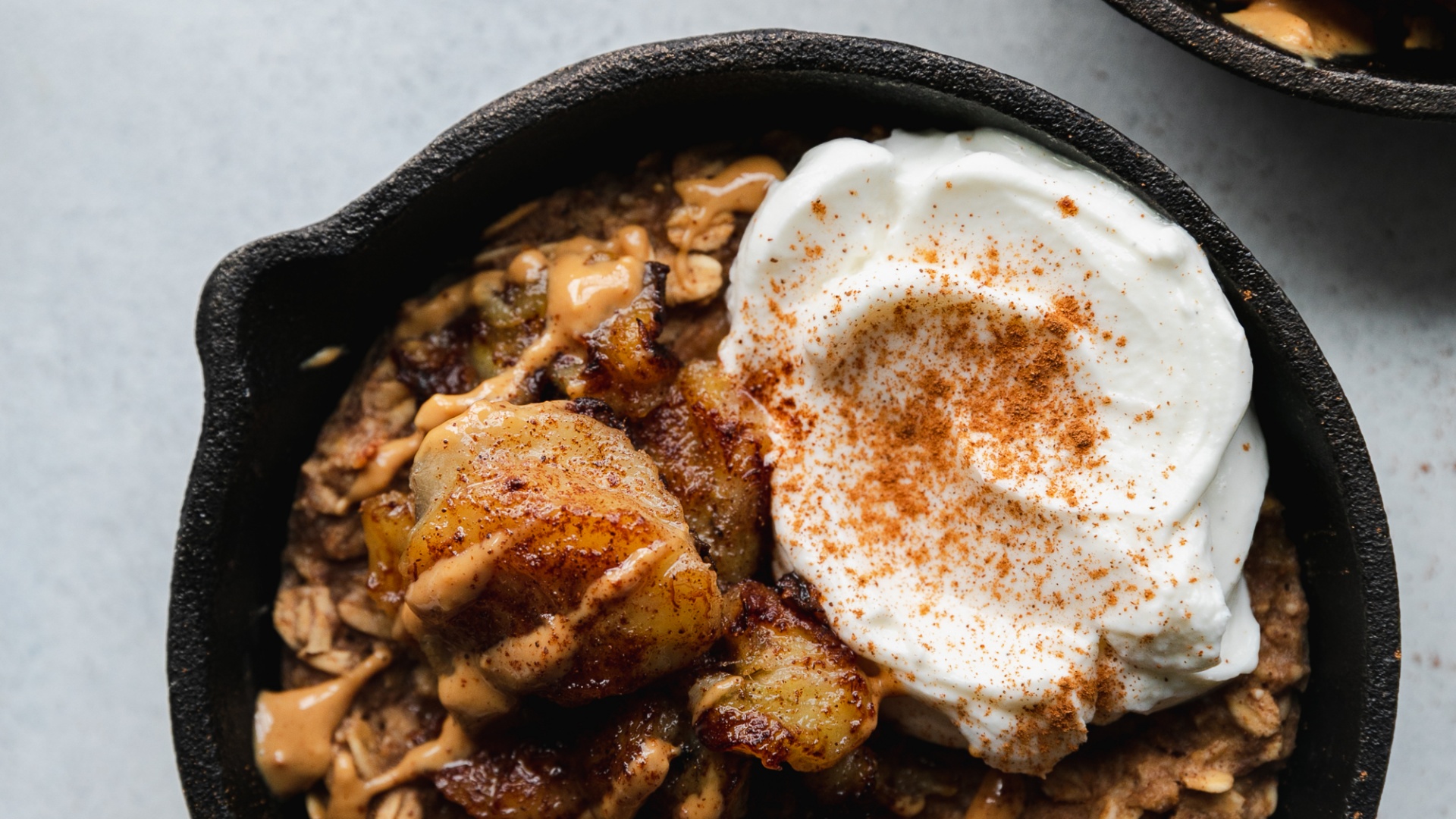 This peanut butter banana baked oatmeal is the perfect healthy breakfast to meal prep for the week or enjoy with family and friends on the weekends! It's lightly sweetened with mashed bananas and topped with tasty caramelized sautéed bananas. Enjoy! 
xx Becks