If you follow me on Instagram- you guys probably know by now my love for kale salads. I've posted my favorite summer berry kale salad several times and I'm excited to finally share it in this space now! It makes a great side dish to have at summer cookouts and is perfect for lunch or dinner topped with grilled chicken during the work week!
I think by now all of my friends and family have tried this salad too. I usually make it when they come over because it's always a hit!
My favorite kale salad recipe for summer is SUPER easy to throw together. My two favorite items in this salad are— Primal Kitchen's Honey Mustard Vinaigrette and Trader Joe's Sesame Honey Cashews. I love adding cashews to salads for some healthy fats and a little bit of crunch! If you have ever tried these cashews before, you know they're dangerous. DANGEROUSLY GOOD! As soon as I'm done making the salad I have to hide them in the back of my cabinet because otherwise I won't stop eating them! This recipe also calls for red onion, strawberries, blueberries, and goat cheese!
I usually buy a big bag of kale from Trader Joe's, remove all the stems, then empty the kale into a large mixing bowl. Then pour 2-3 tbsp honey mustard vinaigrette into the salad and massage it thoroughly. After the kale is massaged with the dressing, it gets placed in the fridge for about 10 minutes (this is a good time to chop up the onion and strawberries). Then it's time to add the rest of the toppings.
It's now ready to be served and devoured! If you make this salad- be sure to tag me on Instagram @becksliveshealthy. Enjoy!
Summer Berry Kale Salad
Ingredients
4-5 cups kale (with stems removed)

1 cup strawberries (cut in half)

1 cup blueberries

½ cup chopped red onion

⅓ cup crumbled goat cheese

½ cup Trader Joe's Sesame Honey Cashews

3 tbsp Primal Kitchen Honey Mustard Vinaigrette 
Direction
In a large bowl, combine the kale and dressing. Massage the dressing into the kale until coated and place in the fridge to marinate for a few minutes.

While the kale is marinating, chop strawberries and red onion.
Remove kale from fridge after 10 mins. Add toppings and toss until evenly combined.

Enjoy! 
xx Becks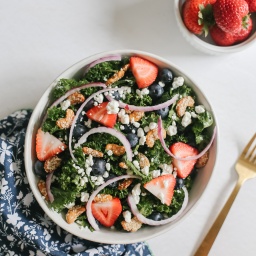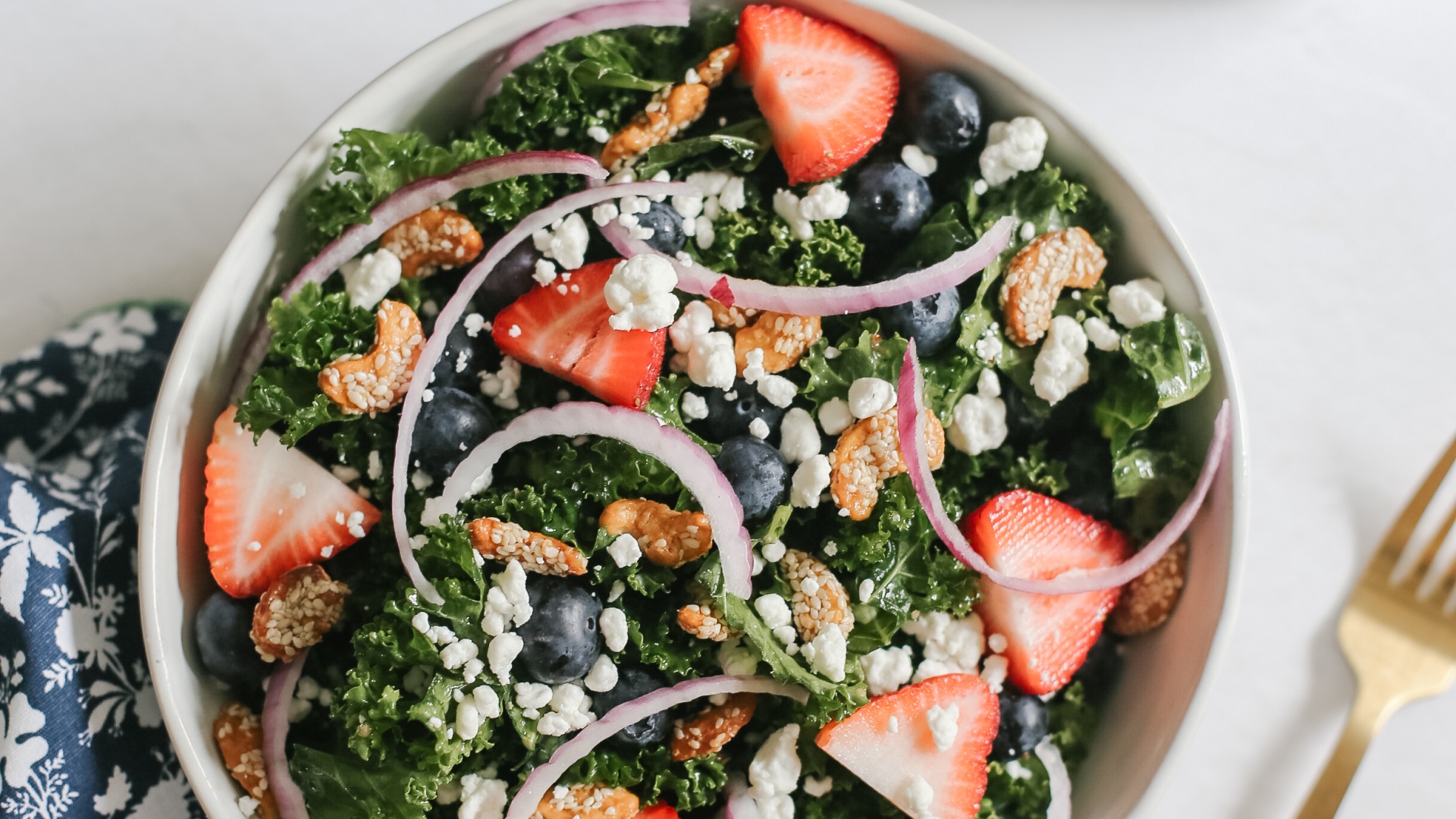 This salad is loaded with berries, onions, cashews, goat cheese, and kale! It's the perfect salad to have at BBQs all summer long! 
xx Becks