I can't believe the holiday season is here! It really snuck up on us! I don't know about you all but I still have a ton of holiday shopping to do! To keep me fueled during all my shopping, I made these chocolate gingerbread energy bites. They're the perfect holiday treat or healthy snack to have on- the go. They taste like chocolate gingerbread cookies, but they're so much better for you!
I love adding ginger to my holiday recipes because it's super festive, but it's also really good for you! Ginger contains gingerol, which is a compound that contains antioxidant and anti-inflammatory properties. Some benefits of ginger include: it helps relieve joint and muscle pain, regulates blood sugar, eases inflammation, and promotes proper digestion.
These chocolate gingerbread energy bites are made with oatmeal and almond butter as well. Oatmeal has plenty of fiber to keep you full and satisfied and almond butter is a good source of healthy monounsaturated fats that our bodies need.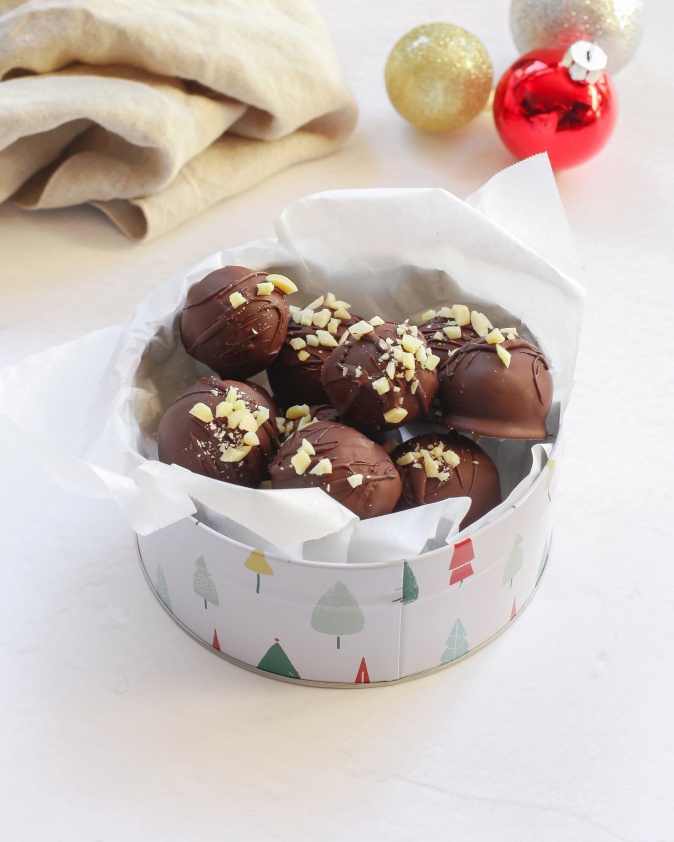 These chocolate gingerbread energy bites make the perfect shopping fuel. You can even pack them up and snack on them while you're on the go. They also make a great pre-workout snack and usually if I eat 1 or 2 of them, they help hold me over until after my workout is done!
These energy bites come together in no time! I added all of the ingredients to my food processor and blended the mixture up, then rolled the dough into small bites. I decided to dip the bites in melted chocolate, but this step can be omitted if you don't want to dip them in chocolate! I think the energy bites look much prettier dipped in chocolate and when they're made this way they always help satisfy my afternoon chocolate craving! If you're a gingerbread fan, you're going to love this recipe!! Enjoy!
Chocolate Gingerbread Energy Bites
Ingredients
1 ½ cup old fashioned rolled oats

⅓ cup almond butter

2 tbsp blackstrap molasses

2 tsp cinnamon

¼ tsp nutmeg

1 tsp ground ginger

2 tbsp almond milk

½ cup dark chocolate morsels

crushed almonds for topping
Direction
Add all of the above ingredients to the food processor (except chocolate and crushed almonds) and blend. If the mixture remains dry after blending, add a splash of almond milk.

Once the ingredients are mixed, roll into 10-12 balls and place on baking sheet lined with parchment paper.

Add the chocolate chips into a microwave safe dish and microwave in 30 second intervals until chocolate is melted. Make sure to stir in between.

Using a fork, carefully coat the bites in chocolate. The excess chocolate should drain off through the fork.

Once all of the energy bites are coated in chocolate, place in freezer for about 10 mins to let the chocolate set.

Remove energy bites from freezer and drizzle top of bites with melted chocolate. Add crushed almonds right away before chocolate sets. Repeat with all energy bites.
xx Becks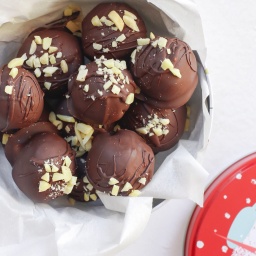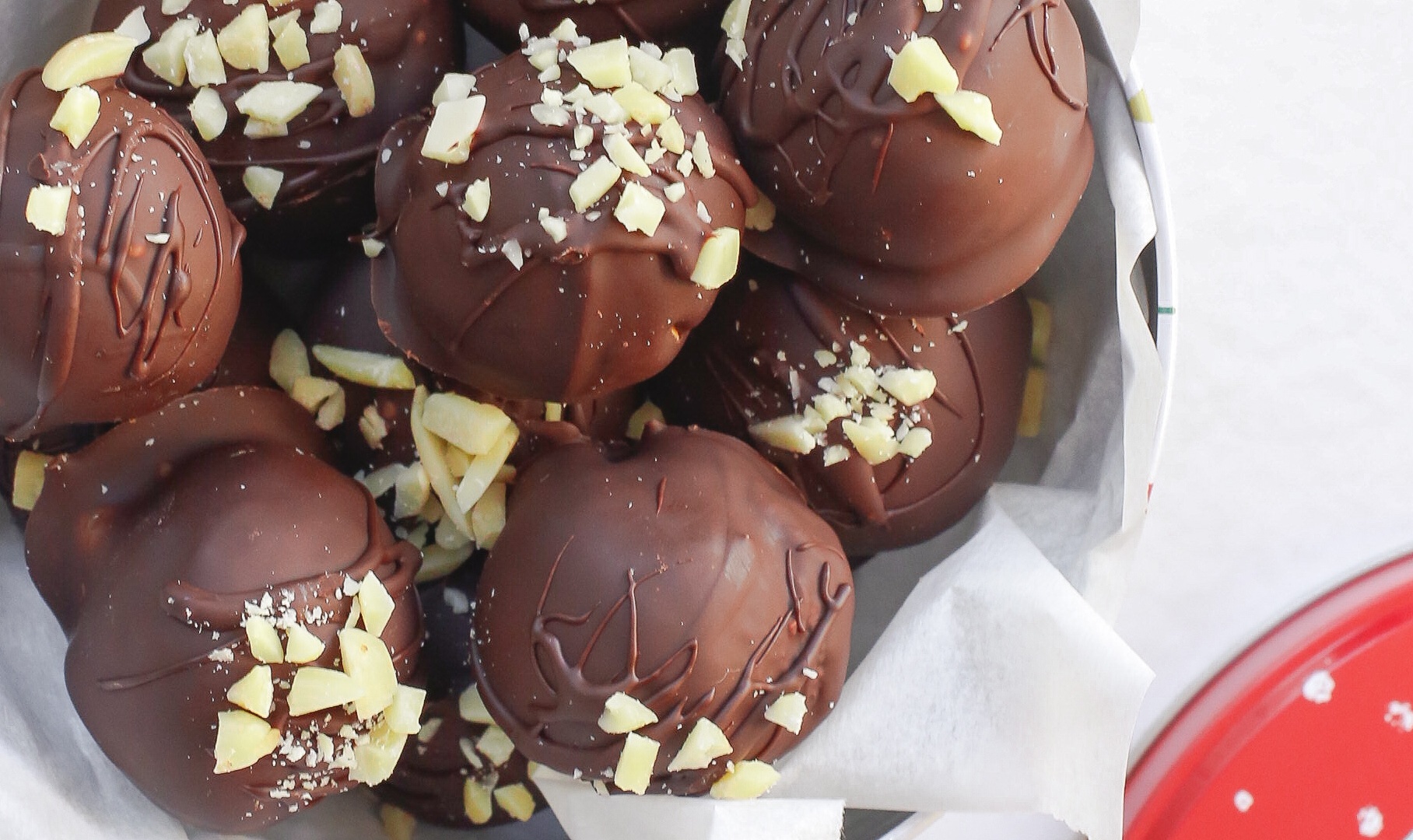 My chocolate gingerbread energy bites are the perfect holiday treat or healthy snack to have on- the go. They taste like chocolate gingerbread cookies, but they're so much better for you!
xx Becks