As you all may have read on Instagram I recently moved! I didn't move far, just a few minutes down the road to South Redondo. One of my goals with my new apartment was to keep it well organized. This is my first place of my very own in 3 years so it's my chance to have things my way. I spend a lot of time in the kitchen, therefore I wanted my new one to be clean and organized. My pantries in past my apartments have always been a mess. There was no order and I would just throw items back in there once I was done using them.
My first step in organizing my new pantry was buying storage baskets! I purchased these ones Amazon. I could have probably bought cheaper ones at Homegoods but I was exhausted after my move and too lazy to go. Amazon just makes buying things too easy.
I purchased storage baskets for my granola and cereal, chocolate, oils and baking supples, and nuts and flours. My pantry is definitely not perfect, but is better organized than everywhere else I have lived. Plus it's pretty to look at and more functional!
Before we get into the list of all my goodies, I wanted to remind you that we all have different dietary restrictions. All of the items I keep in my pantry work well for me. Ok let's get into the list of goodies I keep stocked at all times in my pantry!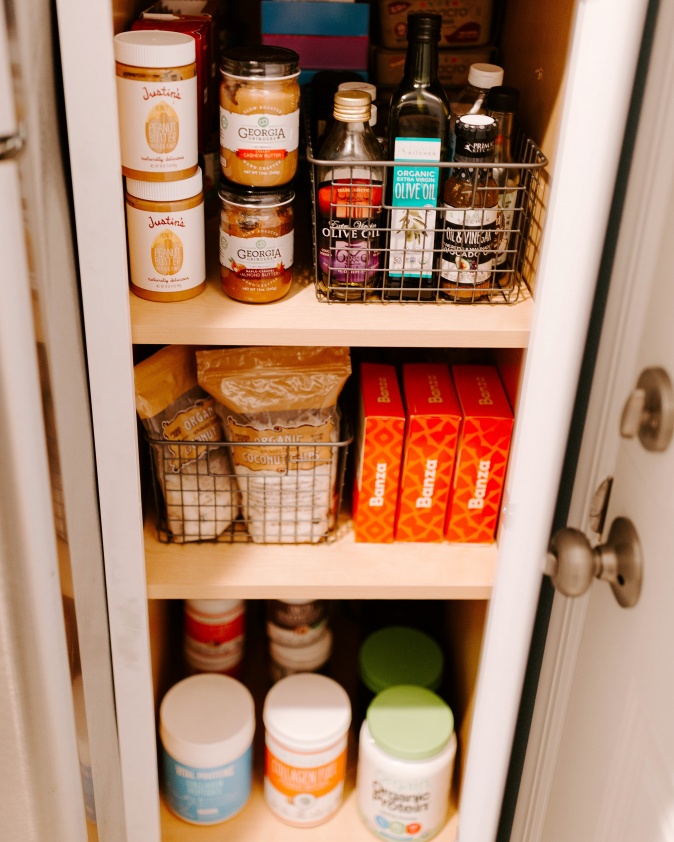 Dry Products:
Almond Flour
Coconut Flour
Coconut Sugar
Flaxseed meal
Chia seeds
Rolled Oats
Better Oats
Purely Elizabeth Oatmeal Cups
Kodiak Cakes Flapjack Mixes
Cacao Nibs
Cacao Powder
Pescience Snickerdoodle Protein Powder
Orgain Protein
Vital Proteins Collagen Peptides
BCCAs
Eat Banza Pasta
Quinoa
Lesser Evil Paleo Puffs
Purely Elizabeth Granola
Gr8nola
Coconut Chips
Rise Bars
Go Macro Bars
Naturally Clean Eats Bars
Quest Bars
Lily's Chocolate- Bars and Baking Chips
Stevia
Baking Soda
Baking Powder
Almonds
Pecans
Walnuts
Trader Joe's Sesame Honey Cashews
Dunkin Donuts French Vanilla Coffee
Yoga Tea Green Tea Kombucha
Wet Ingredients:
Justin's Peanut Butter

Georgia Grinders Nut Butter

Olive Oil

Primal Kitchen Salad Dressing

Maple Syrup

Honey

Coconut Oil
Avocado Oil
Coconut Oil Spray
Canned Pumpkin
Balsamic Vinegar
Apple Cider Vinegar
Vanilla
Spices:
Pink Himalayan Salt

Pepper

Cinnamon

Chili Powder

Red Pepper Flakes

Pumpkin Pie Spice

Garlic Powder

Trader Joe's Everything But the Bagel Seasoning

Cumin

Primal Palate New Bae Seasoning
Primal Palate BBQ Rub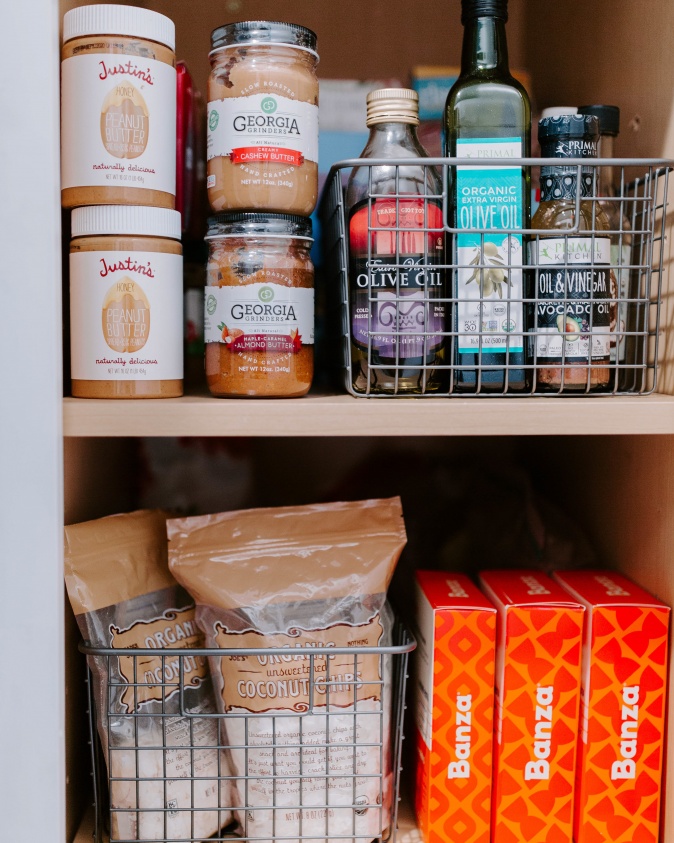 Going forward, my plan is to place some of my bulk goodies in glass jars and buying a label maker to label them all accordingly. Moving is expensive though, so for now my pantry works as it is!
I hope my blog post gave you some inspiration for your pantry or maybe it reminded you of some items you need to stock up on!