I usually don't eat cookies for breakfast. I like to save them for an after dinner treat! These cookies are healthy enough to be enjoyed crumbled on top of some yogurt to have for breakfast or enjoyed throughout the day when you're craving something sweet! They also make as the perfect dessert during the holidays.
These soft and chewy dark chocolate cranberry oatmeal cookies are SO yummy. When I made them during the holidays last year they didn't last long in my house. The ingredients can easily be changed in this recipe too- you can add raisins, white chocolate chips, or almond butter! I LOVE heating up these cookies and nut butter in the microwave for a few seconds then eating them with a little vanilla yogurt. It makes for such a tasty combo!
Dark Chocolate Cranberry Oatmeal Cookies
Ingredients
1 cup rolled oats

¾ cup whole wheat flour

1 ½ tsp baking powder

2 tbsp coconut oil

1 egg

1 tsp vanilla extract

½ cup pure maple syrup

¼ cup creamy almond butter

½ cup fresh cranberries

handful of dark chocolate chips

parchment paper
Direction
Preheat the oven to 350 degrees.

Line a baking sheet with parchment paper.

Mix together the the oats, whole wheat flour, and baking powder.

In a separate bowl, whisk together the coconut oil, egg, vanilla, and maple syrup.

Melt the almond butter in a microwave safe bowl for 30 seconds then mix into the wet ingredients.

Add wet ingredients in the flour mixture and stir together.

Fold in the cranberries and dark chocolate.

Scoop the cookie dough into 1 tbsp portions and place on the baking sheet.

Bake for 12-15 minutes depending on your oven.

Cool on the pan for 10 minutes before placing onto a wire rack.

These can be crumbled on top of vanilla greek yogurt for a healthy breakfast bowl or enjoyed on their own!
xx Becks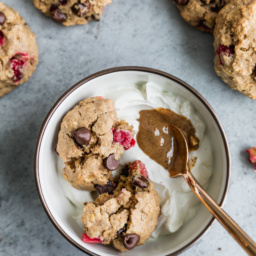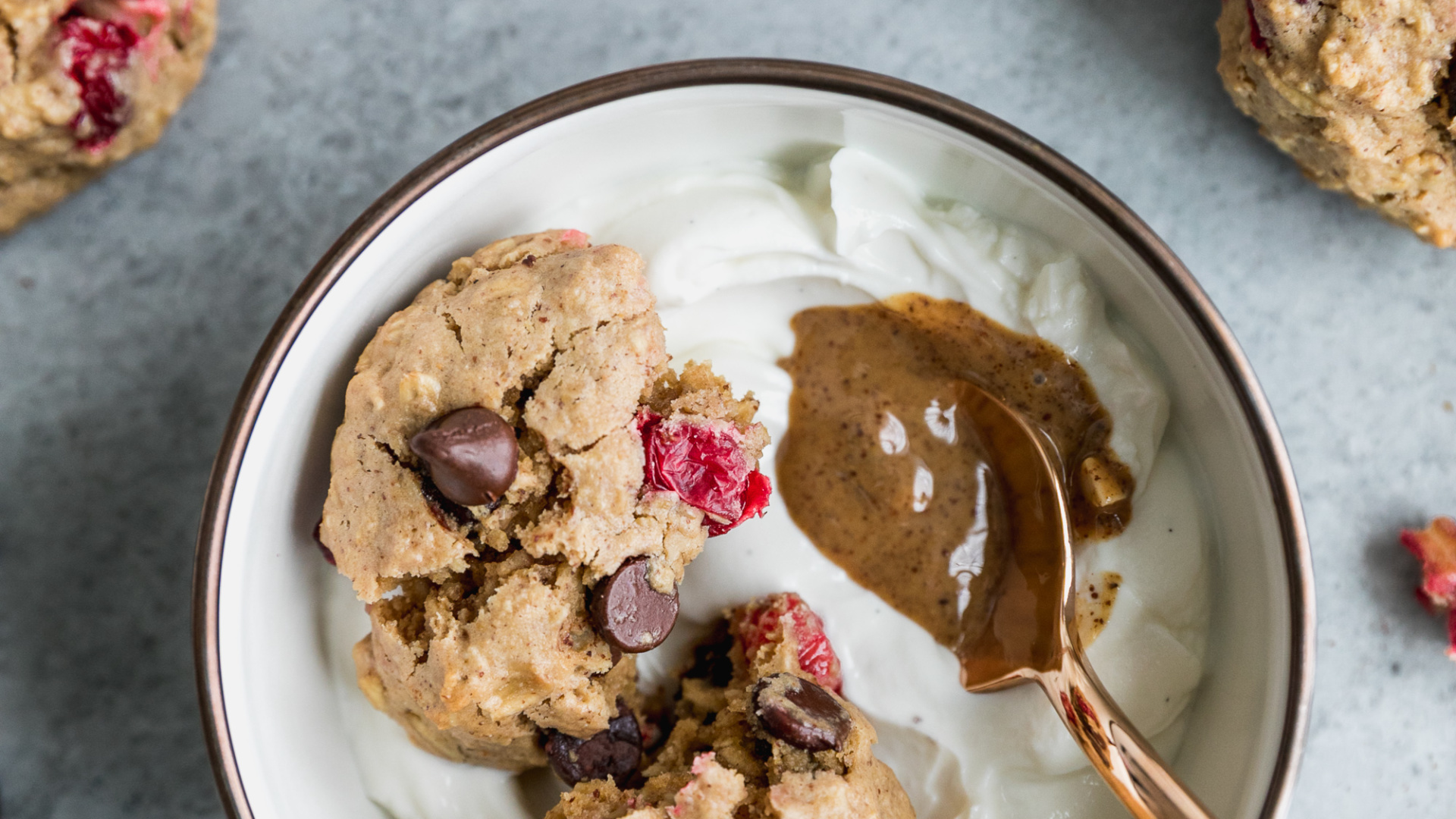 These healthy dark chocolate cranberry oatmeal cookies can be crumbled on top of vanilla greek yogurt for a healthy breakfast or enjoyed on their own!
xx Becks