Kale salads are seriously my favorite! When I go out to dinner, the first thing I look for on the menu is a kale salad. If they don't have one then I leave. Haha, kidding…but I really love kale salads and luckily most of the restaurants where I live have them on their menu. I don't just order them when I go out to eat because I'm "trying to eat healthy." I really enjoy eating them. My favorite combo usually includes kale with some type of grain, goat cheese or feta, fruit, and nuts for a little crunch!
My fall harvest kale salad is full of flavor and texture. I love the combination of the crunchy honey crisp apples, quinoa, roasted butternut squash, pecans, pomegranate seeds, and creamy goat cheese. It makes a great dish to bring to a Thanksgiving or holiday party, prep for lunch during the busy work week, or enjoy for dinner topped with chicken at home. I actually think that this salad tastes better the day after you make it because all the flavors combine while their sitting in the fridge.
Let me know if you give this recipe a try and be sure to tag me on Instagram @becksliveshealthy. Enjoy!
Fall Harvest Kale Salad With Orange Vinaigrette
Ingredients
4 cups kale de-stemmed

1 cup shaved Brussels

¼ cup cooked quinoa

1 cup roasted cubed butternut squash

1 Honey crisp apple thinly sliced

½ cup pomegranate seeds

¼ cup crumbled goat cheese

½ cup pecan halves
Orange vinaigrette:
¼ cup freshly squeezed orange

¼ cup olive oil

2 tbsp apple cider vinegar
Direction
Place orange juice, olive oil, and apple cider vinegar into a small bowl and whisk. 

Massage kale and shaved Brussels with vinaigrette and refrigerate for 5-10 mins.

Combine the kale, apples, roasted squash, goat cheese, pecans, pomegranate seeds, and cooked quinoa. 
Roasted butternut squash:
Preheat oven to 425 degrees Fahrenheit.

Toss squash with coconut oil and sea salt then arrange on baking sheet.

Cook 20-25 minutes or until lightly brown. 
xx Becks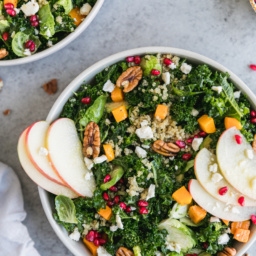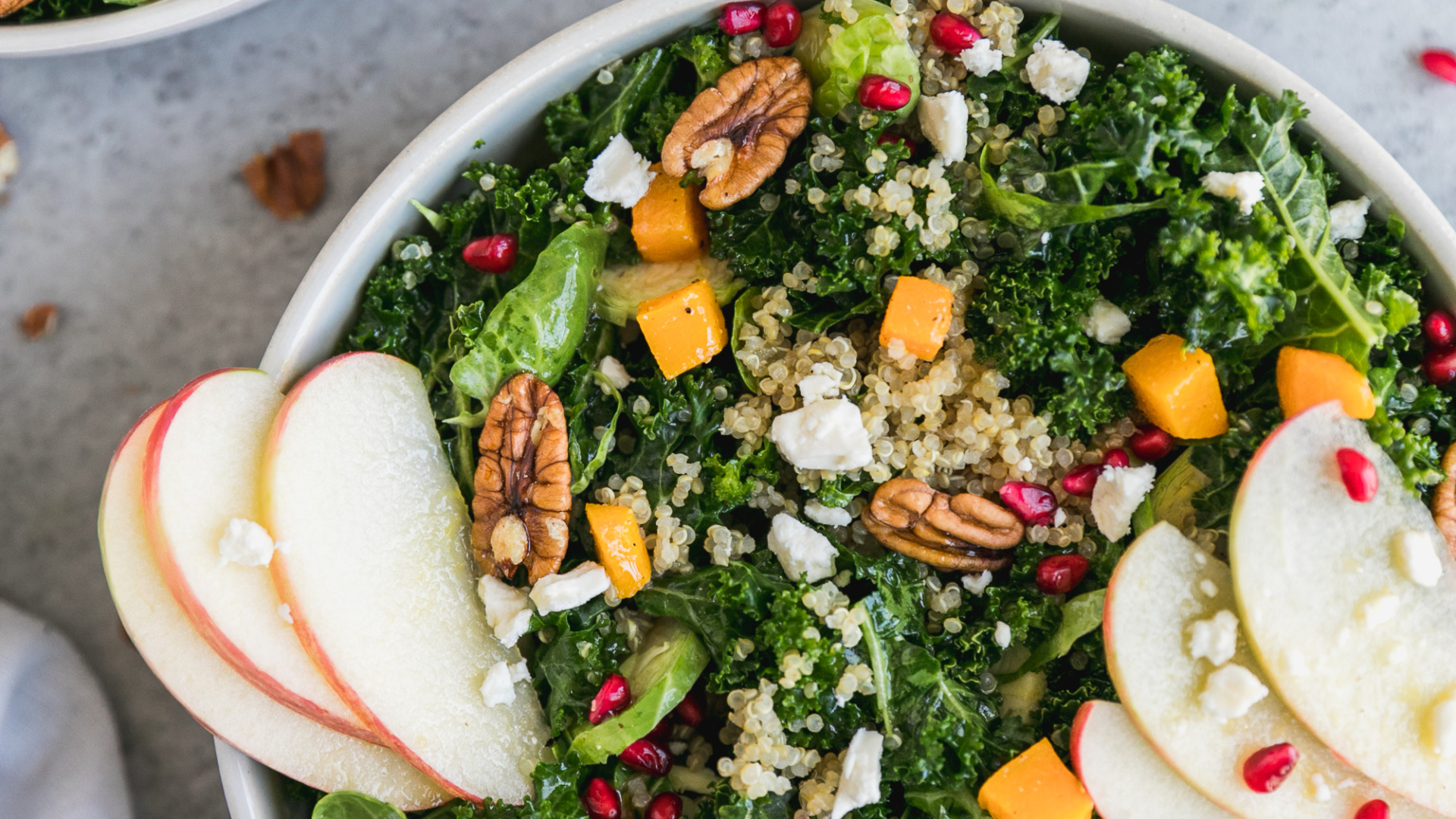 This fall harvest kale salad makes for a great holiday dish or can be served with chicken for a weeknight meal!
xx Becks