Chia seed pudding might be one of the easiest breakfasts of all time to make! Plus it's super healthy and filling! You only need a few ingredients plus a bowl or mason jar to make this recipe. It's the perfect breakfast or snack to have on-the- go!
When I first started working in the hospital I began to realize how important it was for me to eat a filling and healthy breakfast before work. Overnight oats became one of my favorite recipes to meal prep and eat before my long shifts. When I got sick of eating those, chia seed pudding was my second favorite. It could be easily meal prepped, taken with me and eaten on the way to work, and it would fill me up for the first few hours of my shift. Sometimes I even packed it as an afternoon snack to have because I knew I needed something to hold me over until I got home from work. Chia pudding is great to meal prep because it lasts in the fridge for 5-7 days. You can enjoy it all week long for breakfast or a healthy snack.
Health Benefits of Chia Seeds:
Chia seeds have so many health benefits. They are a great source of omega-3 fatty acids, rich in antioxidants, and they provide fiber, iron, and calcium.
How to make chia pudding:
This coconut chia pudding recipe only has a few ingredients- chia seeds, coconut milk, vanilla, cinnamon, and greek yogurt. That's it! Mix them all together and place in the fridge for 2 hours or overnight.
Tips-
If you think your chia pudding isn't thick enough, add more chia seeds to the mixture and let it sit a bit longer. You can also use a thicker milk like full-fat canned coconut milk, which makes it thicker and creamier.
Also, if you're not a fan of the texture (I initially wasn't when I first tried chia pudding), add the mixture to a blender and blend it up! It comes out smoother and creamier.
You can make this recipe vegan by using a plant- based yogurt instead. Coconut yogurt tastes so good!
Time for Toppings!
Once your chia pudding is made, you can add any toppings you like! I added granola for some crunch and berries. Sometimes I love adding a little bit of nut butter to swirl into the chia pudding too. Mhmmm!
Some of my other favorite topping combinations:
Strawberries, mango, and coconut (tropical version)

Banana slices, peanut butter, cacao nibs or dark chocolate chips (chunky monkey version)

Strawberries or raspberries and peanut butter (peanut butter and jelly version)
If you make this recipe, be sure to tag me on Instagram @becksliveshealthy. Enjoy!
Chia Seed Pudding
Ingredients
½ cup coconut milk

2 tbsp chia seeds

½ tsp cinnamon

2 tsp vanilla

½ cup vanilla greek yogurt 
Direction
Mix above ingredients until well combined.

Refrigerate for 2 hours or overnight.

Top with toppings of choice in morning. Can remain in fridge for 5-7 days. Enjoy!
xx Becks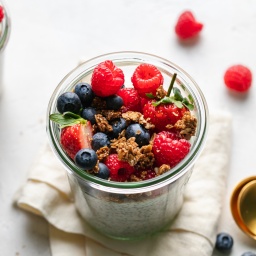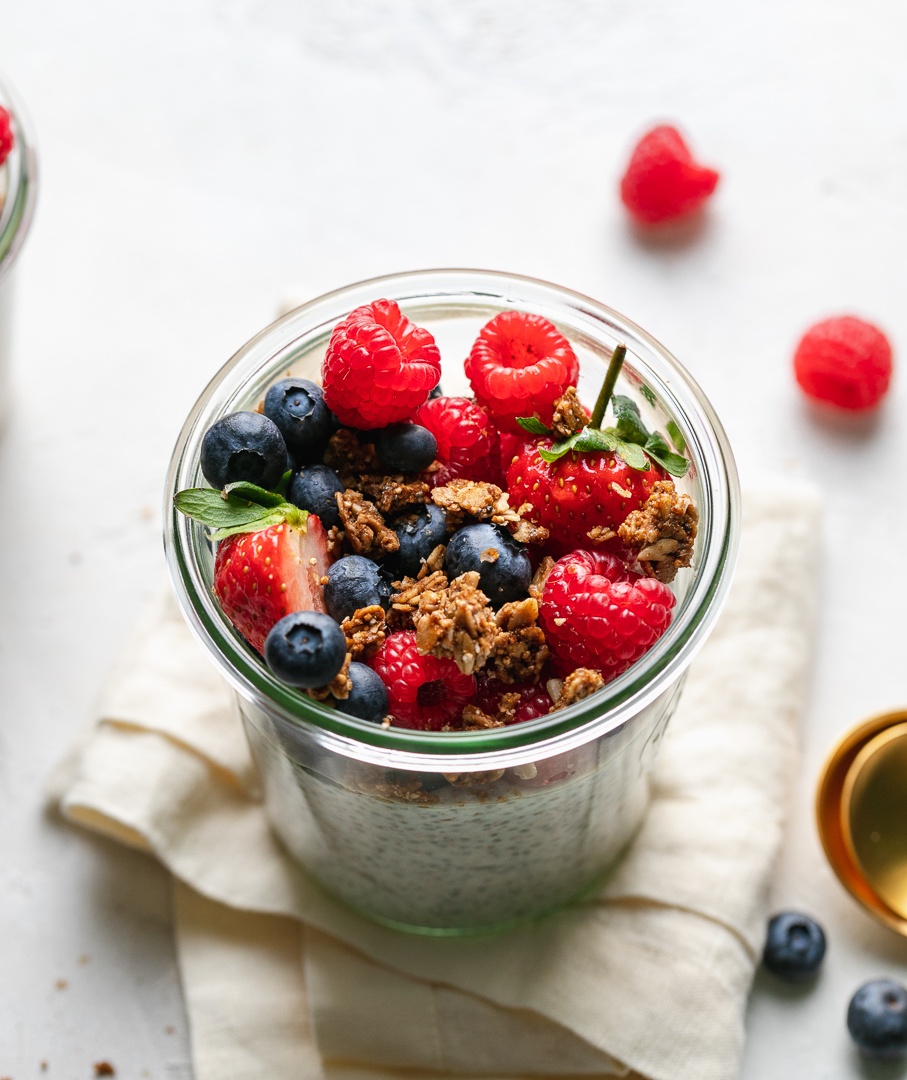 Chia seed pudding is the perfect healthy breakfast or snack to meal prep for the week. It's healthy, filling, and loaded with protein, fiber and omega-3s.
xx Becks