Today I'm sharing my tips for creating an at- home workout routine that's both effective and fun. With gyms mandated to close across the country, it seems that we have no other choice than to work out at home. It can be a bit of a challenge for some of us who are used to the structured setting of a gym or studio. Without anyone telling us what to do and without the machines and equipment we're used to, getting motivated and staying on track can be difficult at first. I thought it would be beneficial to share some tips stay motivated to workout at home for the next few weeks.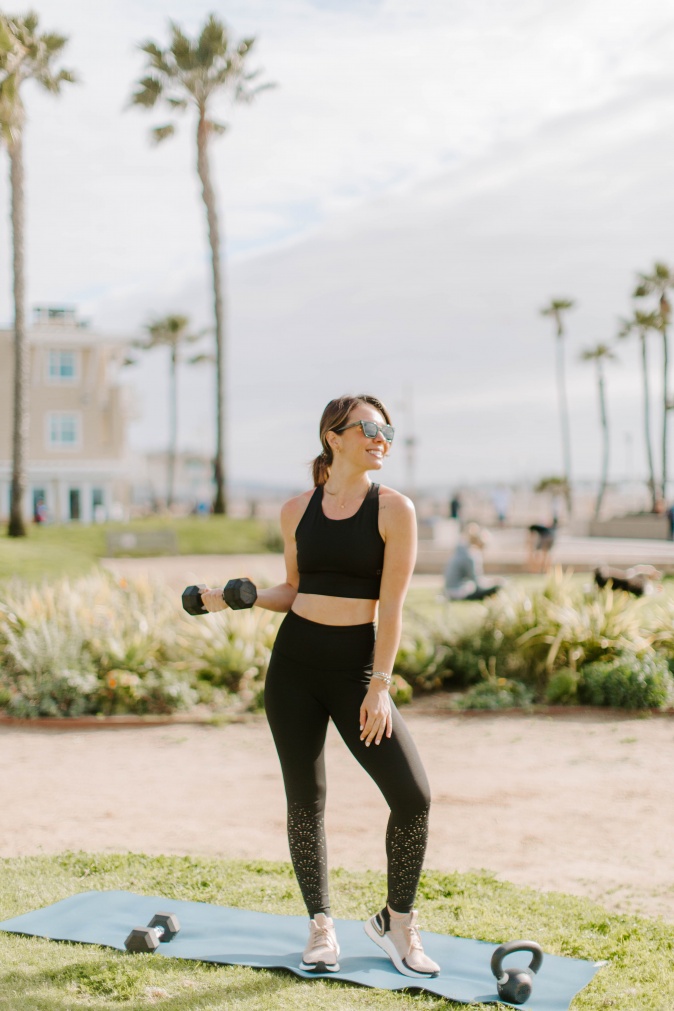 Figure out your space- I'm sure most of you have figured out your workout space at home by now as we enter week 3 of quarantine. However, I know some of you may not have designated a space in your home yet. A lot of us have been exercising outdoors at a park or at the beach. For all of us here in Los Angeles, they recently closed all of the beaches and parks, which is where many of us have been working out. This forces us to change things up and move indoors.
Some of us have been working out at home this whole time and may be beginning to feel a little stir crazy doing the same at home workout routine. My advice is to move your workouts around so that they're not all done in the same space. Change up your scenery depending on what type of workout you're doing (if you have the space to do this). Yoga and pilates can be done on a yoga mat in the living room or bedroom floor. If you have a garage, back porch, or basement- head there for your HIIT or strength workouts.
Make a schedule- Create a consistent schedule just like you would if you signed up for a 6am spin class or were going to the gym early. Scheduling your exercise will help you stick to a routine. Write it down or add it to your Google calendar!
Workout with a friend- ZOOM makes it easy enough to work out your friends in the comfort of your own home! You can stream a workout from Pop Sugar Fitness or Peloton with your best friend working out on the same screen! It helps keep you both accountable to show up for the workout.
Limit distractions- make sure your place is clean prior to working out (clothes are put away, dishes aren't piled up, etc) and your phone is on "Do Not Disturb." I know that if I have a pile of dishes, my bed isn't made, and my texts messages are going off, I'll stop multiple times during my workout.
Find Fitness Inspo- Right now there are so many home workouts being streamed on Instagram and You Tube for free! I highly recommend following fitness influencers who inspire and motivate you to workout on social media. Give one of their workouts a try and who knows maybe you will find yourself tuning in to all their live workouts!
Stock up on the right gear- You don't need a ton of equipment to get an effective workout at home. You can stick to body weight workouts if you chose to do so or if that's what your budget allows.
Yoga or exercise mat: makes floor and core work much more comfortable.
Resistance bands: Affordable and available on Amazon! You can use these for all types of workouts- full body, core, lower body, upper, warmup before running or cycling, and rehab exercises. These are the bands I have from Amazon.
Jump rope: Another cheap piece of equipment that can be used for cardio at home.
Sliders- are great for core and lower body exercises (hamstring curls, pikes, running man, jackknifes- check out my IG highlights for clips of all these exercises). If you don't have sliders, dish towels, paper plates, socks , and furniture movers work well too!
Weights: If you want to invest in weights I recommend ordering a light, medium, and heavy set.
Recovery: I highly recommend a foam roller if you don't already have one. You will most likely need one after this quarantine is over. Plus it's a good tool for warming up along with recovery. A great time to foam roll is while binge watching your favorite show on Netflix or Hulu!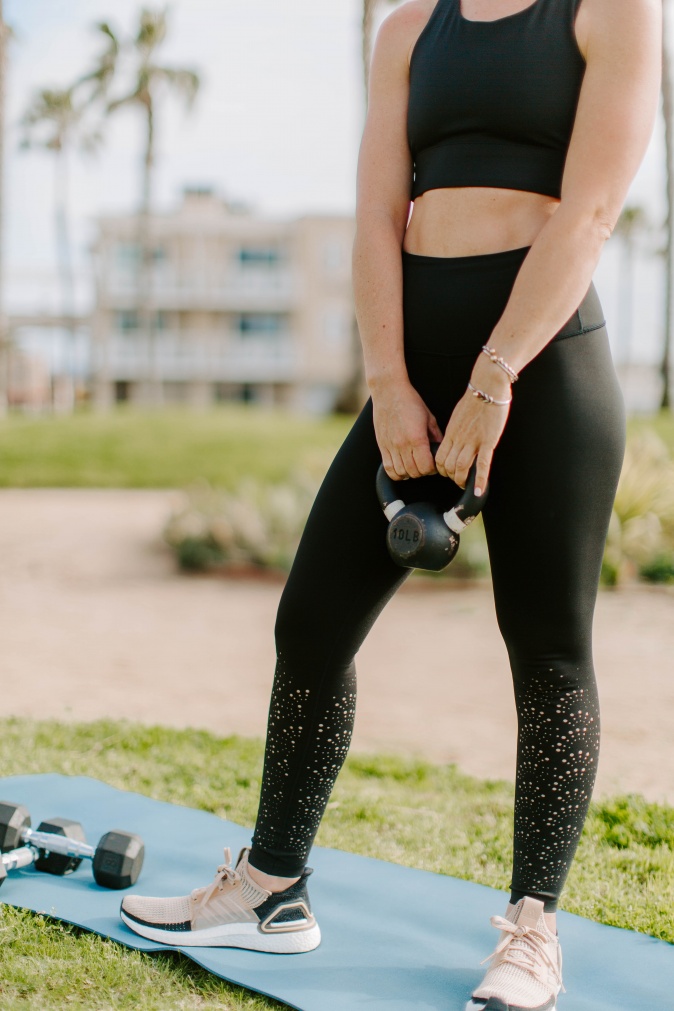 There you have it- my tips for working out in the comfort of your own home! If you're struggling with establishing a home workout routine during this crazy time, my hope is that this helps you a bit. Try to remember we are all in the same boat right now! Just do your best to move your body a little each day and you'll feel better! Please reach out to me on Instagram if you need anything during this time @becksliveshealthy.