Hey everyone! Welcome to my page! I'm so excited to venture out of the Instagram space and into the blog world. This is definitely a scary but EXCITING transition for me. The last few months have been BUSY as I've made some major changes in my life that I haven't really talked about until now. Before I dive into that though, let me share with you how I got to where I am now!
I graduated from Western CT State University with a Bachelor's in Nursing in 2011. I started working as a new grad on a med/surg floor but after a year I was ready to move on and work in the Intensive Care Unit. I spent 2 years working in the Intensive Care Unit in Hartford, CT before I took my first travel nursing assignment in Southern CA. Prior to moving to California, I decided it was time to make a change and focus on my own health and fitness.
My long time boyfriend of 7 years moved across the country. I felt like I was stuck living at home while my boyfriend was enjoying his new life in sunny California— so I decided I wanted to do something for myself. I bought the Tone It Up Nutrition Plan and made an Instagram account as a way for me to stay accountable for my own health. I started making all the Tone It Up recipes (the protein pancakes were my favorite) along with running and going to boot camp classes on my days off from work. After being apart from my boyfriend for 5 months, I decided to make the move to Southern California as a travel nurse. When I arrived to California, I felt like I already had friends because I met a girls through my Tone It Up Instagram account. It was like Tinder or Bumble— but for friends! We took fitness classes together, planned healthy dinners and Bachelor viewing nights, and enjoyed lots of coffee and smoothies at our favorite spot- The Source Cafe.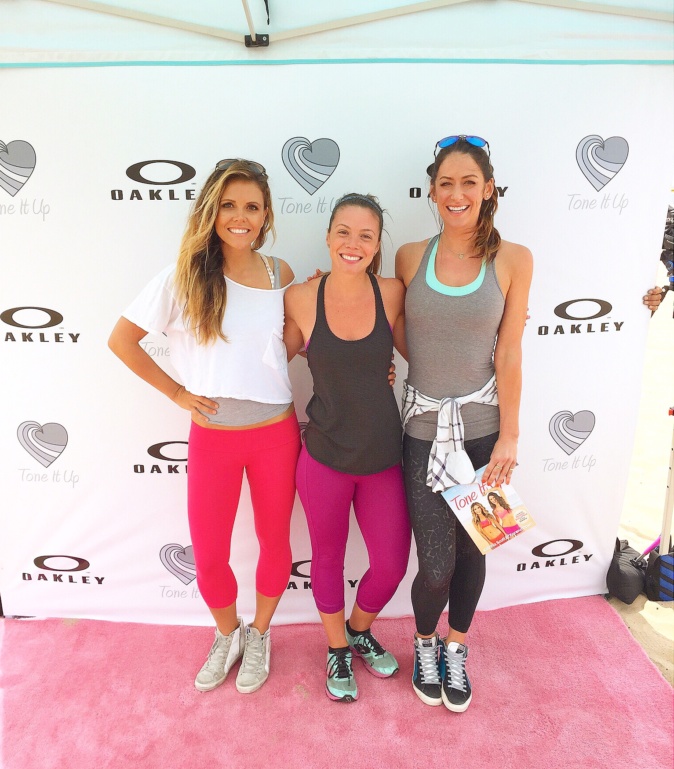 It was so nice having friends out here who I had so much in common with. Although I made these amazing friends on the west coast, my relationship with my boyfriend was struggling. We had different interests. He lost his job and was partying until the early mornings while I was focusing on my health and fitness, along with working long hours at the hospital. We became distant and ended up breaking up after a few months. Although we broke up, I wasn't ready to leave California. I loved my new life, my new surroundings, and my new friends. I also joined a gym where the people who trained there became like my family. Most of my gym friends were also runners so I often joined in on their morning runs.
Although I was making friends in California, I still felt super lonely. I lived by myself so I decided it was time to get a dog. After months of searching online for a pure bred English lab, I found my sweet dog, Leo. He helped me cope with my breakup and made me feel less alone at home.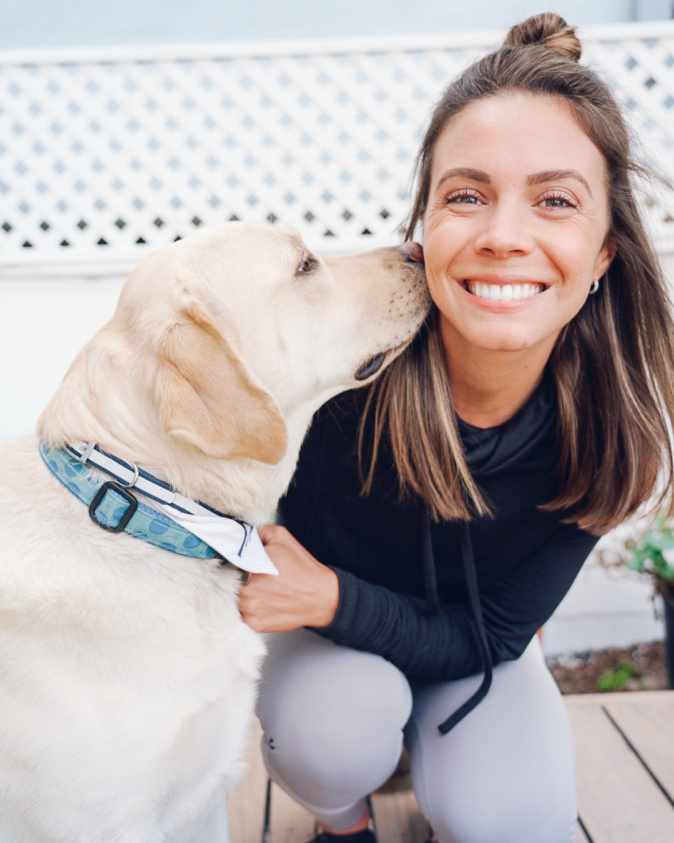 Leo definitely helped me cope the first few months and brought so much joy to me life, but I was still struggling with being single. I was running a lot on the strand as a way to stay in shape but also used it as an outlet and form of therapy. My miles on the strand were adding up, so I decided to take the plunge and sign up for my first marathon. On February 14, 2016 I ran the LA Marathon, which led me to signing up for 3 more marathons that year.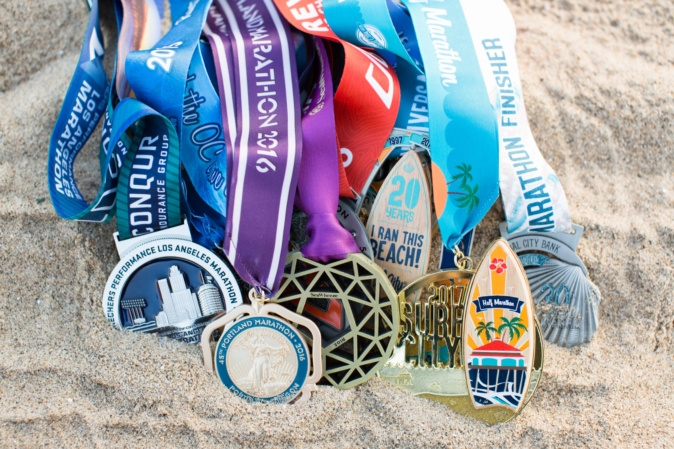 Running became my therapy and my favorite way to spend Saturday mornings. During marathon training, I really focused on my strength training in the gym to prevent injury and paid even more attention to my nutrition to properly fuel my runs. After falling more and more in love with health and fitness, I decided to become certified as a NASM personal trainer in Fall 2017 to help others reach their health and fitness goals.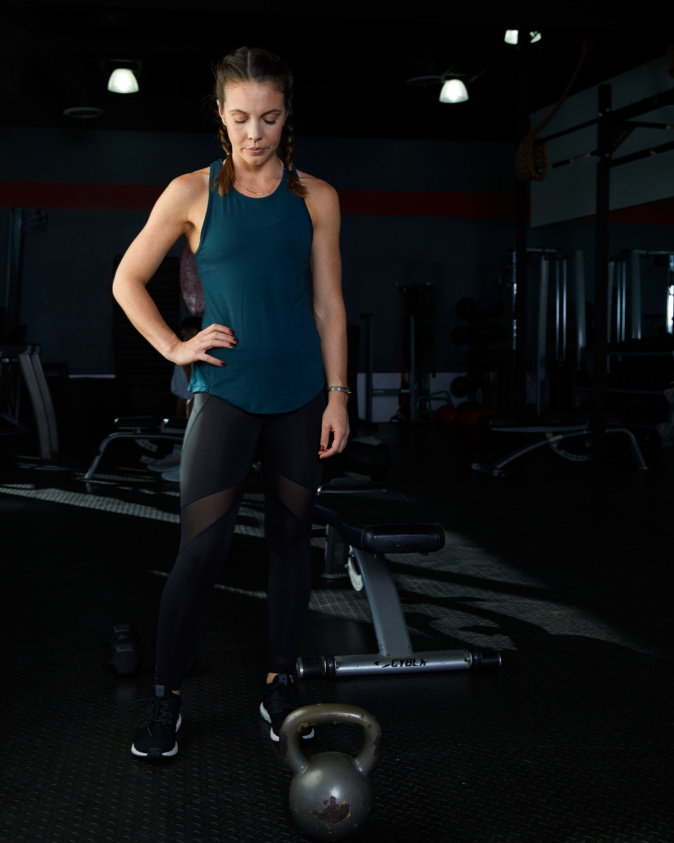 After I received my certification, I wanted to jump in and start training clients right away, but I realized I didn't have the experience or the time to do that. I was frustrated with my full time job as a nurse because it was taking up too much of my energy and time that I could be using to focus on training clients. After working as a nurse for 7 years I felt extremely burnt out and was ready for a change. I wanted to put 100% of my efforts into personal training and nursing was holding me back from doing that. In March 2018, I made the decision leave nursing to pursue personal training full time.
I have received quite a few messages on Instagram lately asking if I'm still a nurse? Currently I am not working as a nurse but YES I still am a nurse– I will always be a nurse. I am so grateful for my nursing career– I have learned so many skills throughout the years and have made so many wonderful connections through my jobs on both the east and west coasts. Nursing will always be there if I want to jump back into it. I will still be sharing posts and answering questions on my experience as a nurse and how I was able to maintain a healthy lifestyle while working 13 hour shifts.
Right now my main focus is on helping people in a different way. I left the bedside to help help them live their healthiest life possible and prevent them from getting to the bedside.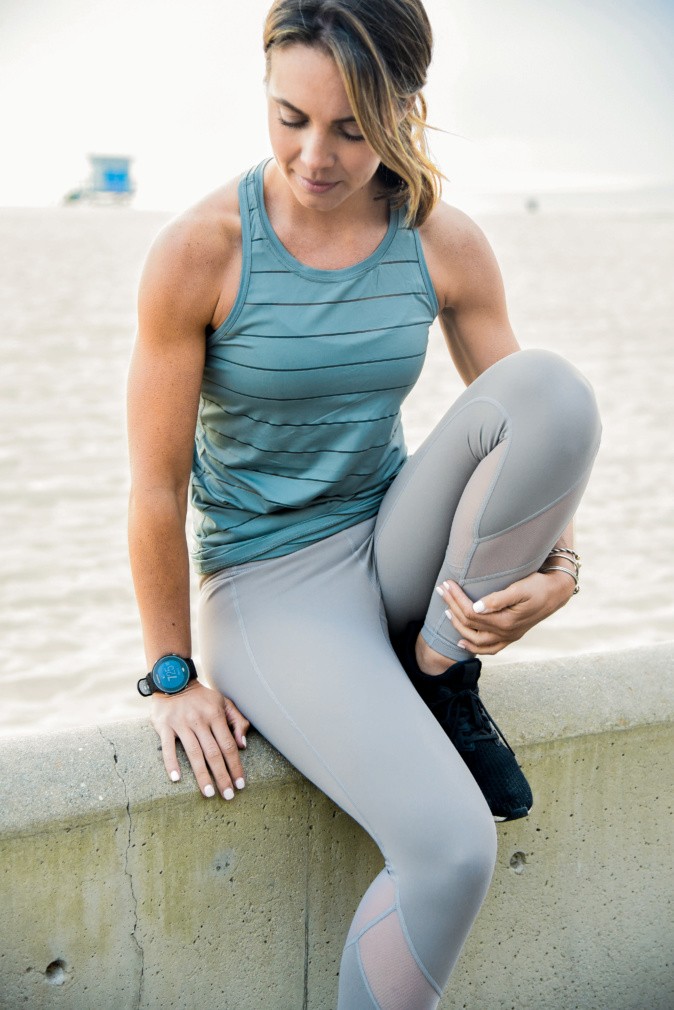 I'm SOOOOOOO excited to help others reach their health and fitness goals! If you would like to work with me in person or online please contact me at becksliveshealthy@gmail.com.