It has been HOT here in Southern California. If this year is anything like previous years, were going to have hot weather into October. I know a lot of you have taken your workouts outside since gyms are closed for indoor workouts in California. Fortunately, they are still open for outdoor workouts, but with working outside comes sun and heat! No air conditioning like we are used to. I decided to put together a blog post sharing some of my favorite items to get me through hot summer workouts or long runs.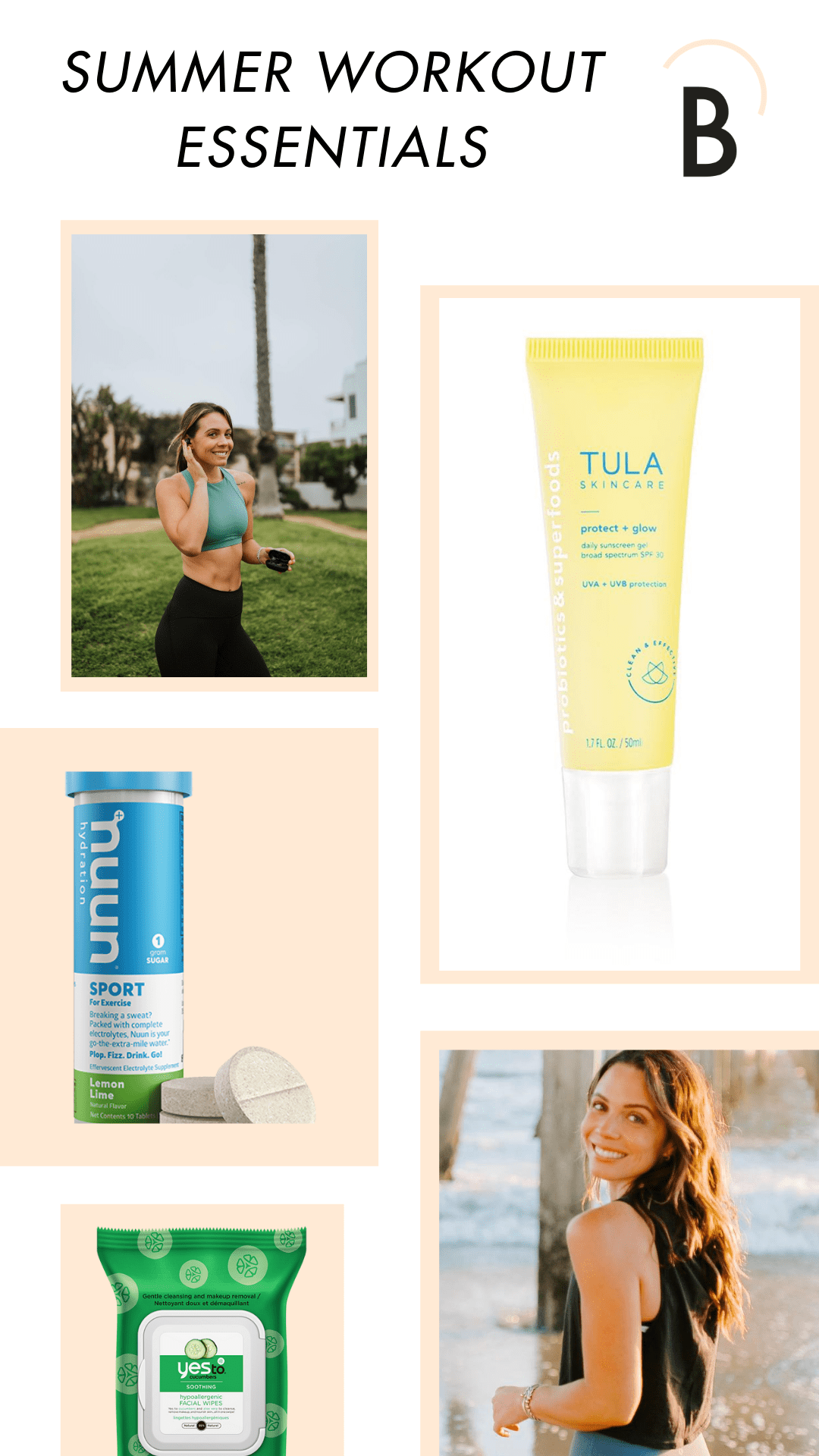 1. Water Bottle– it's super important to stay hydrated this time of year. This one made by Yeti is my favorite and keeps water cool for hours!
2. Sports Bra– I don't love working out in just a sports bra, but it gets so hot this time of year that I feel like sometimes I have no choice. I love this Women's Indy Sports Bra made by Nike. It's super flattering and comfortable, plus it has moisture wicking technology to keep you cool and dry.
3. Nuun Hydration Tablets– I've been using these for years after my workouts and long runs. They replace lost electrolytes after hot workouts. All you have to do is dissolve them in water!
4. Face Cleansing Wipes– Perfect to use after a hot, outdoor workout when you're on- the- go. These ones are so refreshing!
5. Sunscreen– Tula's new Protect and Glow Sunscreen is one of my favorites! I t's SPF 30 plus provides protection from damaging pollution & blue light.
6. Light, airy workout tank– This one from Lululemon is a favorite of mine! It's so light weight, plus it's super flattering!
7. Running shorts– My favorite right now are made by CALIA by Carrie Underwood. The fit is just so flattering! I wear them both running or just around the house!
8. Sweat Proof Headphones– Jaybird's Vista headphones are hands down my favorite headphones ever! They keep their charge for so long so they're perfect for long runs. They're also waterproof and sweat proof, which makes them great to workout in this time of year! They're a little pricey, but I promise you they're worth it.
9. Fanny Pack– Yes, I'm sharing my fanny pack, also known as the Everywhere Belt Bag from Lululemon. It's easy to toss on for a hands free walk with the dogs or morning run! I usually throw my cell phone, credit card, doggy bags, and keys in there so I don't have to worry about carrying anything.
10. Masks– Since most gyms (even the outdoor ones) are now requiring face masks I thought I would include these masks from Athleta. They're so soft and breathable!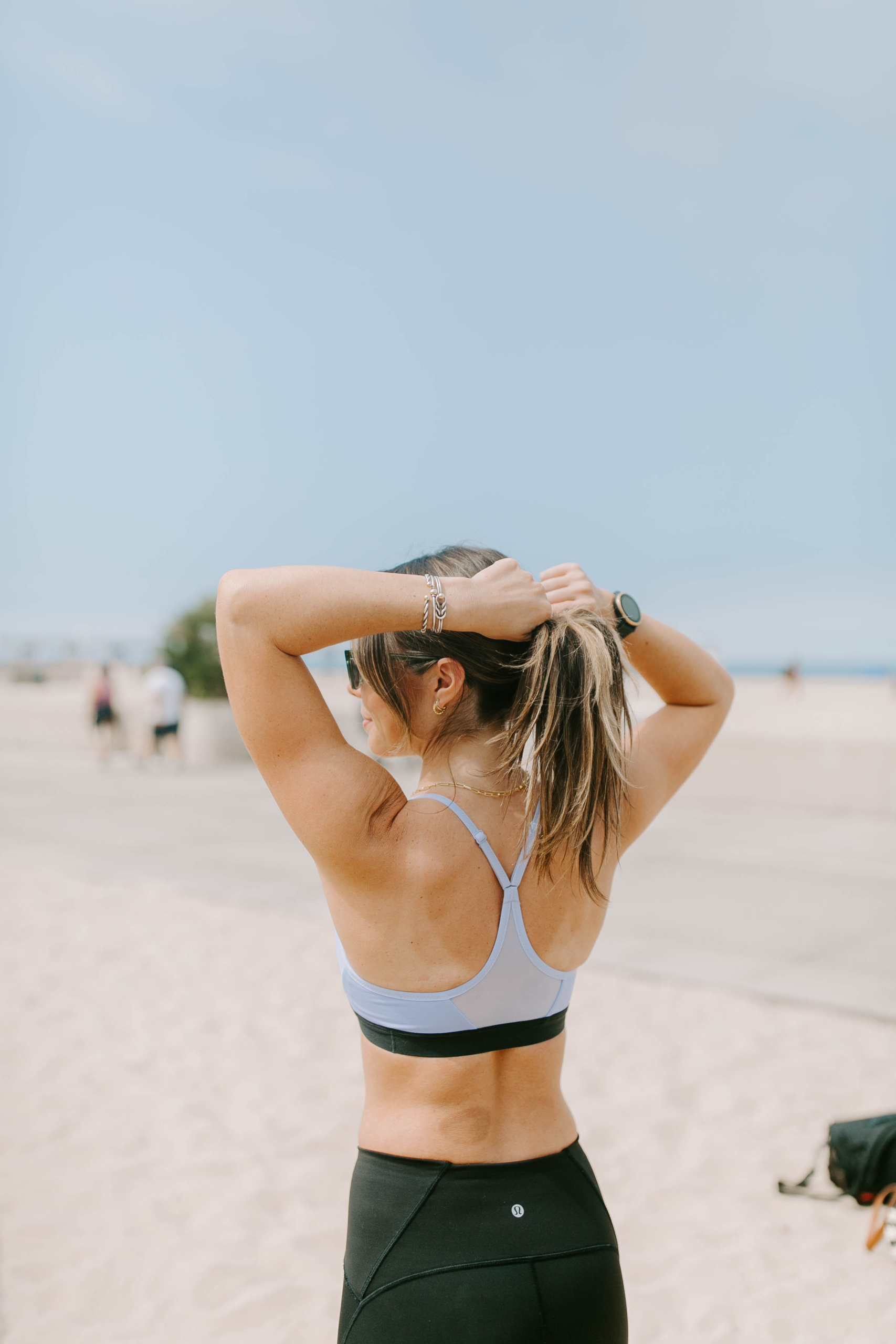 Since we're chatting all about summer workouts today, I'm also sharing one of my favorite dumbbell only upper body and core workouts! It can be done at home, outside, or at the gym. Check out my Instagram stories and highlights for demonstrations!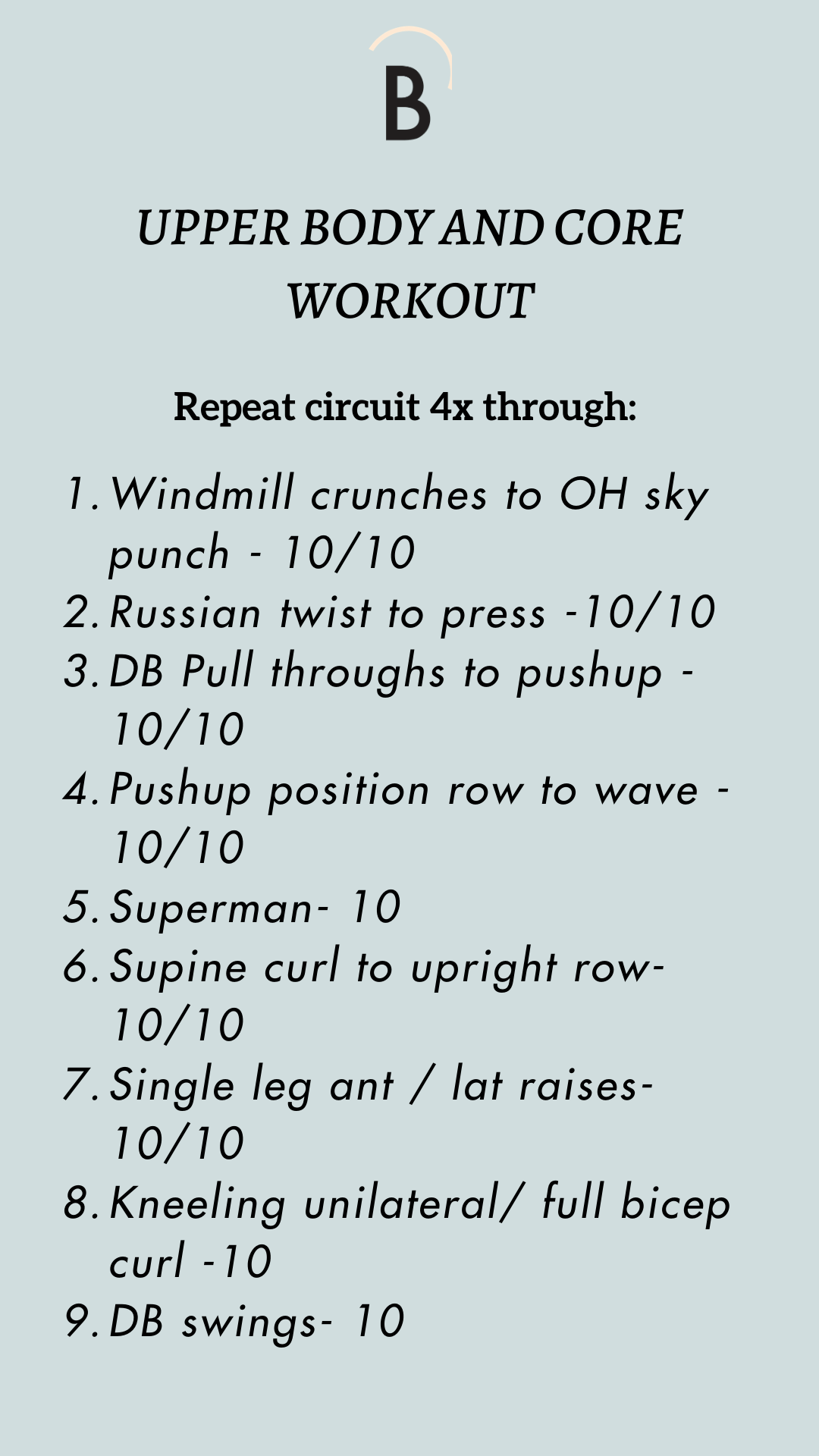 What are your summer workout essentials?!
xoxo, Becks