I graduated from Western CT State University in 2011. Shortly after graduating I studied and passed the NCLEX then went on to work as a new grad at Norwalk Hospital. I had my senior practicum at Norwalk on 8west, a medical/ surgical floor and was lucky enough to be hired by the nurse manager. I spent a year working at Norwalk before I decided to move home and work in the Med/ Surg ICU at St Francis Hospital in Hartford, CT. Transitioning from med/ surg to ICU was definitely a huge transition and a big change. I felt like a new grad all over again. I was hired for night shift but after 5 months of working nights I was able to move to days. I absolutely loved working at St Francis. It was an hour commute from my house, but worth it. I loved the staff, everyone helped each other out, and I got a lot of really great ICU experience. We were also a level 2 trauma center so I got my share of gun shot wounds, motor vehicle accidents, etc.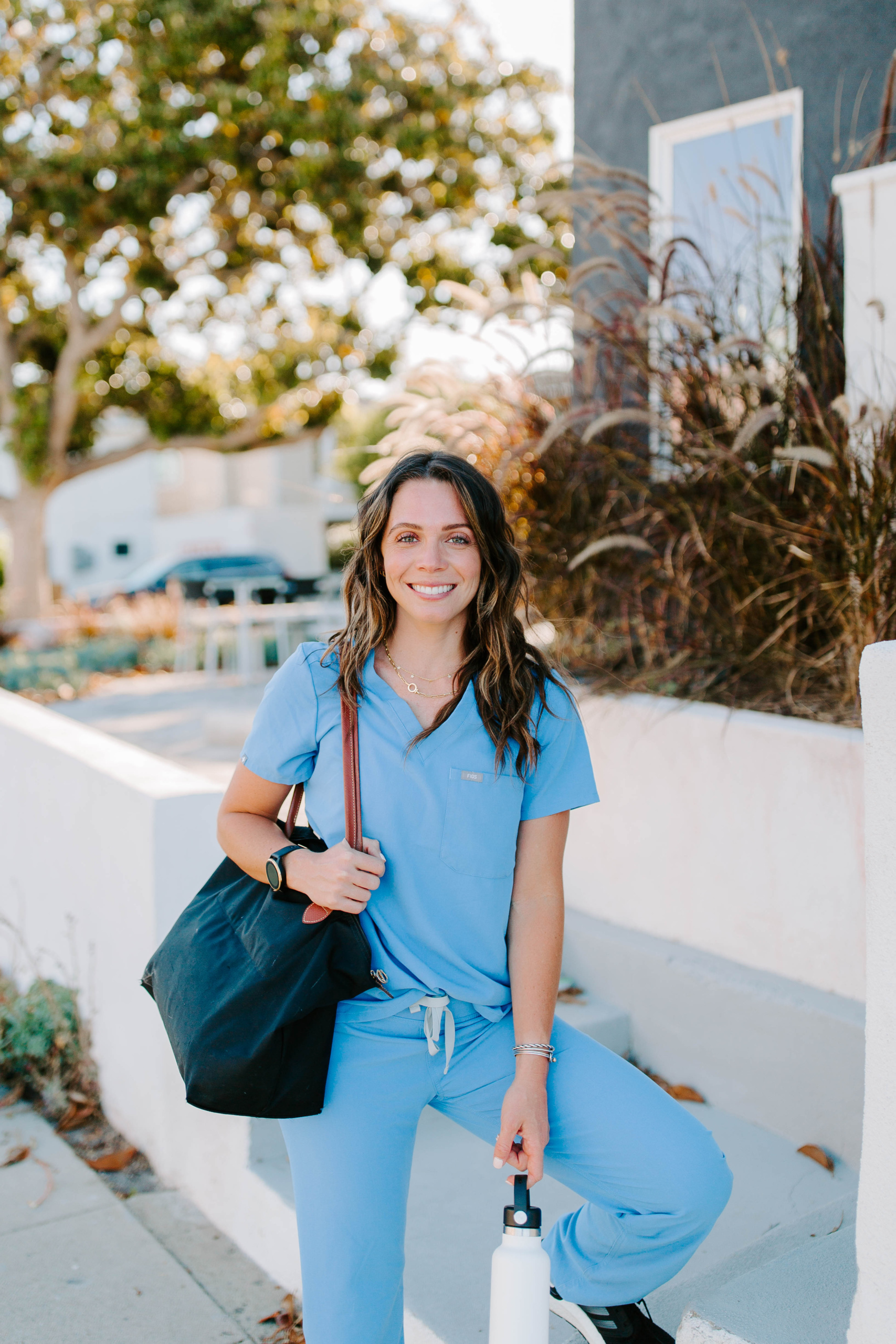 After 2 years of working at St Francis I decided it was time to follow my long time boyfriend to California and work as a travel nurse. I signed on with American Mobile and completed a 3 month contract in the ICU at Providence Little Company of Mary in Torrance. I went on to work at Keck USC Medical Center for 5 months after that. To be honest, my contract with Keck was the longest 5 months of my life. It was an awful experience and they didn't treat travelers well. After 5 months, I went back to Providence as a traveler and ended up signing on as staff after a year. I continued working at Providence for 3 more years in the ICU. Over time, I started feeling burnt out and very unmotivated to be there. I wanted to shift my focus to social media and personal training to start helping people in a different way. I made the decision to leave bedside nursing in 2018. After I left nursing, I started working as a personal trainer and also launched my website.
A few months later, my boyfriend and I broke up. At the time he was helping me financially so that I could start my new career. I wasn't making enough to pay rent and all of my expenses on my own so I decided to go back to travel nursing and signed on with Kaiser in the ICU. The day after my first day of hospital orientation I received a call from my mom and found out that my dad unexpectedly passed away. I flew back to the east coast the next day and cancelled my contract with Kaiser. I wasn't in the right mindset to be starting a new job. Luckily I had just signed on full time with a talent agency for social media so I no longer needed to work full time as a nurse. I also started working per diem for a private duty nursing agency. It was much different than ICU nursing and a good change for me. The pace was much slower and I only worked a few shifts a month so that I could continue focusing on social media and personal training. I also launched my workout guide, Move With Strength. I really enjoyed working from home and taking a break from ICU nursing but I felt like I was lacking structure in my work life.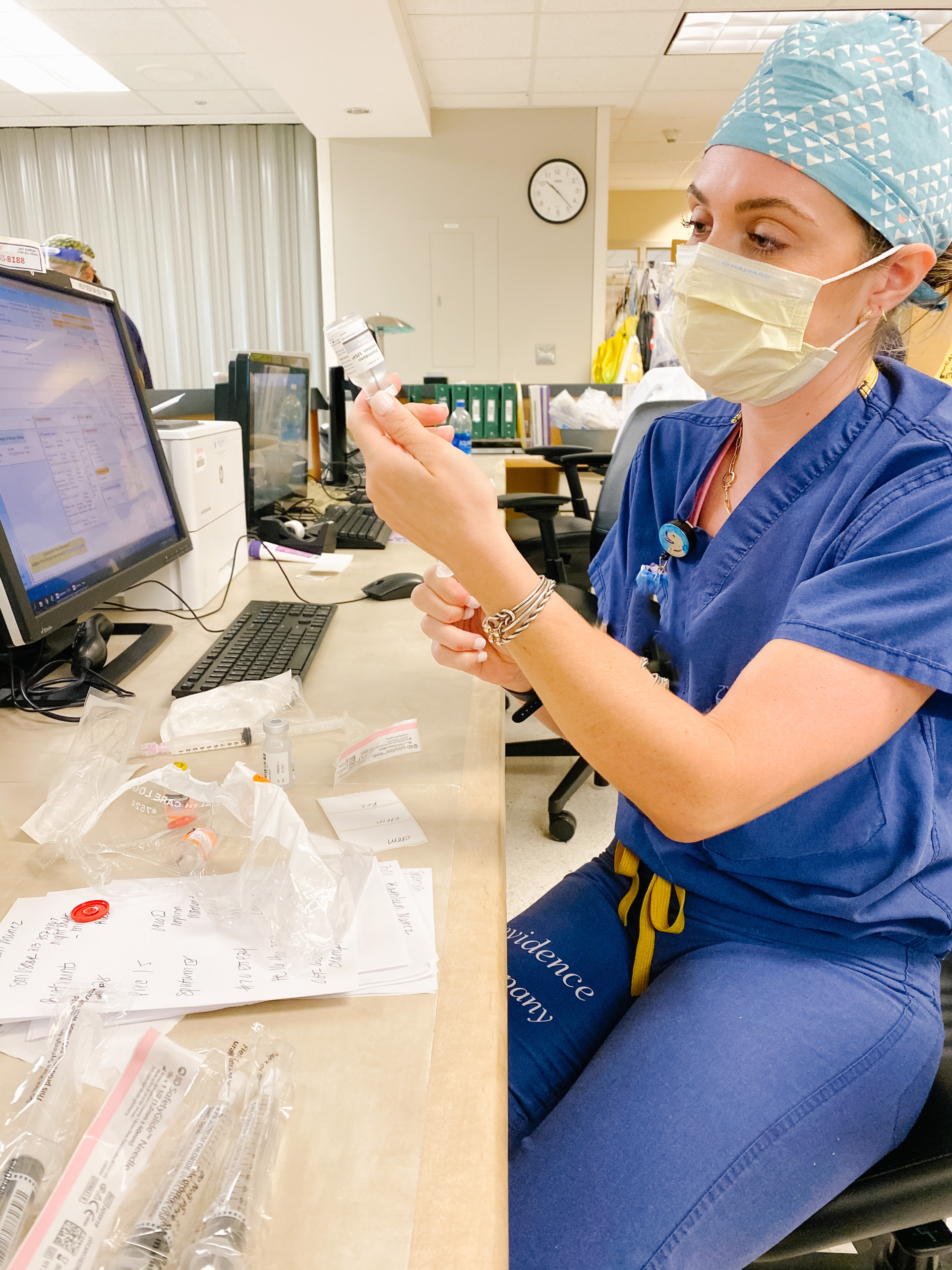 Once COVID hit in 2020 work really slowed down for me. I was starting to feel really anxious being home all the time and I didn't have much work to do. I made the decision to sign on as a travel nurse again at Providence Little Company of Mary in the ICU. I was definitely nervous to step back into the ICU, especially during a pandemic and put my health at risk, but excited to be reunited with my old coworkers.
I just finished my contract with Providence. My contract initially was for 4 weeks and it's turned into 11 months. I'm so grateful that I had the opportunity to go back to my old job and to be surrounded by such a good group of people.
Currently I am working as a Clinical Nursing Instructor for AUHS in Signal Hill, CA and I just accepted a per diem ICU job at UCLA Medical Center! I haven't decided what my ultimate goal with nursing is, but the great thing about nursing is there are so many options and different routes to take. I can always go back to school if I decide or completely change specialities and go into aesthetics!
Ok, now your turn, I want to hear your story. Where did you go to nursing school and what area of nursing do you work in?