Let the celebration begin- You made it to graduation! Yet, while all your friends are ready to catch a little R&R before starting the job hunt, you know the hard work isn't over yet. As a nurse, it's time to hit the books once again to study for the all-important NCLEX.
If you're anything like I was, as a newly graduated nurse, you're probably thinking, "I have no idea how to study for the NCLEX." So, let me help you find your way and boost your confidence to pass this test with flying colors.
What is the NCLEX?
The NCLEX, which stands for National Council Licensure Examination, is the post-graduate licensing test for Registered Nurses and Licensed Vocational Nurses. You're likely well aware of the weight of this test, as you and your classmates have been discussing it for months near the end of your time in nursing school.
The test is an all-encompassing assessment of readiness to make proper clinical judgement and provide adequate patient care. It is an automated computerized exam that shuts off somewhere between 75 and 265 questions, after determining whether you will pass or fail. Clearly, the test is graded unlike any test you've taken in school. So, it's important to be prepared by knowing the material, structure of the test, and individual questions.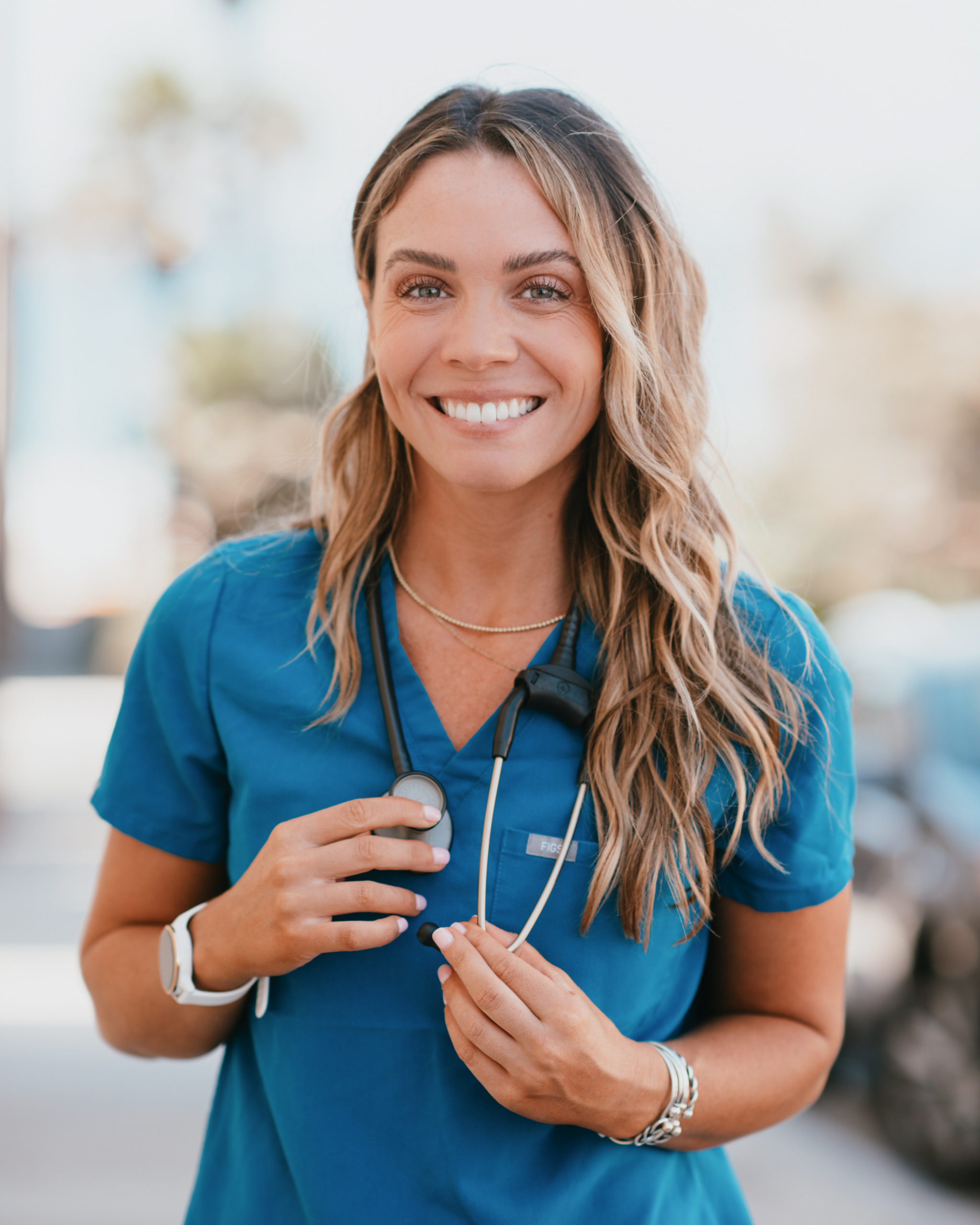 8 Ways to Study for the NCLEX
These are my best tips for your NCLEX studies. My hope is that they will give you a boost of confidence as the big day approaches.
Don't Cram Your Studies- It probably took you between two to six years to complete nursing school, so don't expect to be ready to take this test after a couple hours of studying. Generally, soon-to-be nurses will recommend taking the NCLEX within the three to eight weeks after graduating nursing school. Yet, you know you best. Schedule your test when you know you will feel most prepared.
Take a NCLEX Prep Course- I cannot stress how helpful these prep courses are. Kaplan, UWorld, ATI, Hurst Review, and NCLEX Mastery all offer many NCLEX test tips. Kaplan provides a week-long course that is structured to teach you how to answer the NCLEX questions. UWorld provides the largest bank of practice questions and tests to ensure you have frequent practice.
Use Your Nursing School Notes- There is no need to re-study every nursing school note, from heart disease to kidney function. But, do spend some time reviewing the subjects that you did not test well in during nursing school.
Review Practice Questions- Kaplan uses real NCLEX questions that are no longer circulating, so you can be confident that they will be similar to the actual test. UWorld's question bank is very extensive, allowing you to study during spare moments, here and there.
Develop a Study Routine- Schedule study sessions into your calendar. Pick a date, time, and location for studying and make sure you stick to it! In-person classes keep you accountable to attending, but if you opt to study on your own, a study routine will keep you on track.
Do a Full-On Practice Test- Do your best to recreate a testing center environment, like in a library. Bring a practice test with you, find a cubicle, turn off your phone, and pretend it is the real thing. Take the entire test, all 265 questions. This practice is going to help you be more confident and relaxed on the day of the test.
Put Down the Books Before the Test- It is important to enter test day relaxed and refreshed. I suggest taking off the day before the test. Instead, pamper yourself! Get a massage, go for a run, treat yourself to a favorite dinner, and get to bed early. If you haven't learned the information at this point, you likely are not going to remember it during the test.
Go with Your Gut and Don't Doubt Yourself- Avoid spending too much time pondering each question on the day of the exam. Try to spend a maximum of 30 seconds per question. Trust all the time and energy you have put into nursing school and NCLEX prep.
Every time I talk to a new nursing graduate, there is a perpetual state of stress around the NCLEX. I hope these tips help you to relax, refocus, and crush your exam. And when you do, it's time to celebrate the accomplishment of completing nursing school and knowing that you are equipped to succeed in this career.
If you have any additional tips for passing the NCLEX share them below and congratulations to all the soon-to-be RNs out there!