Happy September! I can't believe August is over….the month FLEW BY! Last month was busy. It was my last full month of training for the Revel Big Cottonwood Marathon. I also started to accept clients as a personal trainer and co-hosted Summer Sweat, Sculpt, and Flow here in Hermosa Beach. I ended the last weekend of the month with a trip to San Diego to attend the Endless Summer Event!
I've always loved reading weekly or monthly round-ups on blogs. It's a fun way to find new products and read reviews form my favorite health and fitness bloggers! I decided I wanted to join in on this monthly round up party too! So let's get started– here are all of my August favorites!

Overnight Oats
I think my beloved waffles have been replaced by overnight oats as my go-to breakfast!
It's been so hot and humid this past month that the only thing that sounds good to me after a workout is a cold, creamy bowl of oats! They take no time to make too- I just prep them the night before while dinner is cooking and set them in the fridge overnight. In the morning I like to top them with a little granola, nut butter, and fresh fruit. YUM! Check out my go-to recipe!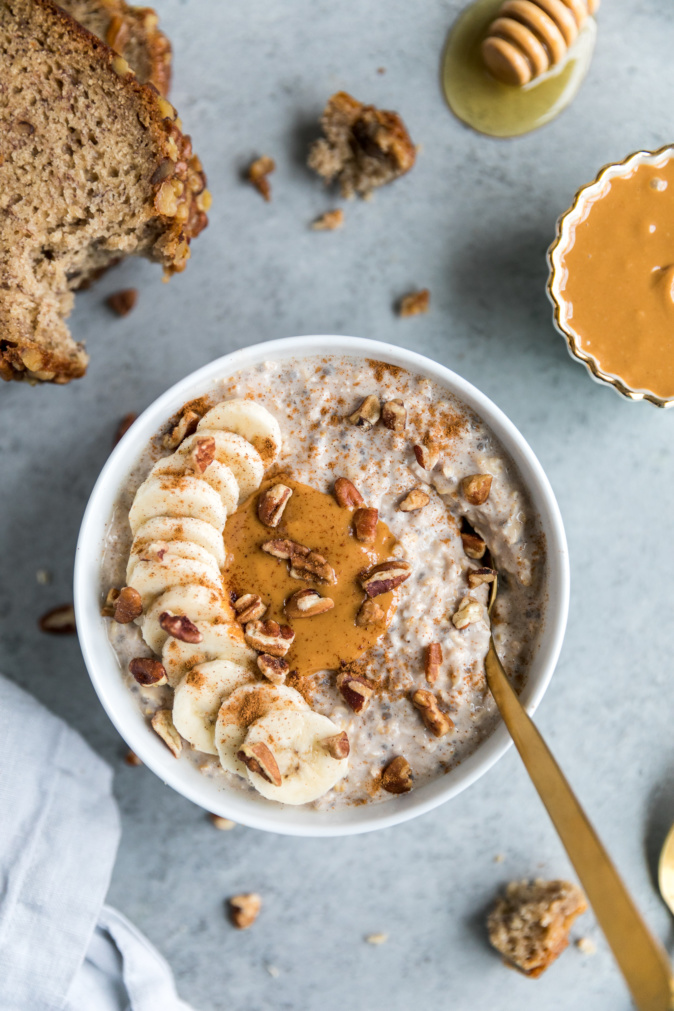 Resistance Bands
Before I started working in the gym as a personal trainer I honestly didn't do much band work. I didn't realize how important resistance bands were for waking up sleepy glutes. I thought I was using my glutes correctly in all my squat and deadlift excerices, but I never actually took the time to activate my glutes prior to doing those moves. Through my mentorship program at the gym and physical therapy, I have learned how important it is to incorporate band workouts into my training regimen. Now before I hit the strand to run I try to do a few band workouts to wake up my glutes!
Bands are also perfect for traveling. We're heading on a big trip next month and I know the gym isn't going to be easily accessible. I'll be packing up my bands to get in a few workouts while we're away!
I bought my resistance bands at Target, but these ones on Amazon have good reviews!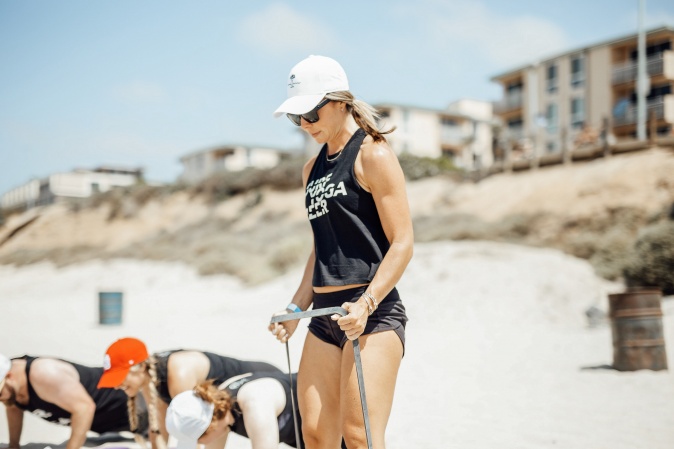 Trader Joe's Cauliflower Gnocchi
I finally tried Trader Joe's infamous cauliflower gnocchi! It took me a few tries to cook them the right way, but I think I finally got it down!! Start by de-fosting them in the microwave for a few minutes. Then spray a skillet with avocado oil or coconut oil spray and add the gnocchi in. Toss them in garlic powder and crushed red pepper and cook over medium heat until they're brown and crispy! The instructions on the bag say to add water but the water just makes them stick together. I love pairing the cooked gnocchi with zucchini noodles, baked chicken, brussel sprouts, and Trader Joe's bolognese sauce.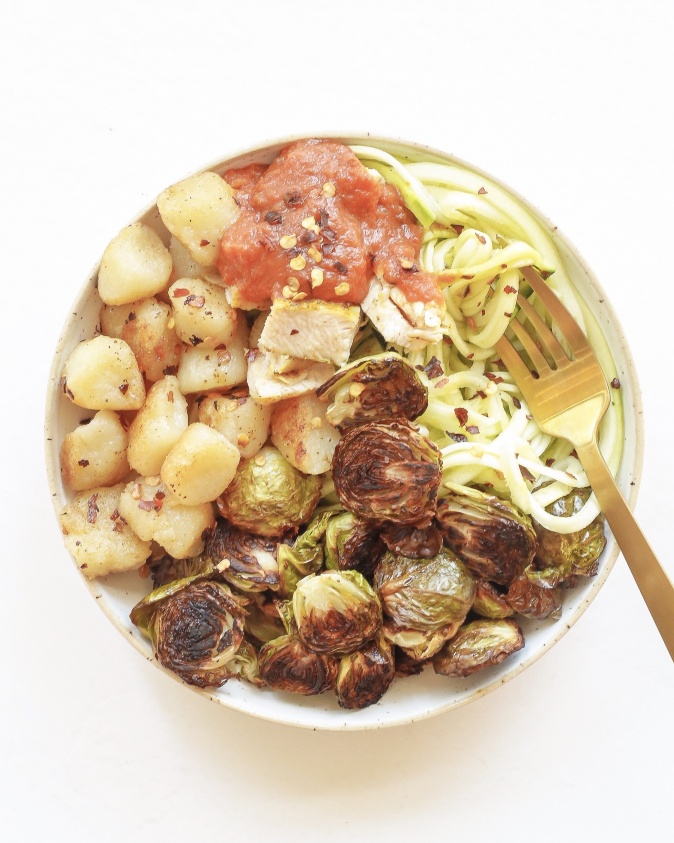 Spinning
Over the past month I've developed a new love for spinning. Because of the knee pain I've been experiencing during my runs, I was forced to take a full week off from running and hit the bike instead. I don't own a road bike and definitely was not motivated to sit on the spin bike at the gym alone, so I decided to try the spin classes at Equinox South Bay. After the first class I was hooked. I loved the sprint intervals, hill workouts, and the fun music playlists. It also allowed me to maintain my fitness but without the same stress that running puts on my knee joint.
Halo Top Cookies and Cream
I'm the type of person who needs something sweet every single night. I usually cycle through various Halo Top flavors and buy a new one every week at the store. This past month I've been consistently eating cookies and cream. It's just so good and hits the spot every night! I don't usually need a whole pint to be satisfied– just one or two scoops usually does the trick! Who else likes to have a sweet treat before before?!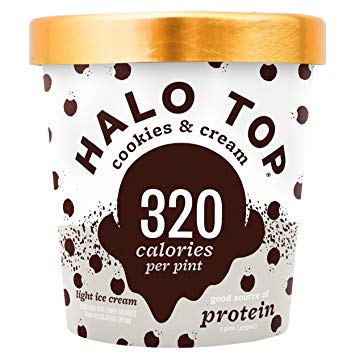 Deva Curl
I haven't really felt like blow drying or straightening my hair over the past few months because of the hot, sticky weather. I've either been throwing my hair up in a bun or wearing my hair wearing my hair curly. I don't really like my hair curly though, I just feel like it always looks frizzy and has no volume. I was recently introduced to Deva Curl "no poo shampoo and conditioner." I finally love how my hair dries when I use Deva Curl's products in the shower! It definitely takes getting used to though because the shampoo doesn't lather up so you don't feel like your hair is getting a good washing. After getting out of the shower, I usually just let my hair air dry now and add a little sea salt spray in it, and that's it! So much less work and less sweating!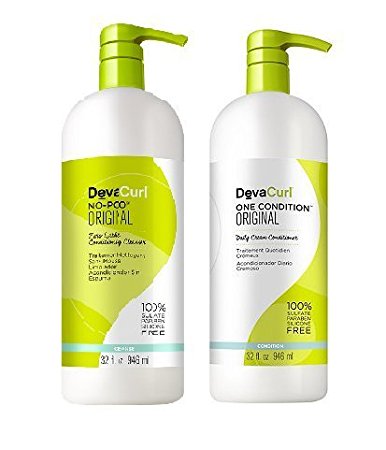 Saucony Guide
The Saucony Guide have become my new favorite running shoe! I'm obsessed with them! I went into Road Runners Sports a few weeks ago to have my running stride assessed. From my assessment I found out that I tend to over pronate when I run so I had to find a stability shoe that would help prevent this. At the time I was wearing the Mizuno Wave Inspire, which also helps with over-pronation. I found the Saucony Guide to be so much more comfortable though because of their cushioning!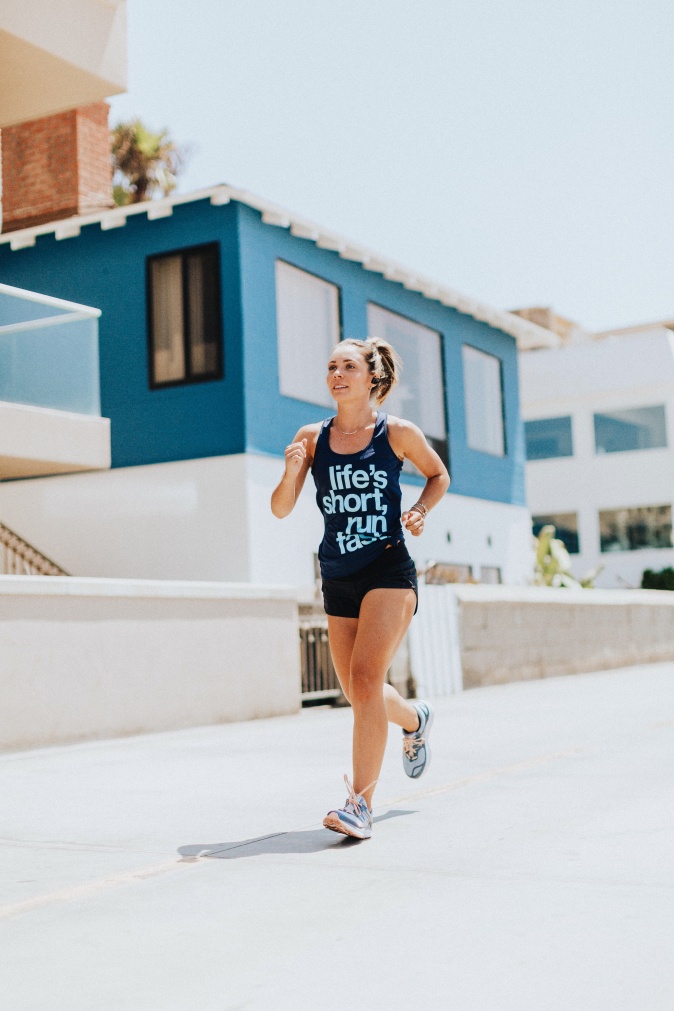 San Diego
Last weekend I had the opportunity to attend the Endless Summer Event sponsored by Michelob Ultra with Conde Nast Traveler, Self Magazine, and Surf Yoga Beer in Pacific Beach, San Diego. I've been to San Diego a few times before, but never to Pacific Beach, so I was excited to explore a new place! We kicked off the event with brunch followed by yoga and a boot camp workout on the beach! Seriously burpees and pushups in the sand were a lot harder than I thought!! After our morning workout, we went back to the beach for surfing, drinks, and some much needed relaxation in the sun!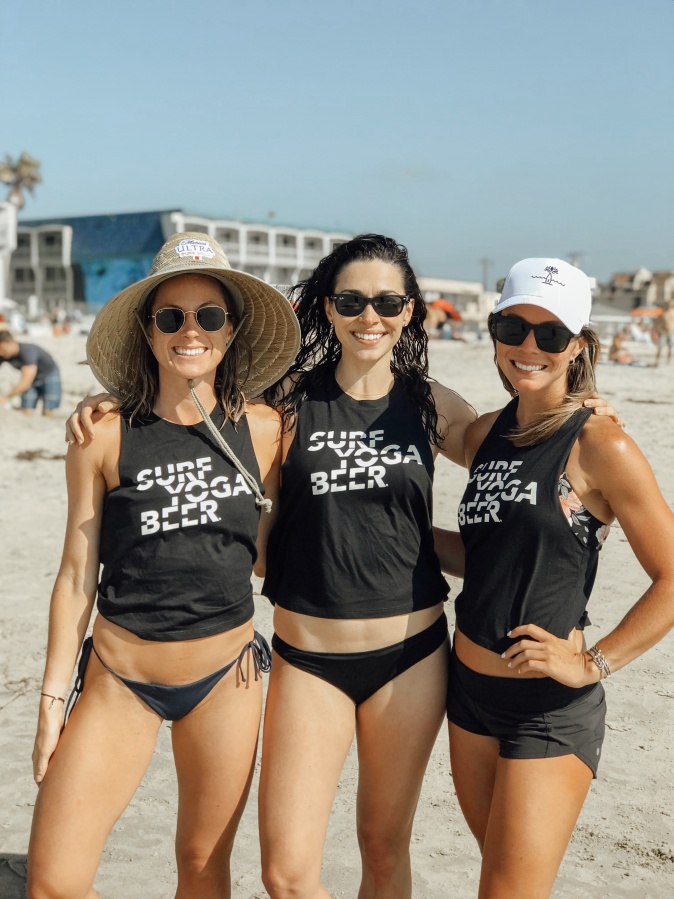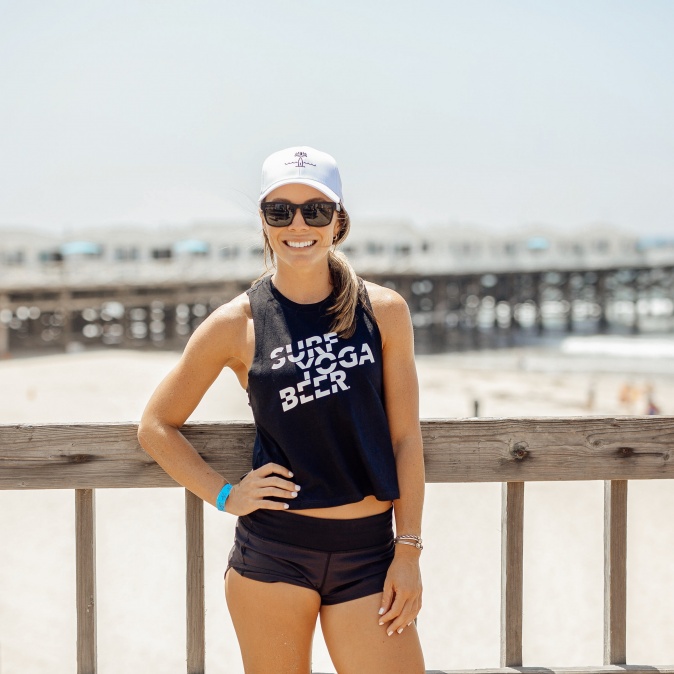 We ended the night with some lite bites and beer tails— my favorite was the aperol mist! It was so refreshing! I seriously couldn't have asked for a better day filled with new friends, awesome workouts, amazing food and drinks, and some of the best beach views!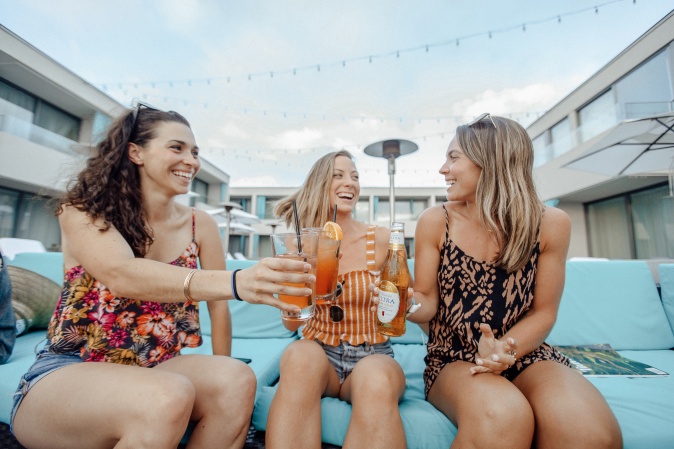 The next day, Rob and I went to Fig Tree Cafe to meet up with some of my girlfriends from high school. The restaurant was so quaint and beautiful. There were a bunch of trees and plants throughout the restaurant and the sun was beaming through the top canopies. I ordered the veggie scramble with avocado toast and we all sipped on some champagne while talking about fun high school memories! If you're ever in the Pacific Beach area I would highly recommend this spot for brunch!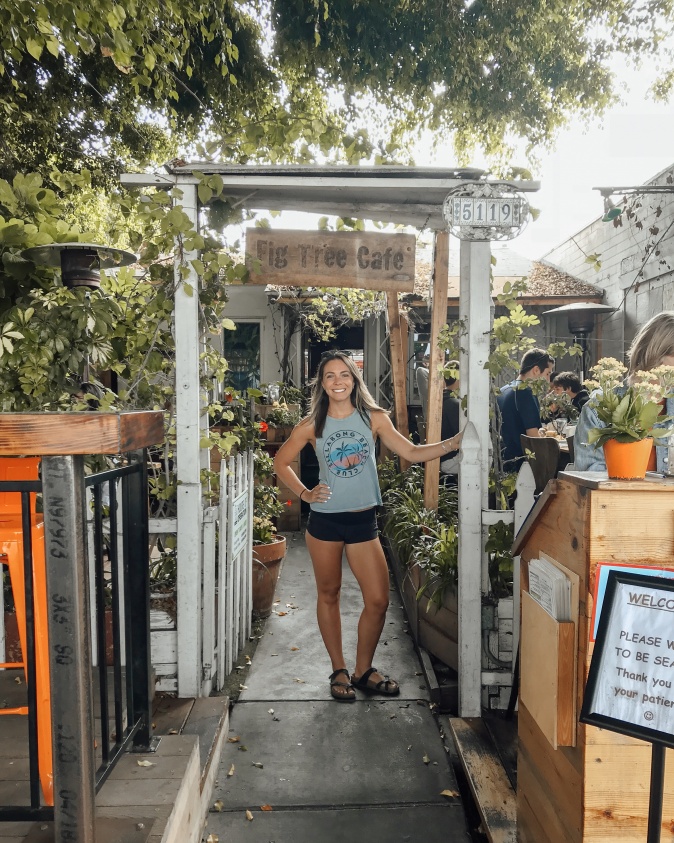 FALL fabfitfun Box
I am loving the Fall fabfitfun box! Fabfitfun is a subscription box filled with beauty, fitness, and tech products from some amazing brands! I've been loving the blue in capri bubble bath soap and Vince Camuto tote for my laptop! Code BECKY10 will save you $10 on your first fabfitfun box!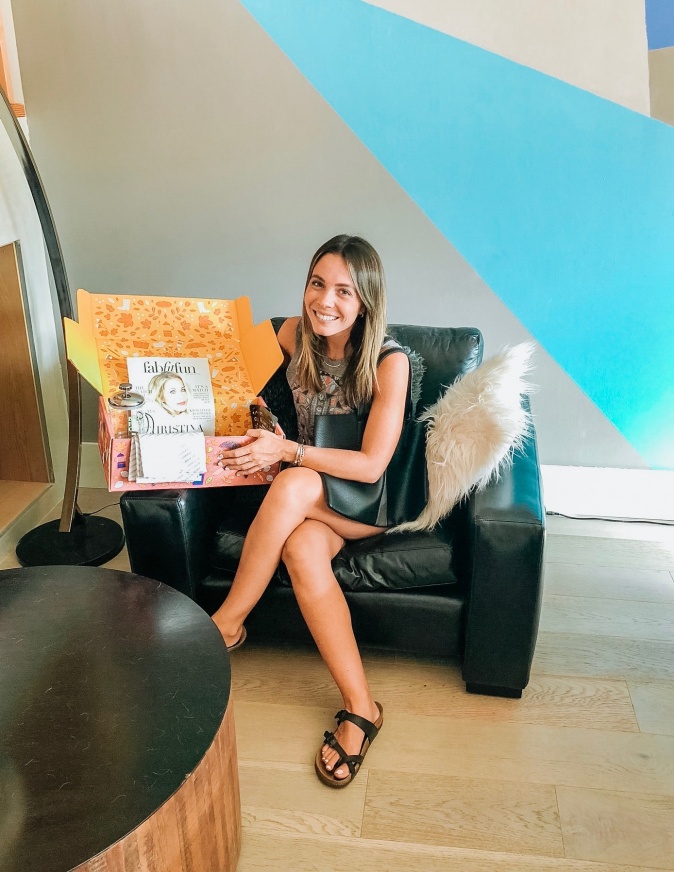 And there's the whole round up of my August favorites! Let me know if you try any of the products mentioned or have been to Fig Tree Cafe in San Diego!!! xoxo!