As the seasons change I'm always trying to think of a new kale salad combination to make! I spotted delicata squash at Trader Joe's for the first time this season so I had to pick up some to roast!
I also spotted honey crisp apples (MY FAVORITE) and pomegranate seeds- why can't they be in season year round?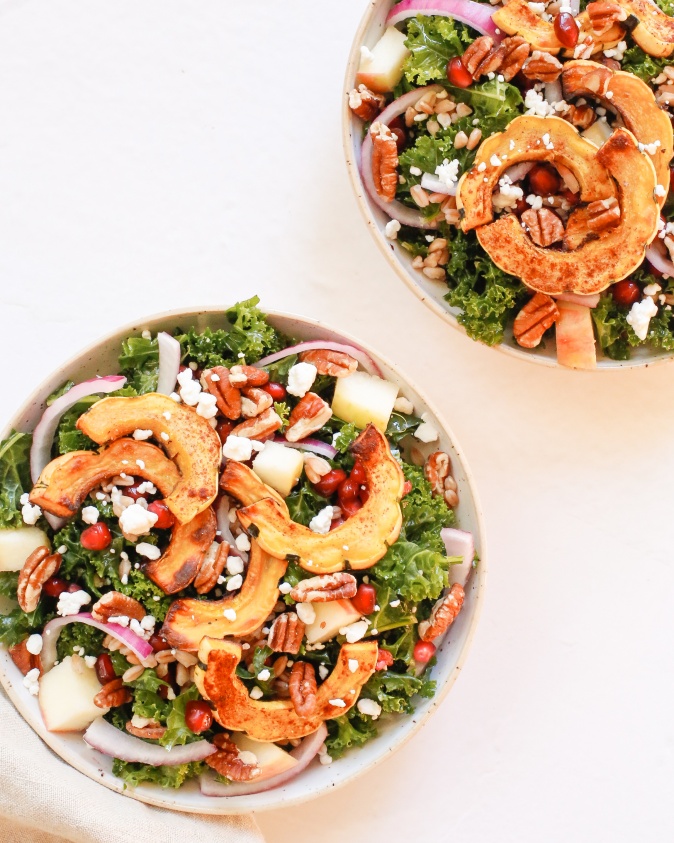 I came home and rummaged through my pantry and fridge to see what else I could add to my kale salad.
I actually thought I had pumpkin seeds but I was wrong, pecans did the trick though! I also added some red onion, goat cheese, balsamic vinaigrette dressing, and cooked up some farro to add.
I wanted to make my own dressing for this salad but I LOVE Primal Kitchen's line of dressings and marinades, and I thought their balsamic would pair nicely with this salad! If you don't have their dressing on hand, no worries- any balsamic vinaigrette will work!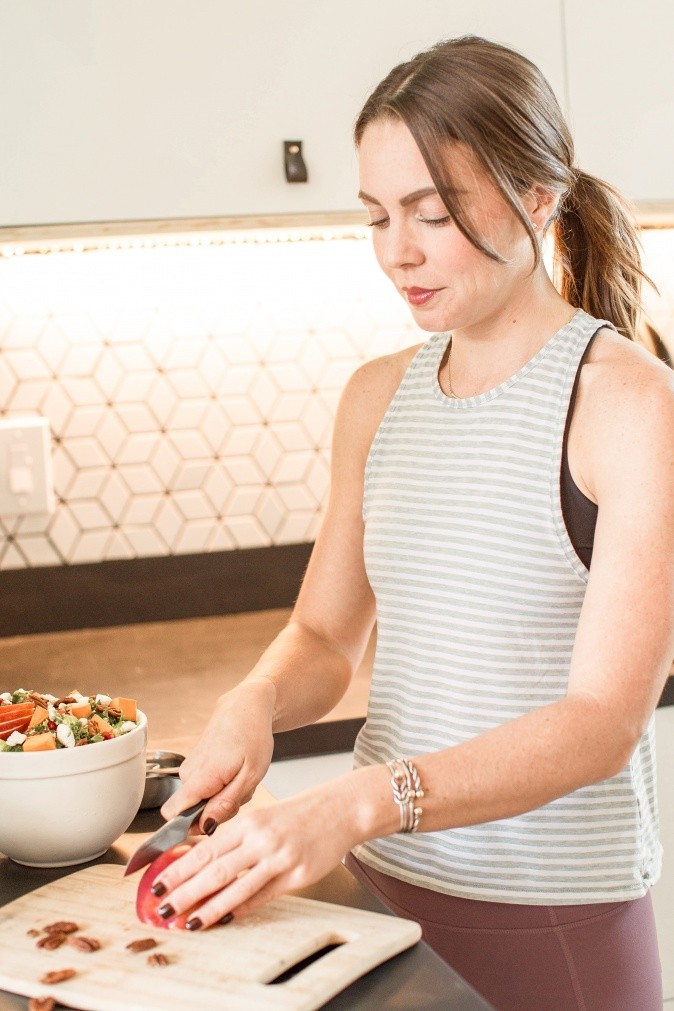 Let me know if you try my delicata squash fall kale salad- there are so many yummy fall flavors in this recipe and it comes together in no time! Enjoy!
Delicata Squash Fall Kale Salad
Ingredients
4 cups kale de-stemmed

¼ cup cooked farro

1 cup roasted delicata squash

1 chopped Honey crisp apple

½ cup pomegranate seeds

¼ cup crumbled goat cheese

½ cup pecan halves

⅓ cup chopped red onion

coconut oil spray

pink Himalayan sea salt

cinnamon

2 tbsp Balsamic Vinaigrette (Primal Kitchen's Balsamic Vinaigrette & Marinade)
Direction
In a large mixing bowl, lightly massage the kale with balsamic vinaigrette, then refrigerate for 5-10 mins.

Removed from refrigerator and combine the kale with the apples, roasted squash, goat cheese, pecans, pomegranate seeds, red onion, and cooked farro. Add more dressing if needed.
Roasted Delicata Squash:
Preheat oven to 400 degrees Fahrenheit.

Toss squash with coconut oil, sea salt, and cinnamon, then arrange on baking sheet.

Cook 20-25 minutes or until lightly brown.
xx Becks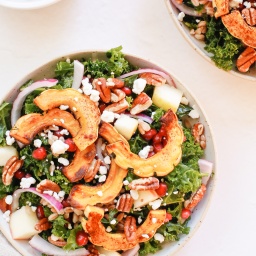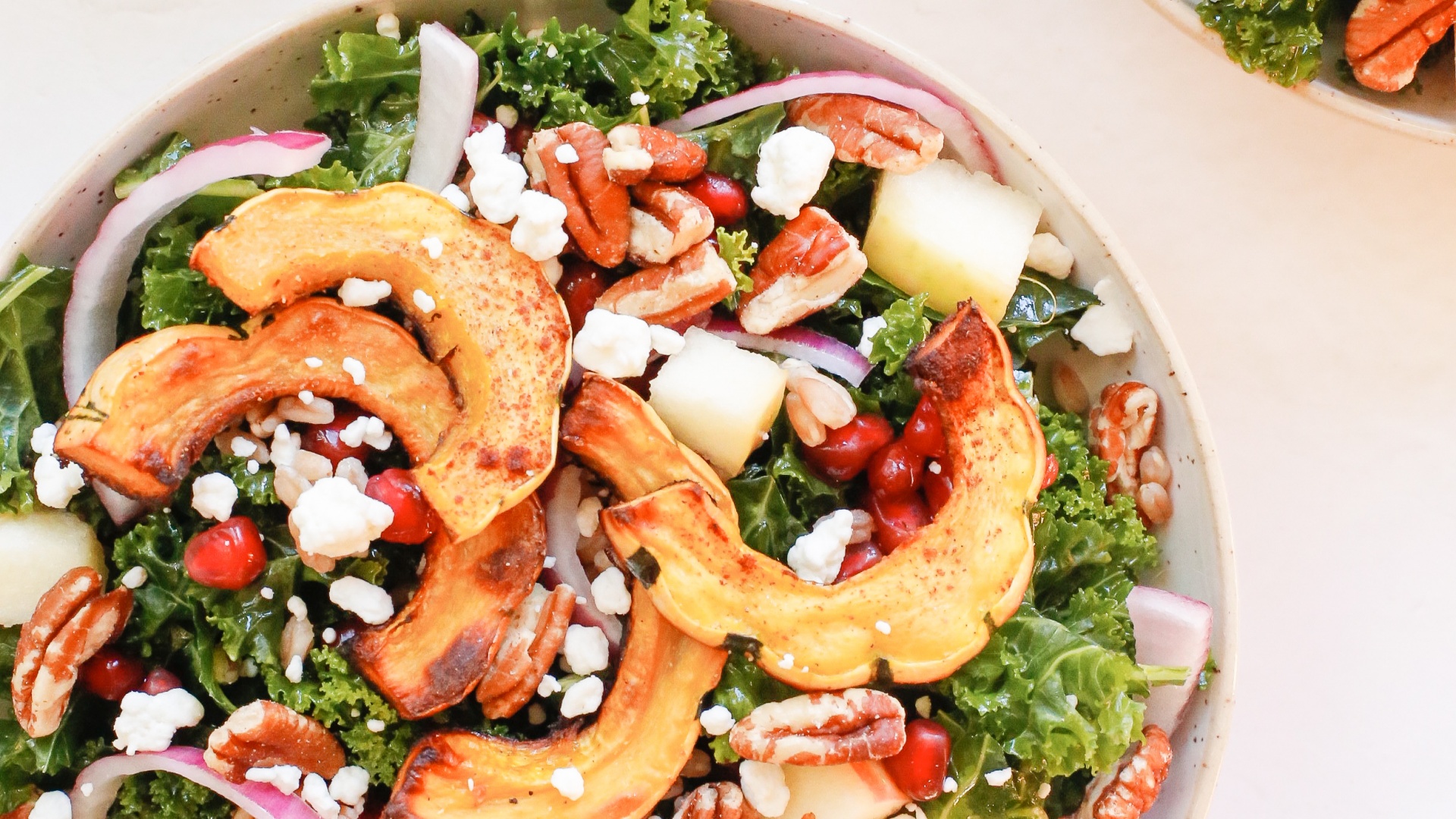 This delicata squash fall kale salad makes for a great holiday dish or can be served with chicken for a weeknight meal. Enjoy!
xx Becks